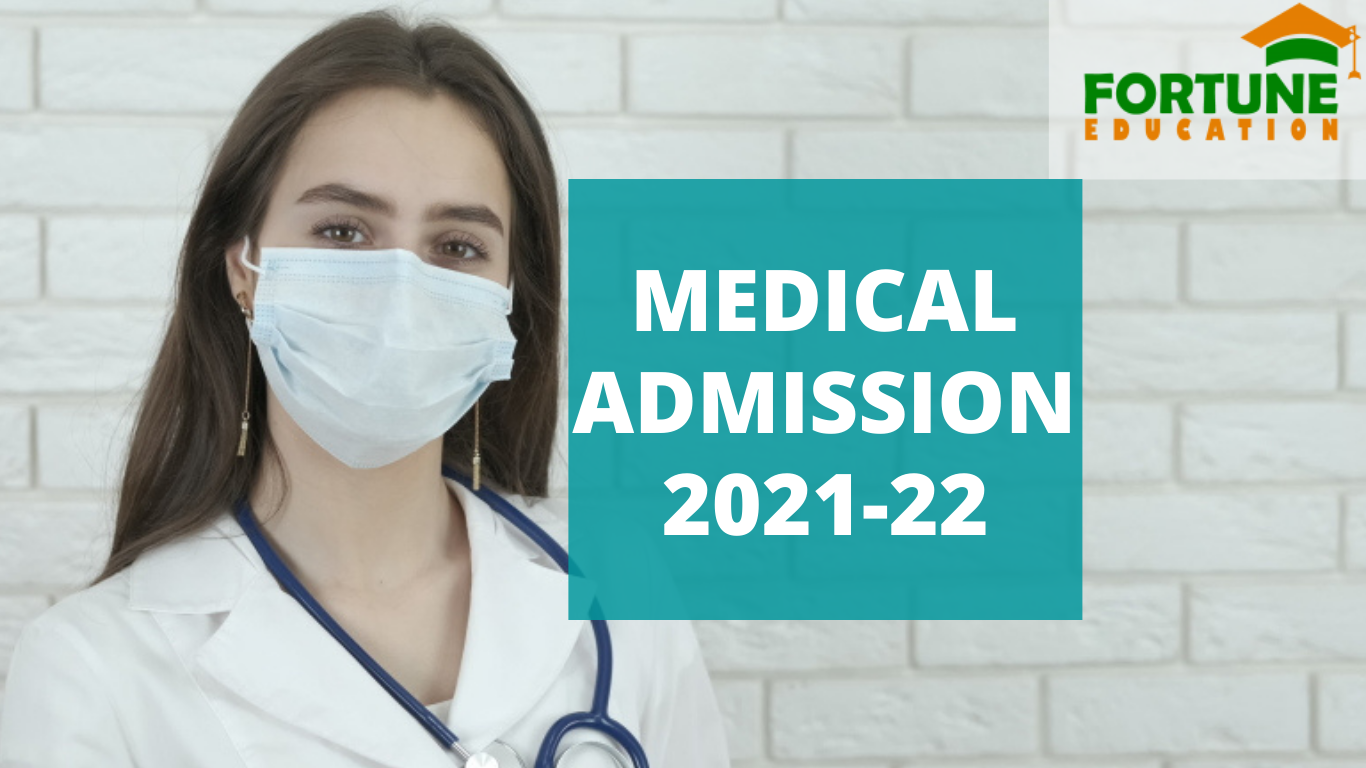 Medical Admission 2021-22
To clarify medical Admission 2021-22 in Bangladesh for students who want to get an MBBS degree from Bangladesh. Students from India and other foreign countries can apply online after the medical admission circular. According to the admission notice, the total GPA-9 has been set for SSC and HSC exam similarly equivalence. However, neet clarification is now mandatory for MBBS admission in Bangladesh 2021-22.
To Clarify More About Medical Admission 2021-22 Minimum Requirement
Basically, SSC  and HSC / equivalent exams Score a minimum GPA of 9.00  for all domestic and foreign students. However, if anyone's GPA is less than 3.50 in any examination, you will not be appropriate to apply. For all, HSC / equivalent tests should have a minimum GPA of 3.50 in Biology.
Medical Admission Mark Distribution
| | |
| --- | --- |
| Biology | 30 |
| Chemistry | 25 |
| Physics | 20 |
| English | 15 |
| Bangladesh History & Liberation War | 10 |
| Total Marks | 100 |
| Total Time | 1 Hour |
| Wrong Answer Deduction | 0.25 |
| Pass Mark | 40 |
Timeline of Medical admission 2021-22
Application for Medical admission in Bangladesh 2021 has started from 11 February 2021. This application will be running until 01 March 2021. It will take 1000 BDT to apply. After that, if you are selected for the admission test, you have to download the Admit Card. Admit Card download date starting from 20 March 2021. Then the admission test for Medical Admission in Bangladesh will start from 02 April 2021.
How to Apply For Medical Admission 2021-22
Generally, may you know that the Medical admission system is online-based. So you don't have to go anywhere to apply, you will complete your admission form fillup via the DGHS Teletalk website. We have given the instruction below for how you can apply online for Medical admission in Bangladesh.
At first Medical Admission applies link dghs.teletalk.com.bd.
Now chose the "Medical Admission 2021"  option.
Input your education-related information like SSC/ HSC roll number, board, and result.
To complete your admission form you will need to upload a scanned photo (300×300) and a scanned signature. (300×80)
Successfully upload your file your Applicant copy ready to print or download.
Now Save this Application copy PDF.
Applicant copy provides your User Name and password which is need when you pay your admission fee.
 After payment. You will get a confirmation SMS.
Follow Medical Admission Notice 2021 to get more information.
Medical Application Process for Indian or Foreign Students
Please read all instructions carefully before applying for Medical Admission 2021-22 (MBBS). Then apply for the admission test. The application instruction will be the same as local students. The additional things needed are –
A signature must be 300 x 80 pixels (width x height) and file size will not be more than 60 KB. The picture should be colored and 300 x 300 pixels (width x height) and the file size will not be more than 100 KB.
Monochrome, Black and White, or Gray-scale photo or any image other than photos will not be accepted.
You have to download the admit card. Then follow it. It has the whole information about the venue, room number, address, etc. So don't worry about it. Because of your choosing exam center on application period, you already have a comfortable location.
CONSULTANT FOR ADMISSION IN BANGLADESH
FORTUNE EDUCATION
FORTUNE EDUCATION is the most committed and dependable authorized admission consultant for top medical colleges in Bangladesh for Indian and other overseas Medical Aspirants. Guide students to get direct MBBS admission to the best Bangladeshi medical college. Latest information and admission formalities to study MBBS in Bangladesh contact Fortune Education
For Immediate Admission with a Special scholarship Contact Fortune Education.
Is NEET Required For Medical in Overseas
It is compulsory to qualify NEET to apply for MBBS Abroad for Indian students. National Medical Commission (NMC earlier it was MCI). Pursue MBBS in Bangladesh 2021 aspirant must have NEET-UG qualifying score. National Medical Commission NMC (Medical Council of India MCI) mandatory to get Equivalency within five years of medical study duration for the students. Undergraduate (UG) Eligibility Requirement for taking admission Medical Degree in a Bangladesh Medical Institution which was under Government Universities.
fortuneedu.org is one of the most hit websites for Indian Students who are willing to pursue MBBS from Bangladesh.
HENCEFORTH THE LIST OF MEDICAL COLLEGES MBBS ADMISSION IN BANGLADESH 2021-22 OFFERED BY FORTUNE EDUCATION
Sylhet Women's Medical College
International Medical College
Brahmanbaria Medical College
Medical College For Women and Hospital
Islami Bank Medical College
Diabetic Association Medical Collage
MARKS Medical College
Holy Family Red Crescent Medical College
Dhaka National Medical College
And more than 50+ medical colleges
For online application/registration fortune education is the leading trusted consultant.
The candidates must check the eligibility criteria before applying through the online mode.
The eligibility criteria for MBBS courses in different disciplines:
A candidate who has passed 10 + 2 pattern examinations with Physics, Chemistry, and Biology as compulsory subjects and achieved a minimum of 60 percent marks, also qualified for the NEET exam, is eligible to pursue an undergraduate degree in MBBS. Candidates' maximum study gap of 2 years accepted after 10+2.
SAARC Reserved Seats and Non-reserved Seat for Foreign Student
Serial No
Country
Seats reserved for SAARC Countries Candidates
Seats Reserved for Non-SAARC Countries Candidates
(Note: no SAARC Country student will be given admission in the seats reserved for the non-SAARC candidates)
MBBS
BDS
MBBS
BDS
1
India
22
2
64 (sixty-four)
22 (twenty-two)
2
Pakistan
21
2
3
Nepal
19
3
4
Sri Lanka
13
2
5
Bhutan
15
2
Under scholarship like SAARC countries
6
Maldives
6
1
Myanmar – 05
2
7
Afghanistan
3
1
Palestine – 13
3
Sum-total
99 (ninety-nine)
13 (thirteen)
82 (eighty-two)
27 (twenty-seven)
                                               Total Seats: 221 (Two hundred and twenty-one)
[elementor-template id="18612″]
[elementor-template id="18085″]