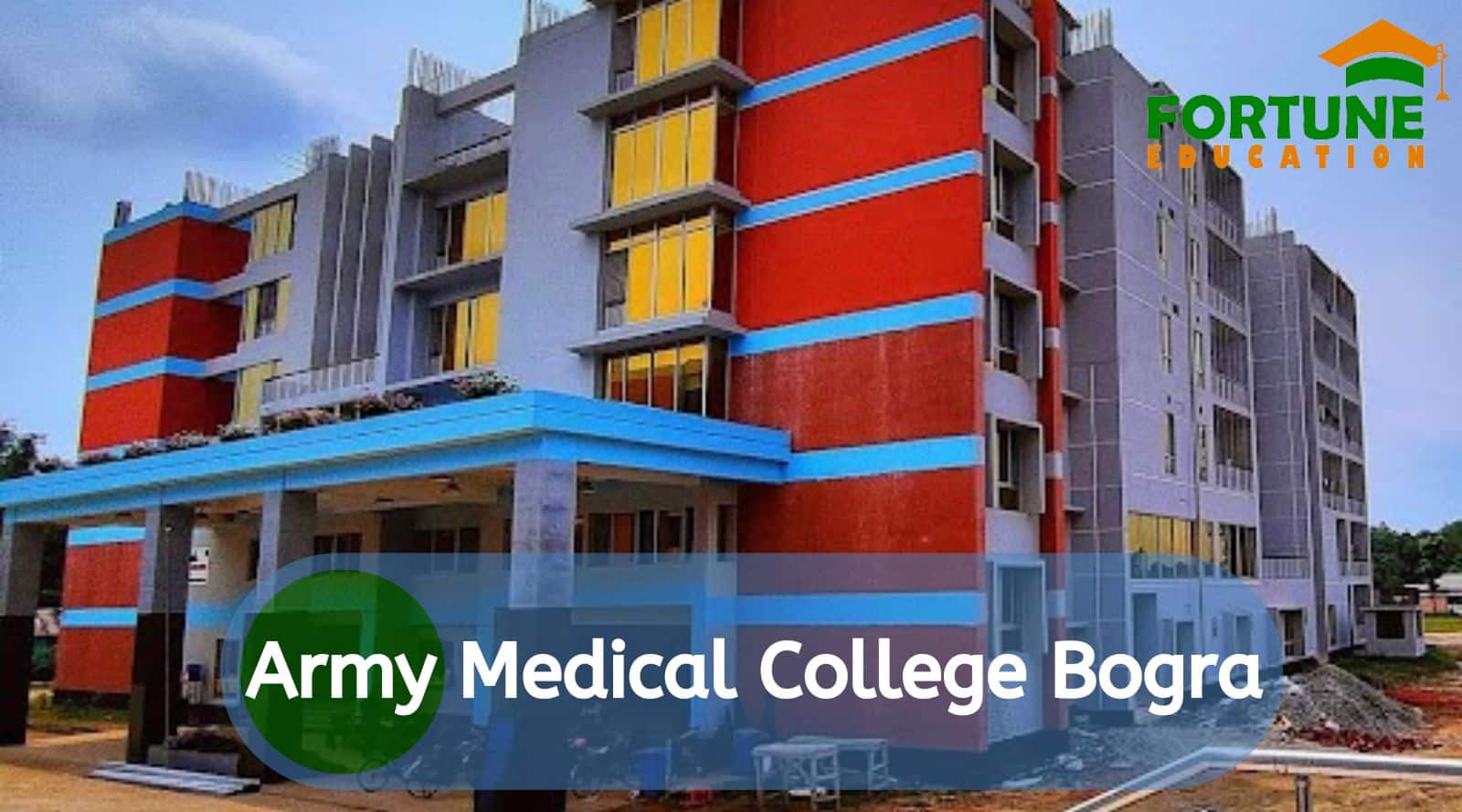 Army Medical College Bogra, Bangladesh
Army Medical College Bogura
Army Medical College Bogra (AMCB) is an Army Medical College established in 2014. It is located in Bogra Cantonment, Bangladesh. It is affiliated to Bangladesh University of Professionals. Academic activities started on 10th January 2015 with 50 students along with 4 Army Medical Colleges (Chittagong, Rangpur, Comilla & Jessore). It has 200 MBBS students in 2018 (4th batch running).
It offers a five-year course leading to the Bachelor of Medicine, Bachelor of Surgery (MBBS) degree. One-year internship after graduation is mandatory for all graduates. The degree is recognized by the Bangladesh Medical and Dental Council
Army Medical College Bogra, Bangladesh Admission procedure
Eligibility Criterion –
For the upcoming admission 2022, students seeking Army Medical College Bogra, Bangladesh admission Direct, may go through the college website to get a fair idea about the last year cut-off. For the ease of the applicants the procedure below would help them to get an idea about the eligibility and qualification regarding the admission process.
The student seeking medical college admission should have completed 17 years of age by the 31st of July of the ongoing admission year.

The students should have cleared 10+2 examination with a minimum of 50% and above in

English

Physics

Chemistry

Biology

Students can apply for Admission Direct Quota seatsif they secure 50% and above in all subjects

Students are required to appear in an interview as a part of the selection procedure
Apart from Army Medical College Bogra ( AMCB ), Bangladesh Direct admission, students can also seek admission to the institute under Management Quota Admission.The Management Quota Seat is reserved for those candidates who may have missed the last date for submission of the application or may have failed to secure the required percentage of marks.
For the foreign students or Indian students coming from foreign bases, admission can be sought under the Army Medical College Bogra, Bangladesh NRI Quota Admission. Admissions to the medical college are also granted under Payment Seat or Management Seat quota. If Indian students are get valid score in neet, the college will be given the priority while taking admission for MBBS.
Army Medical College Bogra New Academic Building
Fortune education is the exclusive authorized mbbs admission consultancy for army medical college Bogra.We provide all the details of admission.There are many firms around and they have a variety  offers but not all of them can give you the desired results.You will have better results if you work with Fortune education to get admission into any college of your choice.We provide you best packages and services to mbbs aspirants.
Fortune Education has legal rights to process admission to Medical, Dental colleges and universities all over the world. We offer MBBS, BDS & others Admission, Application, Guidance, Documentation, and required services such as to eligible students regarding medical and higher studies.Fortune Education invites students to register for MBBS & BDS admission with a special Scholarship for the academic year 2022-23.
FOR ADMISSION AND OTHER QUARRIES, CONTACT:
Authorized Representative
HEAD OFFICE :
DHAKA, BANGLADESH.
MOBILE & WHATSAPP: +88-01995529533
Authorized Representative
HEAD OFFICE :
DHAKA, BANGLADESH.
MOBILE & WHATSAPP: +88-01995529533
Study MBBS in Bangladesh 2023-24 for International Aspirants