BMDC Registration Check Online
To check the Bangladesh Medical & Dental Council (BM&DC) registration status of a medical professional online, you can follow these steps:
Visit the official website of the Bangladesh Medical & Dental Council: http://bmdc.org.bd/
Look for a section on the website that provides registration verification or a similar option. It may be labeled as "Check Registration" or "Registration Status."
Click on the provided link or option to access the registration verification page.
On the registration verification page, you will typically find a search field or form where you can enter the required information.
Fill in the necessary details such as the doctor's name, registration number, or any other specified information.
Double-check the entered information for accuracy, then click on the "Submit" or "Search" button to initiate the registration check process.
The system will search for the entered information and display the registration status of the medical professional, indicating whether they are registered with the BM&DC or not.
Provisional Registration will be granted after production of Testimonial from the Head of the Institute from where he/she is graduated.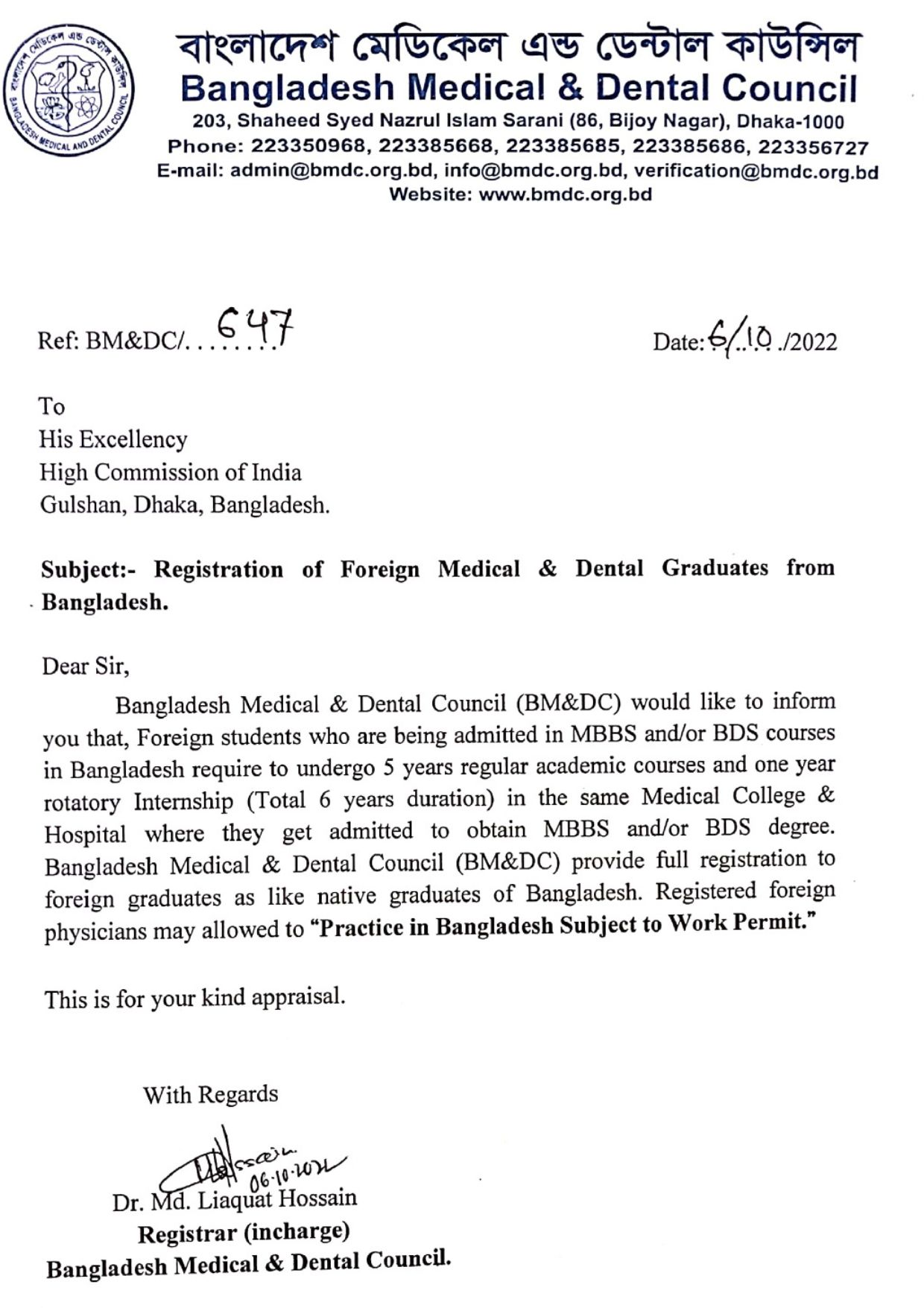 Fortune Education has the legal rights to the admission process for medical, dental schools and universities worldwide. We offer MBBS, BDS and other admissions, applications, guidelines, documentation and required services such as eligible students related to medical and undergraduate…
Fortune Education encourages students to register for admission in MBBS & BDS with special scholarship for the academic year 2023-2024.
Download required pdf forms here


Bangladesh Medical & Dental Council Pdf Registration Form
In the arena of global medical education, Bangladesh has emerged as a prominent destination. The 2023-24 academic year beckons international students with a promise of high-quality education, affordability, and an enriching cultural experience. If you're an aspiring medical student, here's why pursuing MBBS in Bangladesh should be on your radar.
1. Quality Education with a Global Recognition:
Bangladesh houses several prestigious medical colleges and universities that adhere to international standards of education. The MBBS curriculum here is comprehensive, up-to-date, and aligned with global medical practices. Graduates from Bangladesh often find themselves seamlessly transitioning to medical roles worldwide, thanks to the globally recognized degrees.
2. Affordable Fee Structure:
One of the primary reasons international students gravitate towards Bangladesh is the cost-effective fee structure. Compared to Western nations and even several Asian counterparts, MBBS in Bangladesh offers top-notch education at a fraction of the cost. It's an opportunity to receive quality education without the burden of exorbitant fees.
3. Cultural and Geographical Proximity for South Asian Students:
For students from South Asia, Bangladesh offers an environment that feels like home. The cultural, dietary, and linguistic similarities make the transition smoother. This closeness allows students to focus on their education without the added challenge of navigating a radically different cultural landscape.
4. Medium of Instruction – English:
The MBBS courses in Bangladesh are conducted entirely in English, ensuring that international students face no language barriers. This not only eases the learning process but also prepares students for international medical exams and practices.
5. Hands-on Training and Exposure:
Medical colleges in Bangladesh emphasize practical experience. With numerous affiliated hospitals and clinics, students gain hands-on training early on, equipping them with practical skills to match their theoretical knowledge.
MBBS Admission Process with Fortune Education:
1. Initial Consultation: Start your journey by consulting with the expert advisors at Fortune Education. They'll help you understand the medical education landscape in Bangladesh, answering any preliminary queries you might have.
2. Choose the Right College: Bangladesh is home to numerous esteemed medical colleges. Fortune Education provides insights into each, considering your preferences, to help you select the institution that aligns with your career goals and budget.
3. Document Verification: Before proceeding, ensure that all your academic and personal documents are in order. Fortune Education assists in verifying the authenticity of these documents, ensuring you meet the eligibility criteria set by medical institutions in Bangladesh.
4. Application Submission: Fortune Education simplifies the application process. They provide a checklist of required materials, guide you through form completion, and ensure timely submission to your chosen institution.
5. Entrance Examination (if applicable): Some institutions might require an entrance test. Fortune Education offers guidance on examination patterns, study materials, and preparation strategies, increasing your chances of success.
6. Admission Confirmation: Upon successful application review (and clearing the entrance exam if required), you'll receive an admission confirmation letter. Fortune Education assists in understanding the terms and conditions mentioned in the letter and guides you on the next steps.
7. Visa Processing: With an admission confirmation in hand, the next step is obtaining a student visa. The experts at Fortune Education walk you through the visa application process, ensuring all paperwork is in order and increasing the likelihood of visa approval.
8. Pre-Departure Guidance: Before you set off for your medical journey in Bangladesh, Fortune Education provides a comprehensive pre-departure briefing. This includes insights into Bangladesh's culture, the academic environment, essential items to pack, and more.
9. Arrival & Settlement: Once in Bangladesh, you're not left to fend for yourself. Representatives from Fortune Education will assist in airport pick-ups, accommodation arrangements, and initial college registration, ensuring a smooth transition.
Fortune Education: Your Gateway to MBBS in Bangladesh
Choosing the right institution and navigating the admission process can be daunting. That's where Fortune Education steps in. As a trusted partner, Fortune Education offers end-to-end guidance for international students aiming to study MBBS in Bangladesh. From selecting the right college to ensuring a smooth admission process, Fortune Education's expert consultants streamline the journey, making dreams of studying MBBS in Bangladesh a tangible reality.
Fortune Education, established in 1994, is the pioneer and leading educational consultant. We are providing counselling to prospective students, who would be interested in MBBS and considering higher education opportunities in Bangladesh and Abroad. An authorized representative of Medical, Dental colleges and private universities all over the world. Fortune Education offers MBBS, BDS & others' admission, application, guidance, documentation. We also offer required services such as scholarships to eligible students regarding medical and higher studies. We also offer admission to top medical colleges in Bangladesh and all over the world.
Fortune Education, established in 1994, is a pioneer and leading educational consultant providing counseling services to prospective students interested in pursuing MBBS and higher education opportunities in Bangladesh and abroad. With years of experience, Fortune Education has become a trusted name in the field of educational consulting.
Fortune Education
Pioneer & Leading Authorized Representative of Medical Colleges in Bangladesh & Abroad
Head Office: 23/C, Zigatola, Dhaka-1209, Bangladesh
Bangladesh: +8801995529533
India: +919903355537
Email: fortunebangladesh@gmail.com
Website: www.fortuneedu.org , www.mbbsbd.com