Best Medical Colleges In Bangladesh 2023-2024
Top Army Medical Colleges in Bangladesh 1. Army Medical College Jashore 2. Army Medical College Bogura, Fortune Education is an Official Authorized Consultant Of Army Medical Colleges in Bangladesh, Admission Guidkine, MBBS Admission in Bangladesh, MBBS Fees Structure, Online Direct MBBS Admission Portal
Discover the Pinnacle of Medical Education at Bangladesh's Premier Army Medical Colleges
Bangladesh's Premier Army Medical Institutions
In a country driven by its dreams, two establishments stand out as beacons of excellence in the realm of medical education: Army Medical College Jashore and Army Medical College Bogura. These institutions are the pinnacle of learning and research, a testament to the country's commitment to producing world-class medical professionals.
Army Medical College Jashore
The Jewel of the Southwest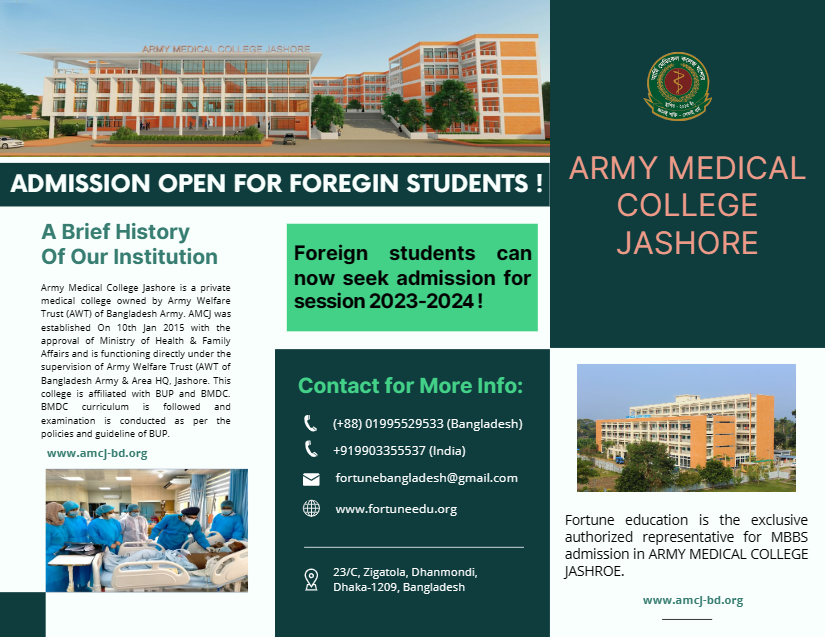 Location: Rooted in the vibrant city of Jashore, this institution offers both a serene learning environment and access to the bustling life of an urban setting.
Heritage: As an integral part of the Bangladesh Army's educational initiative, Army Medical College Jashore carries the legacy of discipline, dedication, and determination.
Infrastructure: The campus boasts state-of-the-art infrastructure with modern classrooms, advanced laboratories, and a sprawling library enriched with a plethora of medical books and journals. Each corner of the campus echoes the institution's commitment to fostering a culture of excellence and innovation.
Faculty: A blend of experienced veterans and dynamic young professionals, the faculty at AMC Jashore is committed to nurturing minds and producing competent medical professionals.
Opportunities: From international exchange programs to groundbreaking research initiatives, students at AMC Jashore are exposed to a plethora of opportunities that shape their future.
Army Medical College Bogura
The Northern Star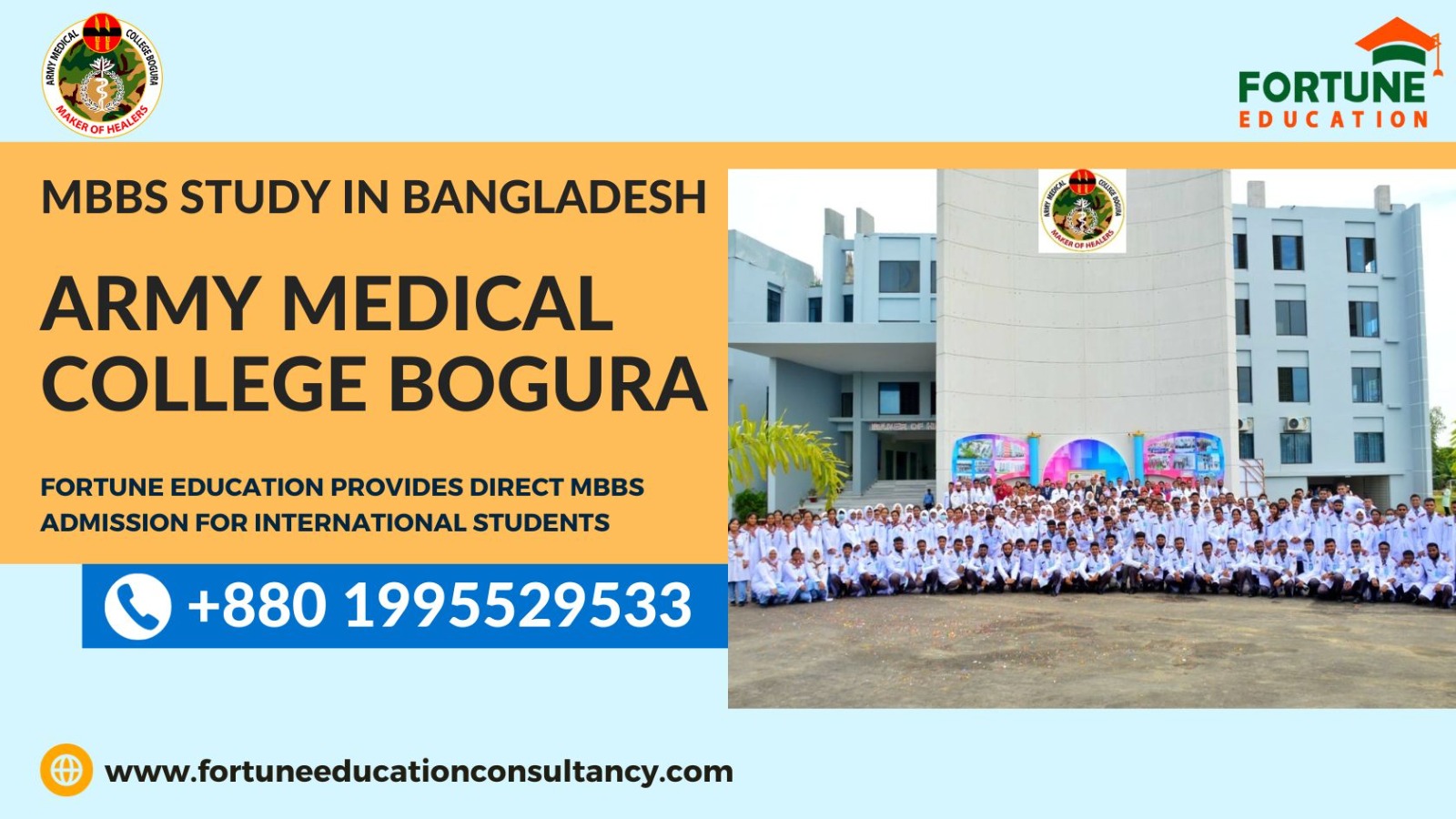 Location: Nestled in the heart of Bogura, this institution offers a perfect balance between the traditional charm of the region and the evolving dynamics of medical science.
Heritage: Bearing the mark of the prestigious Bangladesh Army, AMC Bogura continues the tradition of excellence, integrity, and service.
Infrastructure: Designed with precision and a vision for the future, the college houses top-notch facilities that complement its curriculum. Digital classrooms, world-class labs, and a vast library ensure students have everything they need to succeed.
Faculty: A melting pot of expertise and enthusiasm, the faculty at AMC Bogura is dedicated to guiding students on their path to becoming exceptional doctors.
Opportunities: AMC Bogura is not just about textbooks and exams. Here, students are encouraged to engage in extracurricular activities, research projects, and international collaborations, ensuring holistic development.
Fortune Education: Your Trusted Pathway to Army Medical Colleges in Bangladesh
When it comes to securing a seat in these esteemed institutions, there is one name that resonates with trust, transparency, and triumph: Fortune Education. As the Official Authorized Consultant of Army Medical Colleges in Bangladesh, Fortune Education offers unparalleled guidance and support to aspiring doctors from all corners of the globe.
Best 5 Medical Colleges in Bangladesh
Why Choose Fortune Education?
Accurate Guidance: From understanding the nuances of the admission process to getting insights into the curriculum, our team of experts ensures you are well-prepared every step of the way.
Easy Admission Process: Say goodbye to tedious paperwork and complex procedures. With Fortune Education's online direct MBBS admission portal, your journey to becoming a doctor is just a few clicks away.
Transparent Fee Structure: Our MBBS fees structure is clear, comprehensive, and competitive. No hidden charges, no last-minute surprises. Just honest and transparent dealings.
End-to-End Support: From the moment you decide to pursue your MBBS in Bangladesh till you don your white coat, Fortune Education is with you, guiding, supporting, and cheering for your success.
A Wise Choice
Bangladesh has emerged as a sought-after destination for medical education, and with good reason. Here's why:
World-Class Curriculum: Recognized globally, the MBBS curriculum in Bangladesh is comprehensive, updated, and designed to produce competent professionals ready to face global challenges.
Affordable Education: Without compromising on quality, Bangladesh offers an affordable medical education, making it accessible to many.
Cultural Affinity: Sharing cultural and linguistic similarities with neighboring countries, international students find Bangladesh welcoming and conducive to learning.
Practical Exposure: Emphasis on hands-on training and patient interaction ensures students graduate with not just theoretical knowledge but also practical skills.
Admission Guideline
Aspiring to join the elite ranks of Army Medical College Jashore or Army Medical College Bogura? Here's a step-by-step guide to ensure a smooth admission process:
Eligibility Check: Ensure you meet the basic eligibility criteria set by the institutions.
Documentation: Gather all necessary documents. Fortune Education can provide a checklist to ensure nothing is missed.
Application: Use Fortune Education's online portal to apply directly to your chosen college.
Entrance Exam: Prepare and appear for the entrance test.
Fortune Education offers preparatory guidance and resources.
Counseling: Once selected, attend the counseling session to finalize your admission.
Enrollment: Complete the enrollment process, including fee payment, through Fortune Education's transparent system.
Join the league of exceptional doctors. Choose Army Medical College Jashore or Army Medical College Bogura. And let Fortune Education pave your path to success.
Nurturing Future Medical Leaders
The journey to becoming a doctor is as much about passion and perseverance as it is about acquiring knowledge and skills. Army Medical College Jashore and Army Medical College Bogura, with their commitment to holistic education, ensure that students are not just academically proficient but also ethically grounded and globally competent.
Global Recognition and Affiliation
Both Army Medical College Jashore and Army Medical College Bogura have accreditations from recognized international bodies, ensuring that your degree isn't just acknowledged in Bangladesh but has global validity. This opens up a plethora of opportunities for higher studies, specializations, and job placements across the world.
Exposure Beyond Classrooms
A holistic medical education isn't confined to lecture halls. With frequent workshops, guest lectures by international experts, and tie-ups with renowned hospitals for internships, students are exposed to real-world challenges early on, ensuring they are practice-ready by the time they graduate.
A Thriving Student Life
Both colleges offer a vibrant campus life with an array of extracurricular activities. From sports events to cultural fests, from debate competitions to community service initiatives, there's always something happening, ensuring students have a well-rounded college experience.
Empowering You With Fortune Education

Fortune Education isn't just a consultant; it's a partner in your journey towards realizing your medical dreams. Here's how we empower every aspiring doctor:
Preparation Resources: Our exhaustive collection of study materials, mock tests, and preparatory guides ensure you're well-equipped for entrance exams.
Visa Assistance: For international students, navigating visa procedures can be daunting. Our experienced team ensures a smooth process, allowing you to focus on your studies.
Accommodation Guidance: Finding the right accommodation is crucial. Whether you prefer on-campus hostels or private lodgings, we provide insights and assistance to ensure you feel at home.
Post-Admission Support: Our support doesn't end with your admission. Whether it's academic counseling, internship placements, or guidance for post-graduate opportunities, Fortune Education is with you at every step.
Secure Your Medical Future in Bangladesh
Choosing the right medical college is the first step in a rewarding career as a healthcare professional. With Army Medical College Jashore and Army Medical College Bogura, you're not just choosing institutions; you're choosing a legacy of excellence.
Fortune Education, with its proven track record, ensures that every aspirant's journey to these esteemed institutions is smooth, informed, and successful. Our comprehensive services, from the initial counseling sessions to post-admission support, are designed keeping you in mind.
Why wait? The world needs dedicated, skilled, and compassionate doctors. Begin your journey with Army Medical College Jashore or Army Medical College Bogura and let Fortune Education be your guiding star. Your dream of donning that white coat is closer than you think.
Dive Deeper: Special Features of Army Medical Colleges in Bangladesh
Taking a closer look at what Army Medical College Jashore and Army Medical College Bogura offer reveals a comprehensive environment built not just for learning, but for thriving.
Clinical Rotations & Internships
Practical experience is invaluable in the field of medicine. Both colleges have collaborations with leading hospitals and health institutions, offering students the chance to gain hands-on experience. These clinical rotations provide students a glimpse into the world of healthcare, from patient interaction to understanding the nuances of medical procedures.
Research and Innovation
The medical field is continuously evolving. To keep students at the forefront of medical advancements, both colleges offer robust research programs. Students have the opportunity to partake in groundbreaking studies, under the guidance of esteemed faculty members, contributing to the global knowledge pool.
Community Engagement
Both institutions believe in giving back to the community. Through various outreach programs, health camps, and awareness drives, students learn the value of community health and proactive medical care. This not only builds a sense of responsibility but also strengthens doctor-patient relationships.
Global Networking Opportunities
With tie-ups and collaborations with medical institutions worldwide, students benefit from global exposure. Be it through exchange programs, seminars, or international conferences, students get insights into global medical practices, enhancing their perspectives.
Trust Fortune Education: Elevate Your Journey
With over a decade of experience in guiding medical aspirants, Fortune Education stands as a testament to excellence, reliability, and dedication.
Personalized Counseling: Every aspirant is unique, and so are their aspirations. Our expert counselors take the time to understand your goals, strengths, and challenges, guiding you accordingly.
Financial Assistance: Pursuing medical education is a significant investment. We offer insights into scholarship opportunities, financial aid programs, and loan facilities, ensuring finances are not a barrier to your dreams.
Holistic Development Workshops: Beyond academics, we organize workshops focused on communication skills, stress management, and leadership training, ensuring our students are well-rounded individuals ready to tackle real-world challenges.
Your Path to Excellence Begins Here
The journey to becoming a doctor is filled with challenges and triumphs. With institutions like Army Medical College Jashore and Army Medical College Bogura, you are guaranteed a transformative experience, one that prepares you for the noble profession of saving lives.
And with Fortune Education by your side, every step of this journey is made simpler, clearer, and more achievable. Our legacy of guiding countless students to their dream colleges stands as a testament to our commitment.
So, embark on this remarkable journey to mold a future where healthcare is not just a profession but a passion. Secure your seat in one of Bangladesh's top army medical colleges and watch your dreams take flight. With Fortune Education, you're always one step closer to success.
Fortune Education
Pioneer & Leading Authorized Representative of Medical Colleges in Bangladesh & Abroad
Head Office: 23/C, Zigatola, Dhaka-1209, Bangladesh
Bangladesh: +8801995529533
India: +919903355537
Email: fortunebangladesh@gmail.com
Website: www.fortuneedu.org , www.mbbsbd.com