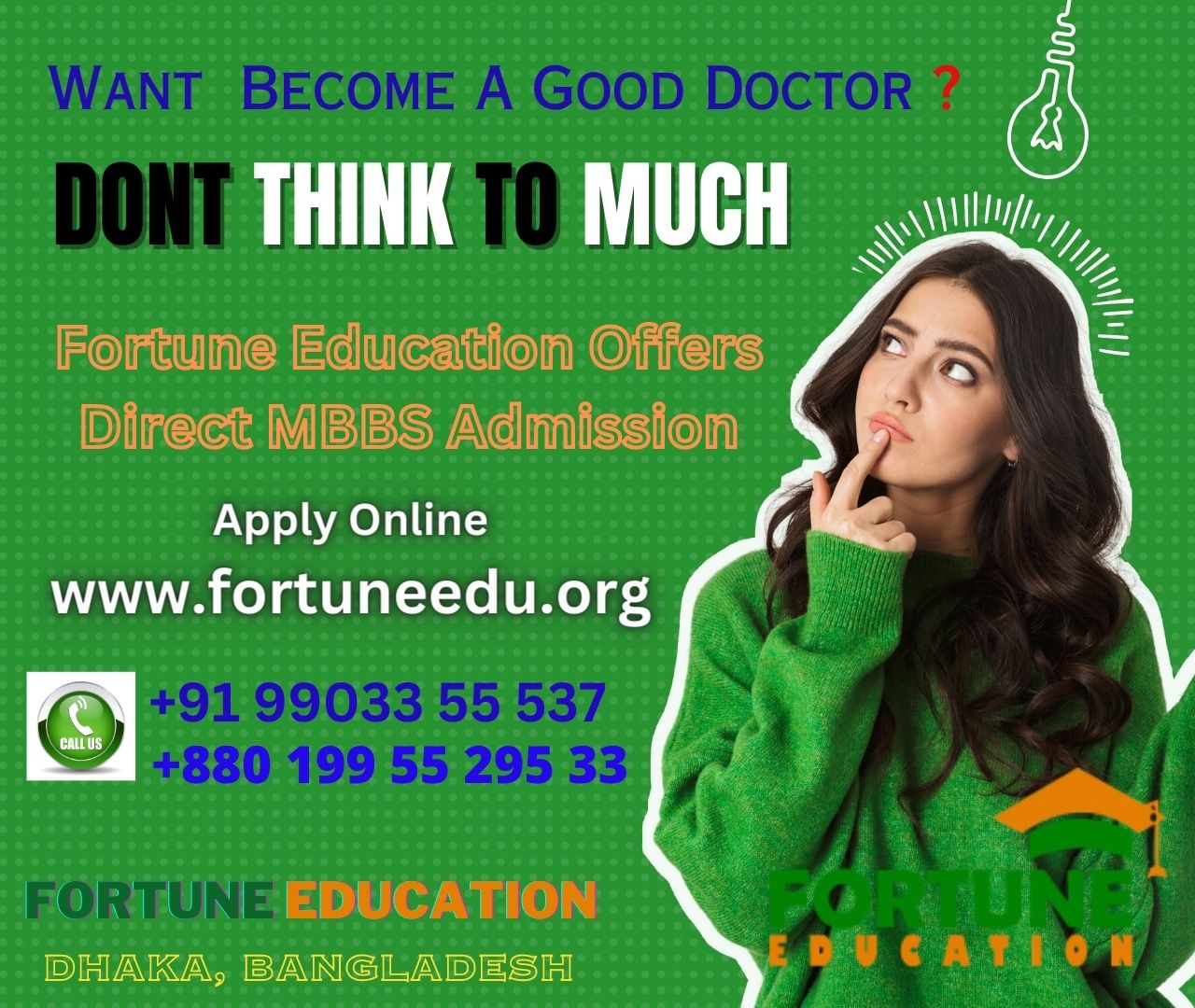 MBBS ADMISSION PROCEDURE FOR FOREIGN STUDENTS
Posted by

Categories

MBBS in Bangladesh, MBBS IN BANGLADESH, MBBS in Bangladesh for Sri Lankan Students, Medical Colleges in Bangladesh, Medical Education in Bangladesh, Medical study in Bangladesh, Private Medical colleges, Public Universities, Study in Abroad, Sylhet Women's Medical College | Sylhet Medical University, Uncategorized, Without Neet

Date

December 1, 2021

Comments

0 comment
The students will have to submit permission from their respective governments. The interested applicants must fulfill the following criteria of eligibility for admission.
Applicants must have passed qualifying examinations i.e. 12th grade (10+2=12 years) of schooling at a public school/ board/ college or passed an examination in any foreign country which is recognized by the Government of Bangladesh as equivalent to the Higher Secondary Certificate Examination.

Applicants must have passed Higher Secondary Certificate Examination or equivalent examinations with Physics, Chemistry, and Biology as their major/ compulsory subjects.

Applicants must have obtained at least 75% marks in average (which is equivalent to GPA 4.0 or equivalent grade in Secondary School Certificate and Higher Secondary Certificate examinations or in equivalent examinations respectively (i.e. 'B' grade in A-level or O-level examination) and should have at least 65% marks separately in either of these examinations (i.e. GPA 3.50 or 'C' grade). In the case of O-level examination marks grades of only six subjects (top 6 subjects on the basis of marks/ grades obtained) will be considered. In the case of the A-level examination, marks/grades of Physics, Chemistry, and Biology will be considered for evaluation.

All academic certificates must be transferred to Bangladesh standard (through a collection of Equivalence Certificate from DGHS Dhaka, Bangladesh) & Student Visa formalities through the embassy of Bangladesh.

The application should be submitted in SMCH prescribed forms. Attested copies of certificates and mark sheets etc. have to be furnished along with the application. All certificates and mark sheets must be attested by the Ministry of Foreign Affairs of the respective country of the applicant's academic institution. No application will be accepted without such attestation.

The successful applicants will require to produce all academic certificates and mark sheets in original during their admission.

Fortune Education is a registered World Leading & Pioneer Educational Consultant in Bangladesh and Authorised Representative of Medical Colleges. Fortune Education is providing genuine information regarding medical education, guidance & selection of   Medical colleges as per students' and parents' desires. They offer the best and less budget medical colleges where students can afford with long time installments facilities are available., compare. Fortune has legal rights to promote marketing and recruit foreign students who are interested in studying MBBS in Bangladesh. Their Consultancy offers MBBS admission to reputed and complete medical colleges where all kinds of facilities are available as their own campus with on-campus AC Hostel.
1. Admission Procedure for MBBS in Bangladesh:
Application Submission: Candidates need to submit their application form online through the official website of the respective medical colleges or universities.
Documents Verification: Candidates must submit all the necessary documents, and these documents will go through a verification process.
Admission Test: Candidates usually have to appear for an admission test.
Interview: Some colleges may also conduct interviews as part of the admission process.
Admission Confirmation: Once selected, candidates have to confirm their admission by paying the required admission fees.
2. MBBS in Bangladesh Requirements:
The general requirements usually include:
Academic Certificates: Proof of completion of higher secondary school or equivalent, typically with a focus on Science (Physics, Chemistry, and Biology).
Age Limit: There may be an age limit requirement.
Language Proficiency: Proof of proficiency in English may be required.
Medical Fitness: A medical fitness certificate may be necessary.
Passport & Visa: International students would need a valid passport and student visa.
3. MBBS in Bangladesh Eligibility Criteria:
Academic Qualification: Candidates should have completed 10+2 or equivalent with Physics, Chemistry, and Biology as mandatory subjects.
Minimum Marks: Typically, candidates must secure a minimum of 60% in the above subjects.
NEET (For Indian Students): Indian students may be required to qualify NEET for admission in medical colleges in Bangladesh.
The admission procedure for MBBS (Bachelor of Medicine, Bachelor of Surgery) programs for foreign students can vary depending on the country and the specific university or institution. However, I can provide you with a general overview of the process that is commonly followed by many institutions. Please note that the information provided is based on the general understanding and practices as of my knowledge cutoff in September 2021. It's always advisable to check with the specific institution you are interested in for the most up-to-date and accurate information.
Research and Select the University: Start by researching different universities or medical institutions that offer MBBS programs for foreign students. Consider factors such as reputation, curriculum, cost, location, language of instruction, and admission requirements.
Eligibility Criteria: Review the eligibility criteria set by the university. Generally, foreign students are required to have a high school diploma or an equivalent qualification with a background in science subjects like biology, chemistry, and physics. Some institutions may also have specific academic requirements, such as minimum grades or scores in standardized tests like the SAT, ACT, or equivalent.
Language Proficiency: Most universities require foreign students to demonstrate proficiency in the language of instruction, which is often English. You may need to provide scores from standardized language proficiency tests such as the TOEFL (Test of English as a Foreign Language) or IELTS (International English Language Testing System). Minimum score requirements may vary between institutions.
Application Process: Complete the application form for the university or institution you wish to apply to. Submit all the required documents, which may include:

Completed application form
High school transcripts or equivalent
Standardized test scores (if required)
Language proficiency test scores
Passport or other identification documents
Letters of recommendation (academic or professional)
Statement of purpose or personal statement
Any additional documents specified by the university

Entrance Exams: In some cases, universities may require foreign students to take entrance exams specific to the medical field. These exams assess your knowledge and aptitude for medical studies. Common examples include the MCAT (Medical College Admission Test) and the UCAT (University Clinical Aptitude Test). Check with the university for their specific requirements.
Evaluation and Selection: Once your application is submitted, it will be evaluated by the admissions committee. They will review your academic records, test scores, supporting documents, and any other criteria specified by the university. If you meet the requirements and criteria, you may receive an offer of admission.
Visa and Immigration: After receiving an admission offer, you will need to apply for a student visa or study permit from the country where the university is located. Check the immigration requirements of that country and follow the application process. This usually involves providing additional documents such as proof of financial support, health insurance, and a valid passport.
Acceptance and Enrollment: If your visa application is approved, you can accept the offer of admission and complete the enrollment process as instructed by the university. This may involve paying a deposit or tuition fees, providing additional documentation, and confirming your attendance.
If you have any inquiries, feel free to contact them. Their expert consultants are always there for you.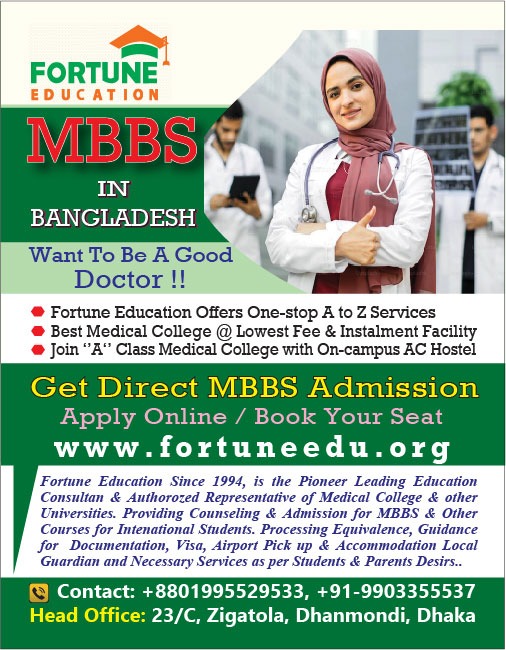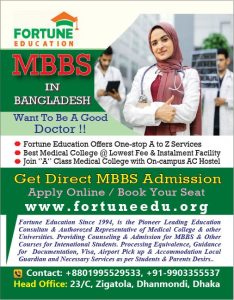 Authorized Representative
HEAD OFFICE
DHAKA, BANGLADESH.
MOBILE & WHATSAPP: +88-01995529533
OFFICES IN INDIA
MOBILE & WHATSAPP: +91-9903355537
PATNA, BIHAR, DELHI, JAMMU & KASHMIR,
HYDERABAD, LUCKNOW, CHENNAI, AND GUWAHATI.