Army Medical College Bogura Admission Circular 2023-24
Army Medical College Bogra is a Military medical college, established in 2014.It is located in Bogra Cantonment, Bangladesh. It is affiliated by Bangladesh University of Professionals. Academic activities started on 10th January 2015 with 50 students along with five Army Medical Colleges. As of 2018, it has 200 MBBS students.Army Medical College Bogura 2023-24 is gong on.
Army Medical College Bogra Details
| | |
| --- | --- |
| Category | Details |
| College Name | Army Medical College Bogura |
| Short Name | AMCB |
| Type | Public |
| Established | 2014 |
| Affiliated | Bangladesh University of Professionals |
| Location | Bogura , Bangladesh |
| MCI Approved | – |
| Courses Offered | MBBS |
| Exam Acceptance | NEET, Bangladesh University of Professionals Entrance Exam |
Army Medical College  Bogura Eligibility Criterion –
For the upcoming admission 2023-24, students seeking Army Medical College Bogura, Bangladesh admission Direct, may go through the college website to get a fair idea about the last year cut-off. For the ease of the applicants the procedure below would help them to get an idea about the eligibility and qualification regarding the admission process.
The student seeking medical college admission should have completed 17 years of age by the 31st of July of the ongoing admission year.

The students should have cleared 10+2 examination with a minimum of 50% and above in

English

Physics

Chemistry

Biology

Students can apply for Admission Direct Quota seatsif they secure 50% and above in all subjects

Students are required to appear in an interview as a part of the selection procedure
Apart from Army Medical College Bogura ( AMCB ), Bangladesh Direct admission, students can also seek admission to the institute under Management Quota Admission. The Management Quota Seat is reserved for those candidates who may have missed the last date for submission of the application or may have failed to secure the required percentage of marks.
For the foreign students or Indian students coming from foreign bases, admission can be sought under the Army Medical College Bogra, Bangladesh NRI Quota Admission. Admissions to the medical college are also granted under Payment Seat or Management Seat quota. If Indian students are get valid score in neet, the college will be given the priority while taking admission for MBBS.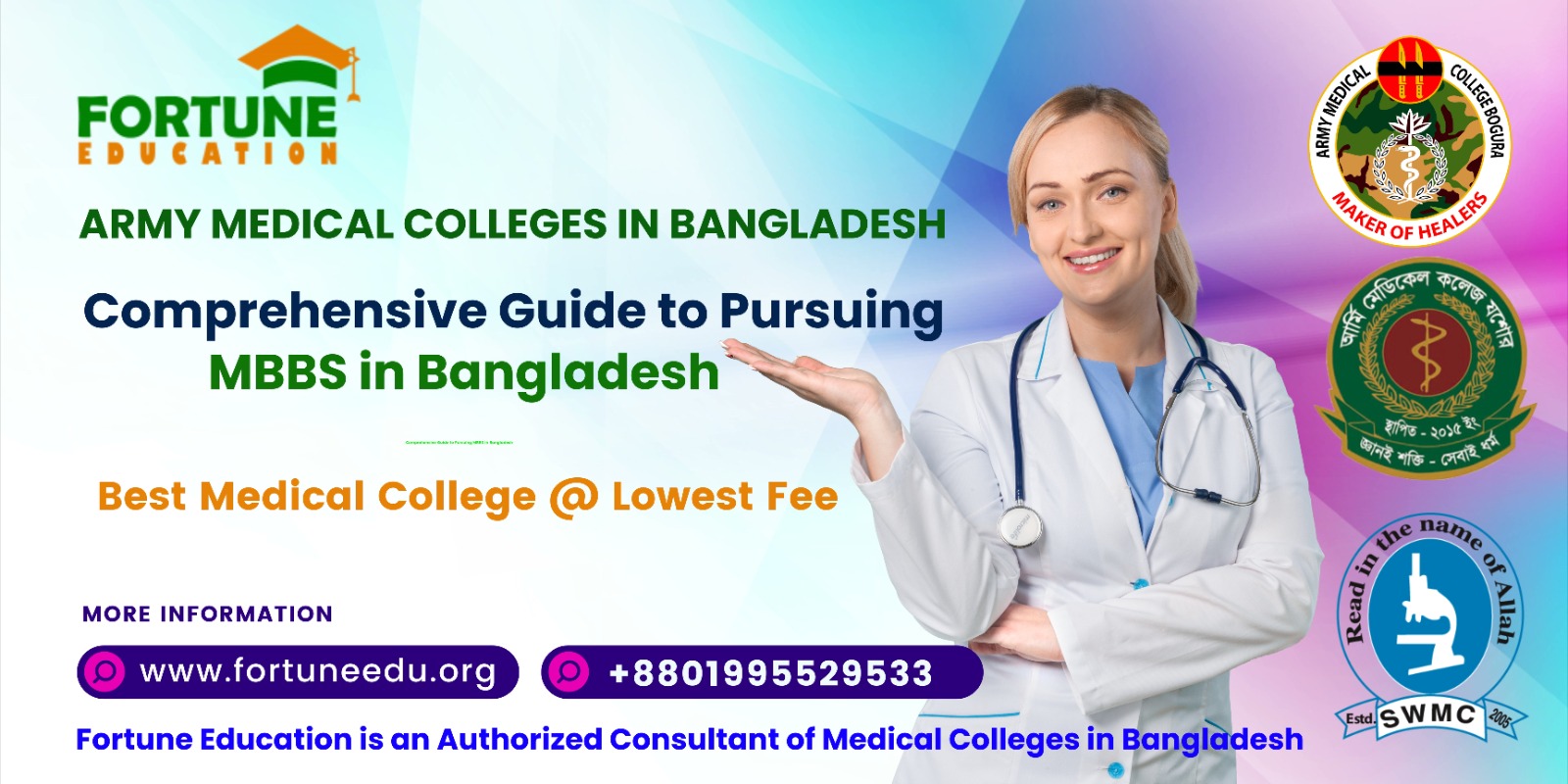 Fortune education is the exclusive authorized Representative for Army Medical College Bogra.Processing direct admission with one-stop services.Contact: Mobile & WhatsApp: +8801995529533, India: +91-9903355537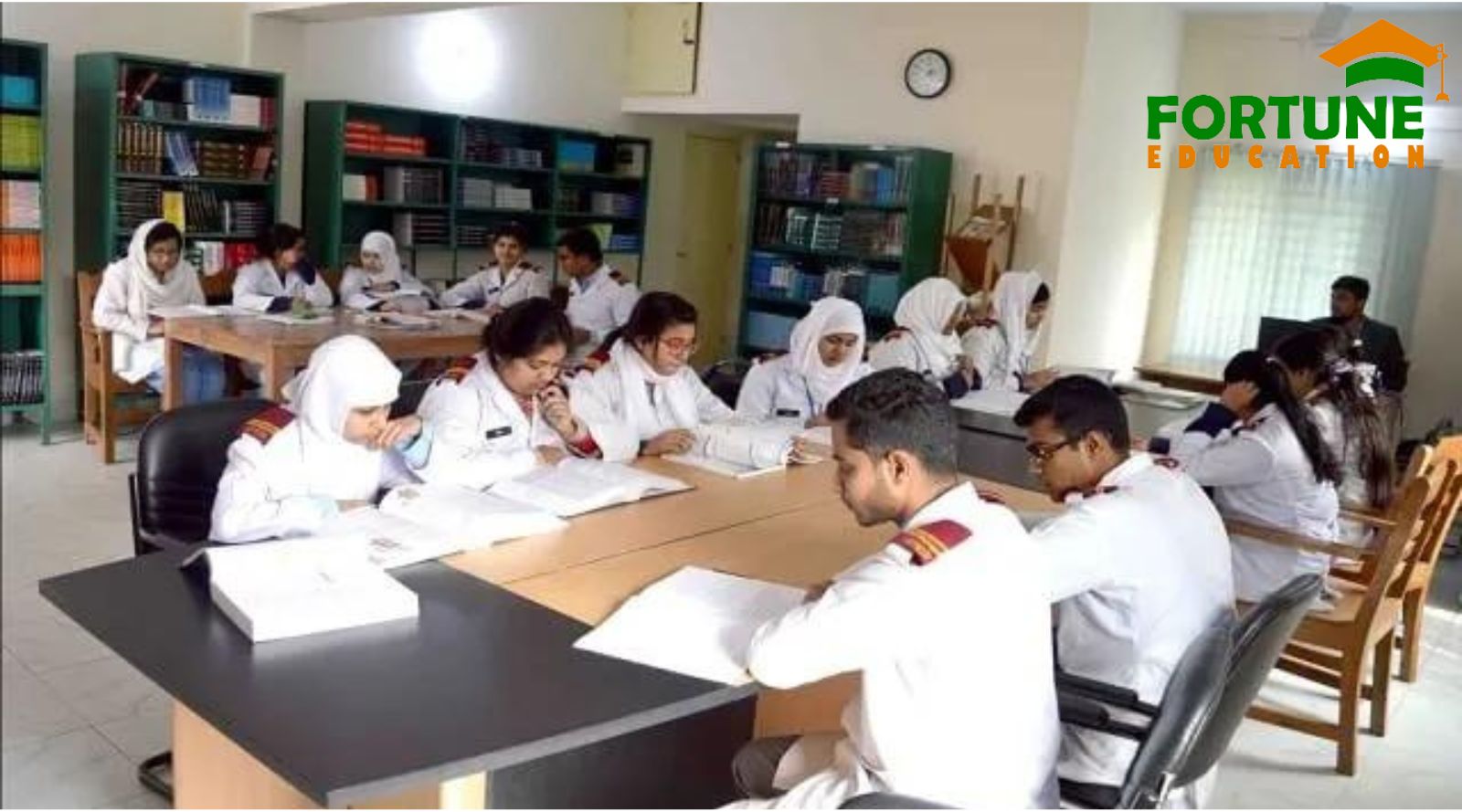 Library
The college has a very spacious library. We have a library with all available academic textbooks of the latest version, medical journal and literature, question bank of previous professional exams under BUP. The library will gradually build up a good collection of training video/audio tapes and professional slides. Enriching the library is a continuous process. New and sufficient amount of teaching aids and modern facilities will be added every year.
Accommodations
AMCB is a residential facility. It is mandatory for medical students to live in the university's dormitories. Next to the academic campus, there are separate dormitories for male and female students. Cadets must observe all rules and regulations relating to the customs and etiquette, decency and decency of the dormitory as may be laid down from time to time by the school authority. Visiting hours according to SOP (Standing Operating Procedures) are strictly observed. In the case of female cadets, only registered and selected visitors, especially their parents/guardians, are allowed during the prescribed hours.
Mess
College established its own cookhouse. Fooding is arranged by the college. College provides 3 times meals and 2 times snacks daily for the students.
Scholarships
Army Medical College Bogra scholarship programs aim to provide financial assistance to eligible students on scholarships as per criteria set by Army Medical College Bogra.
Army Medical College Bogra FAQ
How to get admission in Army Medical College Bogra?
If you are looking for direct admission in Army Medical College Bogra, Bright Educational Service is the right place for you which has best Indian direct admission consultants and where provide 100% guarantee of admission in India and abroad.
Which entrance exams does Army Medical College Bogra accept?
Army Medical College Bogra will accept NEET UG, NEET PG entrance exam score for admission.
How is the atmosphere there in the Army Medical College Bogra campus?
The atmosphere of Army Medical College Bogra is good. Which offers students a great infrastructure for healthy physical and mental growth.
 Does Army Medical College Bogra College have hostel facilities?
 Yes, Army Medical College Bogra has separate hostel facilities for both boys and girls. It is located inside the campus.
How is Army Medical College Bogra? Is it a good college?
By collage standards no doubt there are better colleges than Army Medical College Bogra ,amcb provide better recruitment, better education and better college campus, better environment etc.
Fortune education is the exclusive authorized mbbs admission consultancy for army medical college Bogra.We provide all the details of admission.There are many firms around and they have a variety  offers but not all of them can give you the desired results.You will have better results if you work with Fortune education to get admission into any college of your choice.We provide you best packages and services to mbbs aspirants.
Fortune Education has legal rights to process admission to Medical, Dental colleges and universities all over the world. We offer MBBS, BDS & others Admission, Application, Guidance, Documentation, and required services such as to eligible students regarding medical and higher studies.Fortune Education invites students to register for MBBS & BDS admission with a special Scholarship for the academic year 2023-24.
(Online /Direct Admission & Seat Confirmation)
FOR ADMISSION AND OTHER QUARRIES, CONTACT:
Authorized Representative
HEAD OFFICE :
DHAKA, BANGLADESH.
MOBILE & WHATSAPP: +88-01995529533
OFFICES IN INDIA:
MOBILE & WHATSAPP: +91-9903355537
WEST BENGAL, MODON MOHON STREET, KOLKATA,
PATNA, BIHAR, DELHI, JAMMU & KASHMIR,
HYDERABAD, LUCKNOW, CHENNAI, AND GUWAHATI.