A Premier Institute for Aspiring Medical Professionals
আর্মি মেডিকেল কলেজ রংপুর বাংলাদেশের একটি সুপরিচিত মেডিকেল কলেজ যা বাংলাদেশ ইউনিভার্সিটি অব প্রফেশনালসের (বিইউপি) অধিভুক্ত। এটি একটি সরকারী প্রতিষ্ঠান যা ২০১৪ সালে প্রতিষ্ঠিত হয়েছিল এবং এটি বাংলাদেশের রংপুরে অবস্থিত। কলেজটি পাঁচ বছর মেয়াদী ব্যাচেলর অব মেডিসিন এবং ব্যাচেলর অব সার্জারি (এমবিবিএস) প্রোগ্রাম প্রদান করে, যা বাংলাদেশ মেডিকেল অ্যান্ড ডেন্টাল কাউন্সিল (বিএমডিসি) কর্তৃক স্বীকৃত।
আর্মি মেডিকেল কলেজ রংপুর বা অন্য কোনো প্রতিষ্ঠানের জন্য স্বীকৃত এডুকেশন কনসালটেন্ট হতে হলে সংশ্লিষ্ট প্রতিষ্ঠান ও বাংলাদেশের শিক্ষাখাত পরিচালনাকারী নিয়ন্ত্রক সংস্থা কর্তৃক নির্ধারিত মানদণ্ড পূরণ করতে হবে।
Army Medical College Rangpur – MBBS Admission, Eligibility, and Fee Structure for International Students
Learn all about the MBBS program at Army Medical College Rangpur, including admission requirements, eligibility criteria, fee structure, and how Fortune Education can help international students achieve their dream of studying medicine in Bangladesh.
Army Medical College Rangpur, MBBS Admission, Eligibility, Fees Structure, International students, Fortune Education
Army Medical College Rangpur (AMCR) is one of the leading medical institutions in Bangladesh, offering a world-class education in the field of medicine. The college is known for its exceptional MBBS program that attracts both local and international students. The eligibility criteria for international students seeking admission to the
Rangpur is a city located in the northwestern part of Bangladesh. It is the capital of Rangpur Division and the Rangpur District. The city is situated on the bank of the river Ghaghat, which is a tributary of the Brahmaputra River. Rangpur is bordered by India to the north and west, Dinajpur to the south, and Nilphamari and Lalmonirhat to the east. The city has a population of over 700,000 people and is known for its rich cultural heritage, historical landmarks, and scenic beauty. Some of the major attractions in Rangpur include the Tajhat Palace, the Carmichael College, the Rangpur Museum, and the Rangpur Zoo.
MBBS program at AMCR are as follows:
The candidate must have completed their high school education with a minimum GPA of 7.0, considering both SSC (Secondary School Certificate) and HSC (Higher Secondary Certificate) or equivalent examinations.
The candidate should have a minimum GPA of 3.5 in Biology in the HSC or equivalent examination.
The candidate must have passed the 'A' level with a minimum of 3.5 grades in Biology, Chemistry, and Physics.
International students are required to submit a No Objection Certificate (NOC) from their respective governments.
Fee Structure for International Students at Army Medical College Rangpur
The fee structure at Army Medical College Rangpur for international students is affordable and competitive compared to other medical colleges in the region. The total cost for the five-year MBBS program is approximately USD 40,000, which includes tuition fees, admission fees, and hostel fees. Please note that the fees may be subject to change and should be confirmed with the college before admission.
Fortune Education is a well-established and recognized educational consultant for medical colleges in Bangladesh, including Army Medical College Rangpur. They have a proven track record of assisting international students in securing admission to top medical colleges in the country.
Some of the services provided by Fortune Education include:
Assistance with the admission process, including application, documentation, and visa requirements.
Providing information on the eligibility criteria and fee structure for MBBS programs in Bangladesh.
Offering guidance and support in choosing the right medical college based on the student's preferences and budget.
Helping students find suitable accommodation and providing on-ground support throughout their educational journey.
In conclusion, Army Medical College Rangpur is an excellent choice for international students pursuing a career in medicine. With affordable fees and high-quality education, students can look forward to a bright future in the medical profession. Fortune Education can help make this dream a reality by providing expert guidance and support throughout the entire admission process.
Discover the world-class education and state-of-the-art facilities at Army Medical College Rangpur, one of Bangladesh's leading medical institutions.
Army Medical College Rangpur, medical education, MBBS program, admission process, facilities, faculty, medical college in Bangladesh
Army Medical College Rangpur (AMCR) is a distinguished medical institution in Bangladesh, renowned for its high-quality education, cutting-edge infrastructure, and exceptional faculty. Situated in the vibrant city of Rangpur, AMCR is dedicated to nurturing the next generation of skilled medical professionals, preparing them for successful careers in the ever-evolving healthcare landscape.
Accredited by the Bangladesh Medical and Dental Council (BM&DC), the MBBS program at AMCR follows a rigorous curriculum that combines theoretical knowledge with hands-on clinical experience. Students benefit from state-of-the-art facilities, including modern classrooms, well-equipped laboratories, and a comprehensive library that houses an extensive collection of books, journals, and e-resources.
At the heart of Army Medical College Rangpur is its dedicated and accomplished faculty, comprising experienced professionals who are not only experts in their respective fields but are also passionate about imparting their knowledge to the students. The institution emphasizes a holistic approach to medical education, fostering a learning environment that encourages collaboration, critical thinking, and ethical practice.
Admission to the MBBS program at AMCR is highly competitive and based on merit. Prospective students are required to pass the Medical College Admission Test (MCAT) and fulfill other eligibility criteria as outlined by the college. For detailed information on the admission process, eligibility, and deadlines, visit the AMCR website or contact the admission office.
In addition to its strong academic program, Army Medical College Rangpur offers numerous extracurricular activities that contribute to the all-round development of its students. From sports and cultural events to workshops and seminars, students are encouraged to explore their interests and develop essential life skills beyond the classroom.
Upon successful completion of the MBBS program, graduates from AMCR are well-prepared to pursue their careers in various fields of medicine, such as general practice, research, and specialized disciplines. The college's alumni network consists of accomplished professionals, many of whom hold prestigious positions in renowned hospitals and medical institutions across the globe.
In conclusion, Army Medical College Rangpur stands as a symbol of excellence in medical education in Bangladesh. With its commitment to nurturing compassionate and knowledgeable healthcare professionals, AMCR is the ideal choice for aspiring doctors seeking a world-class education and a bright future in the medical field.
Rangpur Army Medical College
Rangpur Army Medical College: Pioneering Excellence in Medical Education
Learn about the outstanding educational experience at Rangpur Army Medical College, a leading medical institution in Bangladesh committed to shaping the future of healthcare.
Rangpur Army Medical College, medical education, MBBS program, state-of-the-art facilities, dedicated faculty, medical college in Bangladesh, healthcare professionals
Rangpur Army Medical College (RAMC), situated in the dynamic city of Rangpur, is a prominent medical institution in Bangladesh, recognized for its commitment to providing a superior educational experience and nurturing the medical professionals of tomorrow. RAMC's unwavering dedication to excellence in medical education has positioned it as one of the country's most sought-after institutions for aspiring doctors.
Affiliated with the Bangladesh Medical and Dental Council (BM&DC), RAMC offers an intensive MBBS program that seamlessly blends theoretical concepts with practical clinical experience. Students at RAMC enjoy access to state-of-the-art facilities, including advanced laboratories, spacious lecture halls, and an extensive library stocked with a wealth of print and digital resources.
The exceptional faculty at Rangpur Army Medical College sets it apart from other institutions in the country. These highly qualified and experienced professionals possess a deep passion for teaching, fostering an environment that cultivates critical thinking, collaboration, and ethical practice in the medical field.
Admission to the MBBS program at RAMC is based on a competitive selection process, with candidates required to clear the Medical College Admission Test and meet the eligibility criteria specified by the college. For comprehensive information on admissions, including the application process, eligibility requirements, and important dates, visit the RAMC website or get in touch with their admissions office.
Beyond academics, Rangpur Army Medical College encourages students to engage in a range of extracurricular activities that promote personal growth and overall development. Through sports, cultural events, and academic workshops, students have ample opportunities to expand their horizons, develop essential life skills, and build lasting connections with their peers.
Graduates of RAMC's MBBS program are well-equipped to embark on successful careers across various healthcare domains, including general practice, specialized disciplines, and research. The college boasts an impressive alumni network, with many of its graduates holding esteemed positions in renowned hospitals and medical organizations around the world.
Fortune Education Pioneer: Your Trusted Partner for MBBS Admissions in Bangladesh & Abroad
Fortune Education Pioneer, a premier authorized representative for top medical colleges in Bangladesh and abroad, offers seamless direct MBBS admissions and comprehensive consultancy services to Indian medical aspirants. We ensure a hassle-free admission process, transparent fee structures, and personalized guidance, making your journey towards a rewarding medical career a reality. Choose Fortune Education Pioneer to transform your medical dreams into a successful future.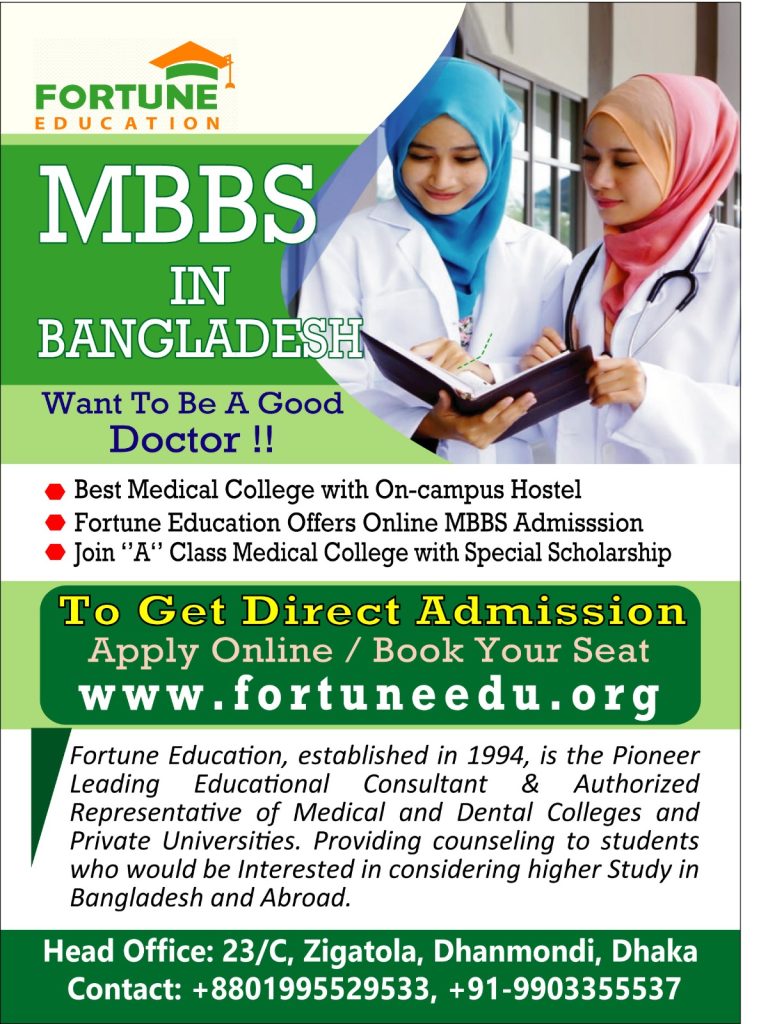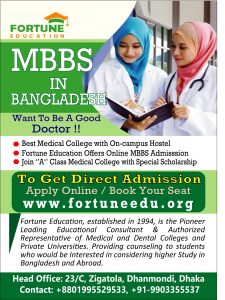 Achieve Your Medical Dream with Fortune Education Pioneer: The Ultimate Gateway to MBBS in Bangladesh and Abroad
Are you an aspiring Indian medical student, dreaming of earning an MBBS degree from top medical colleges in Bangladesh and abroad? Look no further, as Fortune Education Pioneer has you covered. As the leading authorized representative of renowned medical institutions, we pride ourselves in offering comprehensive consultancy services to help students like you achieve your dreams.
With years of experience and expertise in the field, we understand the challenges and aspirations of Indian medical students. Our range of services includes online direct MBBS admissions, personalized guidance, and the provision of all necessary documentation to ensure a seamless journey towards higher education.
Why Choose Fortune Education Pioneer for Your MBBS Journey?
Accredited Medical Colleges: We represent prestigious and MCI-recognized medical colleges in Bangladesh and abroad, ensuring you receive the highest standard of education and international exposure.
Direct Admissions: EmailMe Form – Online Application Form simplifies and streamlines the enrollment experience, making it hassle-free and convenient for students.
Expert Consultancy Services: Our experienced team of counselors is well-versed in guiding students through the complexities of higher education, providing them with valuable insights and tailor-made solutions.
Transparent Fee Structure: We are committed to maintaining transparency in our fee structures and packages, with no hidden costs or commissions.
Career Guidance and Support: Our comprehensive approach to career guidance and support ensures you make informed decisions about your future, taking you one step closer to a successful medical career.
Why MBBS in Bangladesh?
Quality Education: The medical institutions in Bangladesh follow a high standard of education, comparable to that of top international universities.
Affordable Tuition: The cost of studying MBBS in Bangladesh is significantly lower compared to many other countries, making it a popular choice among Indian medical students.
Cultural Proximity: The cultural similarities between India and Bangladesh make it easier for Indian students to adjust and thrive in their new environment.
English Medium Curriculum: The MBBS curriculum in Bangladesh is primarily taught in English, ensuring that language barriers do not impede your education.
Global Recognition: An MBBS degree from Bangladesh is globally recognized, opening doors to a world of opportunities in your medical career.
Join the league of successful Indian medical students who have trusted Fortune Education Pioneer as their partner in the pursuit of their medical dreams. Experience personalized guidance, expert consultancy, and seamless admission procedures that make your journey towards an MBBS degree a truly fulfilling one.
Get in touch with us today, and embark on a rewarding career in the medical field with Fortune Education Pioneer. Together, let's achieve your dreams!
Fortune Education facilitates the online admission process for aspiring students who wish to pursue MBBS (Bachelor of Medicine and Bachelor of Surgery) in renowned medical colleges. Through their platform, students can conveniently apply and secure admission without the need for physical presence.

Head Office: 23/C, Zigatola, Dhaka-1209, Bangladesh
Bangladesh: +8801995529533
India: +919903355537
Email: fortunebangladesh@gmail.com