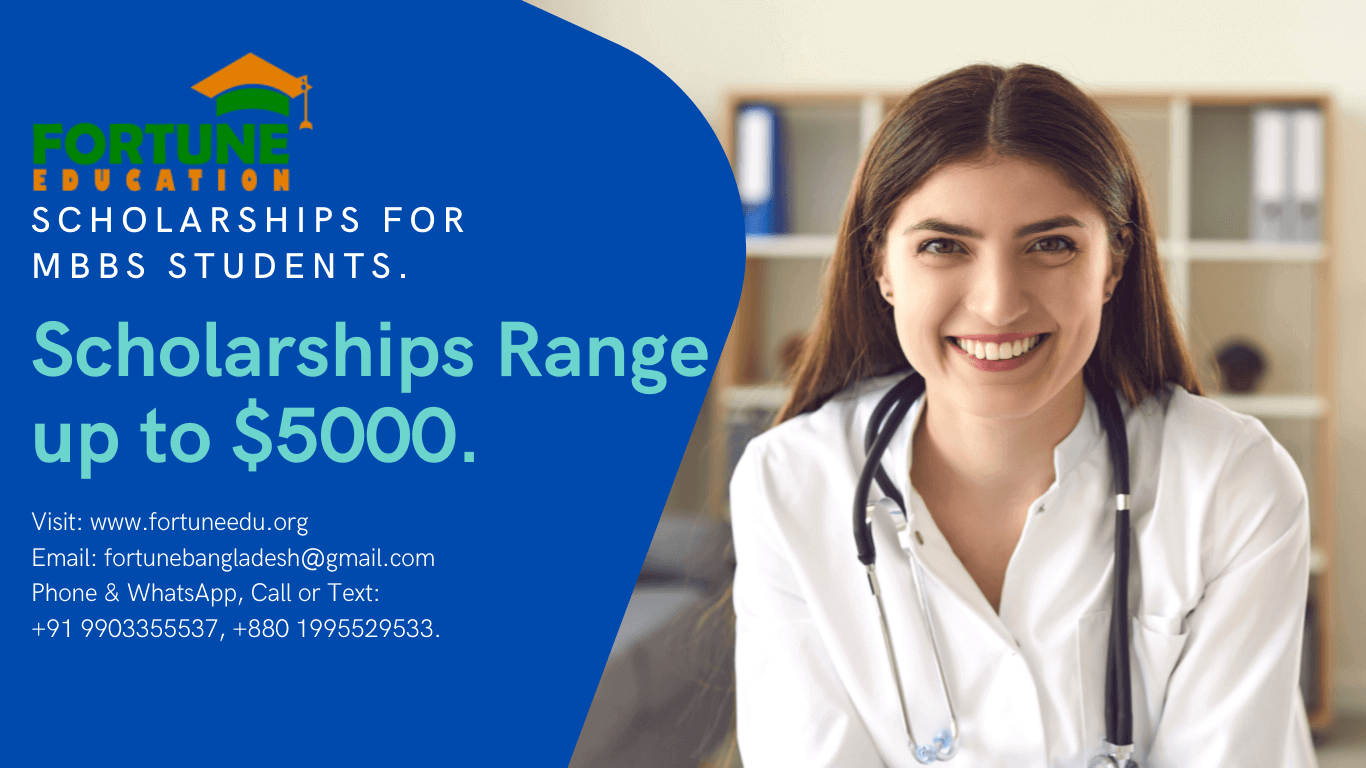 Scholarships for MBBS Students
Unlike, Fortune education providing scholarships for MBBS Students who want admission for MBBS in Bangladesh.
A pioneer in educational consultancy, established in 2004, Fortune education is all set to offer scholarships to interested candidates aspiring to study Medicine. Moreover, We offer aid to aspirants from Bangladesh and overseas to pursue MBBS, BDS, BVSC, and other medical higher study courses.
Apart from effective scholarships, we help eligible students with the application. Admission procedure, guidance, documentation, and other services also can be got from them. Their scholarships range up to $5000. In short, Scholarships for MBBS Students can get through our application form. ( Fill it up and get your quote )
We have various subsidiary agencies responsible for inviting eligible candidates and helping them through the process.
The primary eligibility criteria of the applicants and aspirants are the follows:
Firstly of all the candidate must have a 10+2 degree and must have pursued the subjects- Biology, Physics, and Chemistry.
Secondly, the candidate must have achieved an aggregate score of 60% minimum or above.
Thirdly the candidate must be qualified to pursue MBBS for their undergraduate program, meaning they must have cracked the NEET examination.
Lastly, Candidates must not have a gap of more than 2 years post their 10+2 exams to be eligible for the scholarship.
A further brief of their objectives and credibility on their website, listed as follows:
➔The structure of medical and nursing education in Bangladesh and overseas
➔A list of top medical colleges in Bangladesh
➔A globally recognized scholarship program and its details
➔The top medical colleges globally
➔MBBS admission procedure in Bangladesh
➔The eligibility for MBBS in Bangladesh
Fortune education has issued a call for registration to MBBS and BDS term 2023-24, covered by their particular scholarship program, as already mentioned earlier.
Bangladesh,
The People's Republic of Bangladesh is a country in South Asia with Dhaka as its capital. Medical and other higher education Widely used language is English. The climate is tropical with a mild winter from October to March, and summer from March to June. Above all, Peaceful weather for any student in these subcontinents.
Bangladesh is the Next Eleven Emerging Economy. To clarify, Bangladesh has achieved significant strides in human and social development. The country is a founding member of SAARC, the Developing 8 Countries. The Bay of Bengal Initiative for Multi-Sectoral Technical and Economic Cooperation (BIMSTEC). In short, Bangladesh contributes to one of the largest peacekeeping to the United Nations.
Bangladesh, being the ultimate destination away from home for Nepalese medical students, provides quality medical education to each and every new medical aspirant. For instance, Colleges are under the jurisdiction of the Ministry of Health and Family Welfare (MOHFW) & are affiliated with a university in the respective region.
Out of 96 recognized medical colleges in Bangladesh, 60 are private, 30 are public & 6 are run by the Bangladesh Armed Forces. Similarly, Under the Ministry of Defense, Colleges are good for Education. All the medical colleges award the Bachelor of Medicine, Bachelor of Surgery (MBBS), and/or Bachelor in Dental Surgery (BDS) degree.
Most of the colleges are recognized by the Nepal Medical Council (NMC), Medical Council of India (MCI). In addition, they listed the World Health Organization (WHO), Directory of Medical Schools.
[elementor-template id="18612″]
[elementor-template id="18085