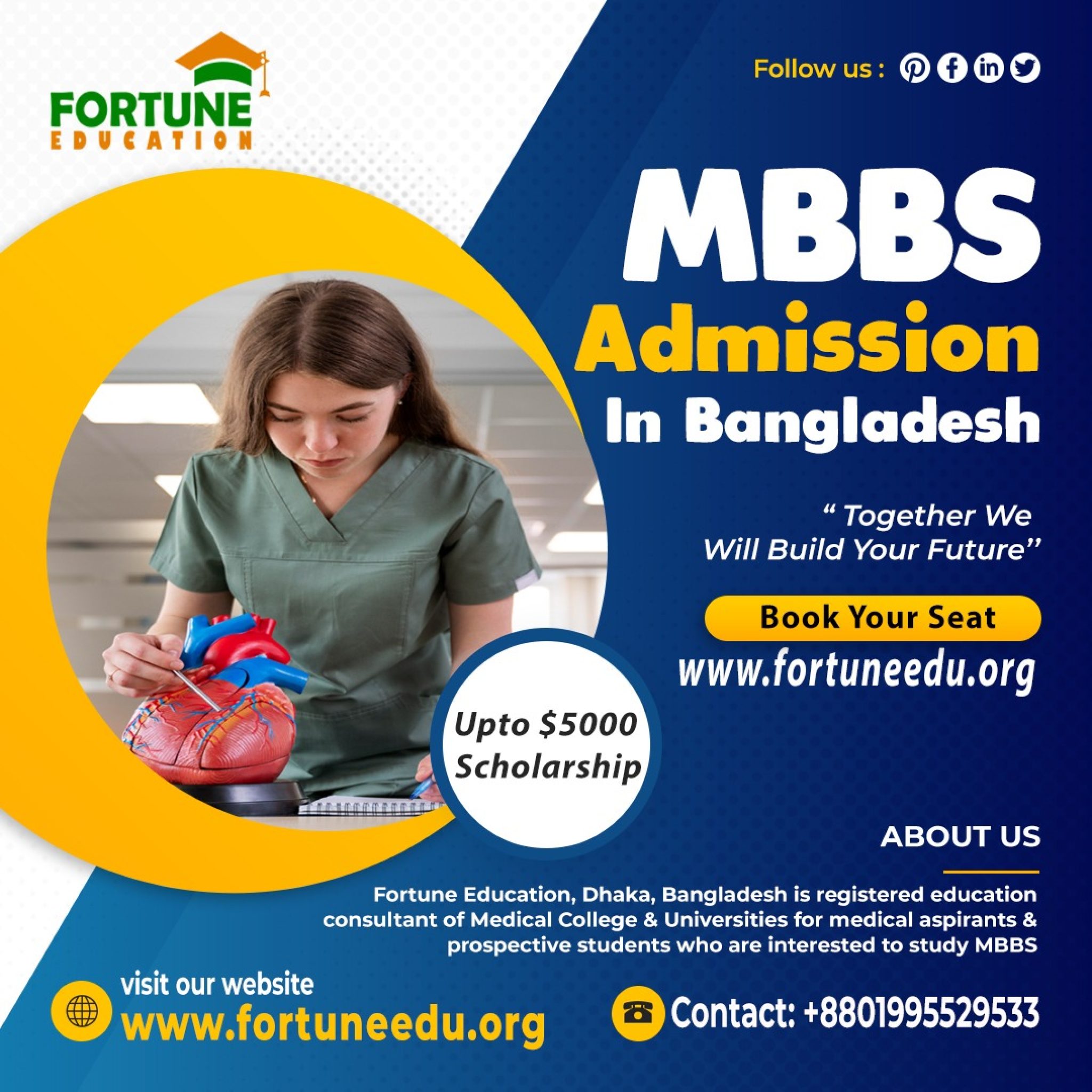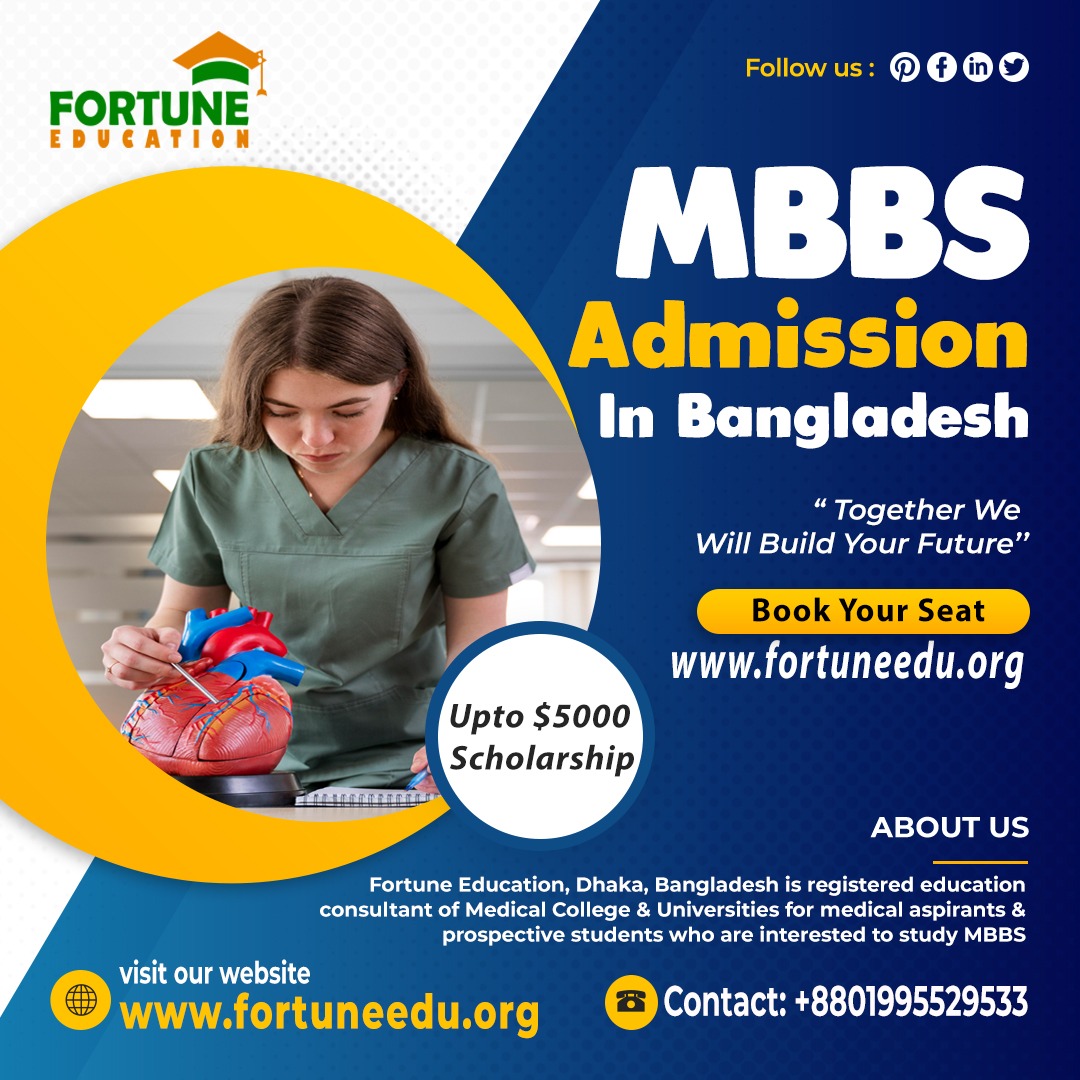 MBBS Admission Circular in Bangladesh 2023-24
MBBS Admission Circular in Bangladesh 2023-24
A Comprehensive Guide
Are you an aspiring medical student aiming to secure a spot in a top medical college in Bangladesh? Then it's crucial to keep an eye on the MBBS admission circular for the academic year 2023-24.
In this comprehensive guide, we will provide you with all the necessary information about MBBS admission in Bangladesh, including eligibility criteria, the application process, fees, and other essential details. So, let's dive in and understand the intricacies of the MBBS admission process in Bangladesh.
To apply for MBBS in Bangladesh, candidates must meet specific eligibility criteria, which include:
Age Limit: Candidates must be at least 17 years old by December 31, 2023, to be eligible for MBBS admission.
Educational Requirements: Candidates should have passed the Higher Secondary Certificate (HSC) or equivalent examination with Physics, Chemistry, and Biology as compulsory subjects. They must also have passed the Secondary School Certificate (SSC) or equivalent examination.
Minimum GPA: Candidates should have a combined GPA of 9.00 in SSC and HSC, with at least 3.5 GPA in each examination. In the case of foreign candidates, the GPA requirements may differ.
Application Process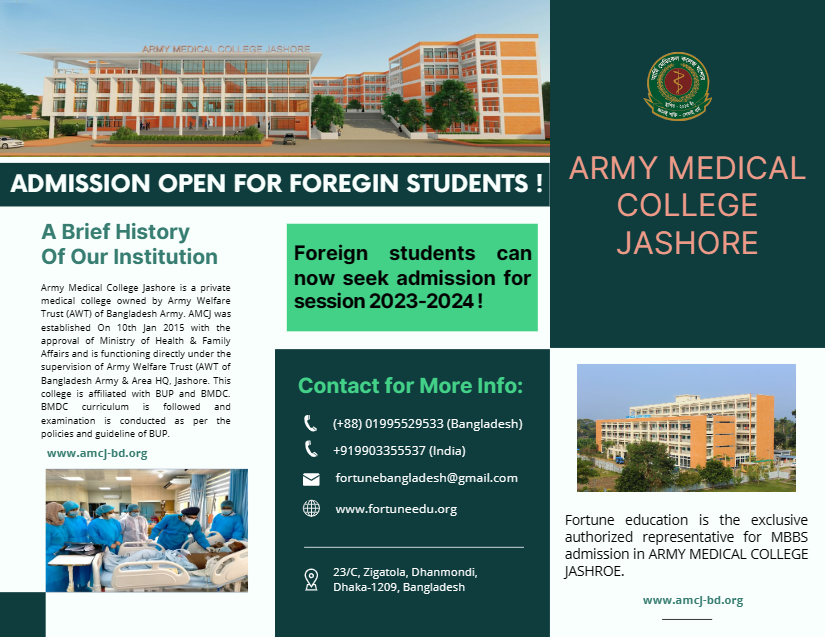 The application process for MBBS admission in Bangladesh consists of the following steps:
Obtain the Prospectus: Candidates can download the prospectus from the official website of the Directorate General of Health Services (DGHS) or the respective medical college's website.
Register for the Medical Admission Test: Aspiring candidates must register for the Medical Admission Test (MAT) conducted by the DGHS. To register, visit the official website, fill in the required details, and pay the registration fees.
Submit the Online Application Form: Candidates must submit an online application form available on the official website of DGHS within the specified deadline.
Upload Documents: Scanned copies of necessary documents such as HSC and SSC certificates, mark sheets, passport-sized photographs, and signature must be uploaded during the application process.
Print the Application Form: After submitting the application form, candidates should print it for future reference.
Medical Admission Test
The Medical Admission Test is a competitive examination that tests candidates' knowledge in Biology, Chemistry, Physics, English, and General Knowledge. The total marks are 300, and candidates must secure a minimum of 40% marks to qualify. The MAT is held at various centers across Bangladesh and usually takes place in October or November.
MBBS admission process in Bangladesh
The MBBS admission process in Bangladesh is based on the merit list prepared from the Medical Admission Test results. The merit list is published on the DGHS website, and the top-ranked candidates are called for counseling.
Counseling Process:
Choice Filling: During the counseling process, candidates must choose their preferred medical colleges.
Document Verification: Candidates need to present the original documents for verification during counseling.
Seat Allocation: Based on the merit list and choice preference, seats are allocated to the candidates in various medical colleges.
Confirmation of Admission: Once the seat is allocated, candidates must pay the admission fees and submit the required documents to confirm their admission.
MBBS Fee Structure

The fee structure for MBBS in Bangladesh may vary depending on the college and the candidate's nationality. However, the approximate cost ranges from $35,000 to $50,000 for the entire program, which includes tuition fees, accommodation, and other miscellaneous expenses.
Scholarships and Financial Aid
There are various scholarships and financial aid options available for meritorious students and those in need. The Bangladesh government offers scholarships to deserving candidates, while some medical colleges provide financial aid to students based on them academic performance or financial situation.
Students are encouraged to research and apply for these opportunities to ease their financial burden during their MBBS journey.
Top Medical Colleges in Bangladesh
Bangladesh is home to several reputed medical colleges that offer high-quality education and training. Some of the top medical colleges include: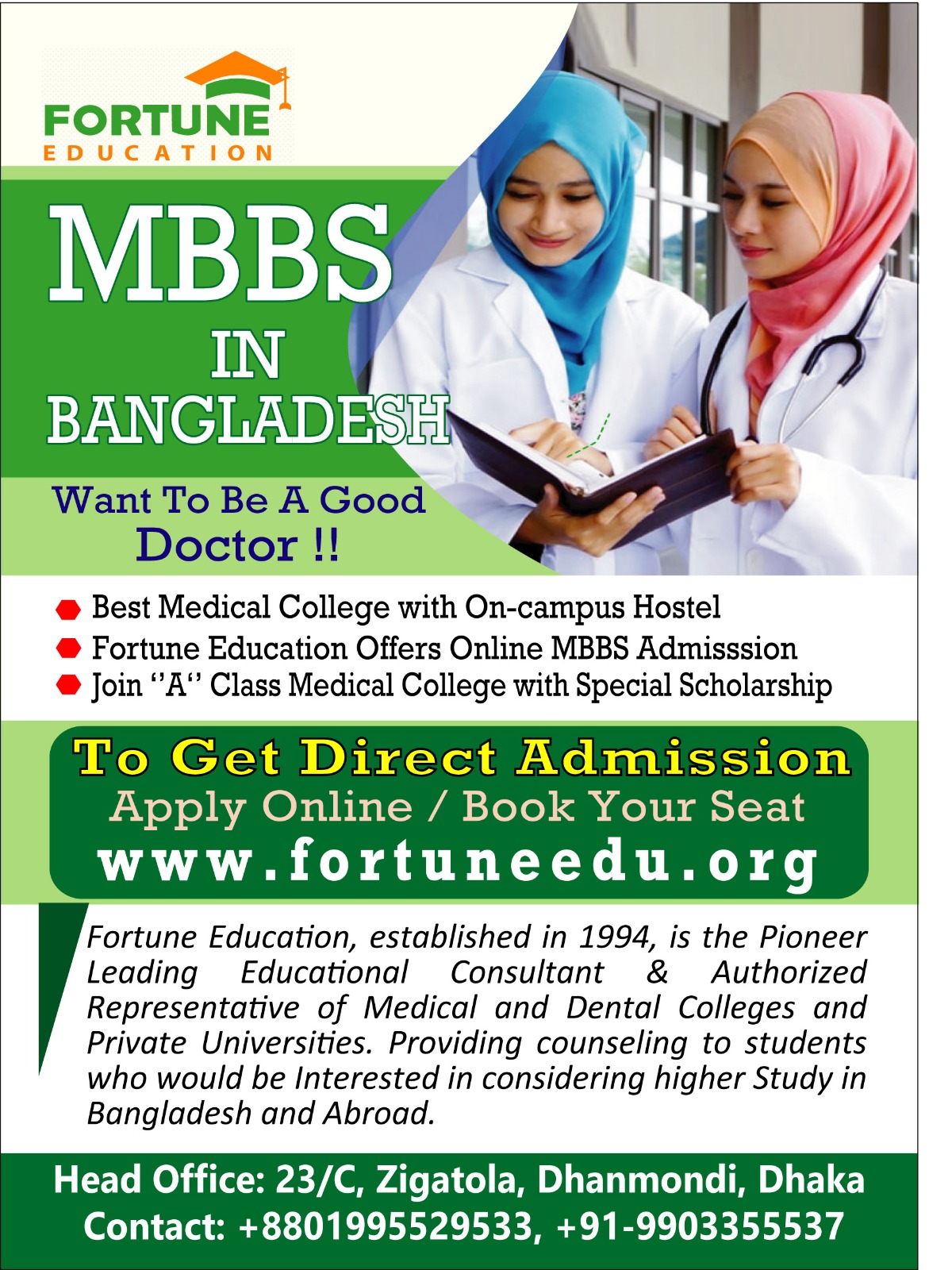 Dhaka Medical College (DMC)
Established in 1946, Dhaka Medical College is one of the oldest and most prestigious medical institutions in Bangladesh. Located in the heart of Dhaka,
DMC boasts a sprawling campus, state-of-the-art infrastructure, and experienced faculty. The college offers MBBS, BDS, and various postgraduate programs in multiple medical disciplines.
Chittagong Medical College (CMC)
Chittagong Medical College, founded in 1957, is a reputed institution known for providing quality medical education in Bangladesh. Located in Chittagong, the college offers a wide range of undergraduate and postgraduate courses in medicine, dentistry, and nursing.
With a strong focus on practical training, CMC graduates are well-equipped for successful medical careers.
Sir Salimullah Medical College (SSMC)
Established in 1875 and named after Nawab Sir Salimullah, this esteemed institution is situated in Dhaka. With its rich history, highly qualified faculty, and excellent facilities, SSMC offers undergraduate and postgraduate courses in various medical disciplines, producing skilled professionals in the field of medicine.
Mymensingh Medical College (MMC)
Founded in 1924, Mymensingh Medical College is a leading medical institution in Bangladesh. Located in Mymensingh, MMC offers MBBS, BDS, and postgraduate degrees in several medical specialties. With a focus on research, modern infrastructure, and committed faculty, MMC consistently ranks among the top medical colleges in the country.
Rajshahi Medical College (RMC)
Established in 1958, Rajshahi Medical College is a renowned institution for medical education in Bangladesh. Based in Rajshahi, RMC offers undergraduate and postgraduate programs in medicine, dentistry, and nursing. The college's modern infrastructure, experienced faculty, and focus on hands-on learning make it a popular choice for aspiring medical professionals.
Sher-e-Bangla Medical College (SBMC)
Founded in 1968, Sher-e-Bangla Medical College is located in Barisal. Known for its commitment to quality medical education, SBMC offers MBBS, BDS, and various postgraduate courses in medical disciplines. With state-of-the-art facilities and experienced faculty, SBMC continues to produce top-notch medical professionals in Bangladesh.
Khulna Medical College (KMC)
Established in 1990, Khulna Medical College is a reputed medical institution in Khulna, Bangladesh. The college offers undergraduate programs in medicine and dentistry, along with postgraduate courses in several medical disciplines. KMC focuses on practical training, ensuring its graduates are well-prepared for their medical careers.
Rangpur Medical College (RMC)
Founded in 1970, Rangpur Medical College is a prominent medical institution in Rangpur, Bangladesh. RMC offers undergraduate and postgraduate courses in medicine, dentistry, and nursing. The college is equipped with modern facilities, a skilled faculty, and a focus on research, making it a sought-after destination for medical students.
Sylhet MAG Osmani Medical College
Established in 1962, Sylhet MAG Osmani Medical College is a prestigious medical institution in Sylhet, Bangladesh. Named after General M.A.G. Osmani, the college offers MBBS, BDS, and various postgraduate programs in medicine. With its well-equipped infrastructure, qualified faculty, and research-oriented approach, SOMC is a popular choice for aspiring medical professionals.
Armed Forces Medical College

Founded in 1977, Armed Forces Medical College is a renowned institution in Dhaka, Bangladesh. Affiliated with Bangladesh University of Professionals (BUP), AFMC offers
These medical colleges offer a world-class curriculum, modern facilities, and experienced faculty to ensure students receive the best possible education in the field of medicine.
Internship and Practical Training
After completing their academic coursework, students must undergo a one-year mandatory internship at a recognized hospital. This internship provides practical exposure and helps students gain real-world experience in various aspects of patient care, diagnostics, and treatment.
Career Opportunities after MBBS in Bangladesh
An MBBS degree from Bangladesh opens up numerous career opportunities in the healthcare sector. Graduates can opt for higher studies in specialized fields such as surgery, pediatrics,gynecology, or radiology. Alternatively, they can start their practice as a general physician, join government or private hospitals, or work with non-governmental organizations (NGOs)
to provide healthcare services in rural and remote areas. Some graduates also choose to pursue research or teaching careers in the field of medicine.
The MBBS Admission Circular in Bangladesh 2023-24 serves as an essential guide for students aiming to pursue a medical degree in Bangladesh. By understanding the eligibility criteria, application process, admission procedure, and other vital aspects, candidates can make informed decisions and prepare accordingly.
With a strong emphasis on quality education, practical training, and state-of-the-art facilities, Bangladesh has become a sought-after destination for aspiring medical professionals.0
MBBS Admission in Bangladesh for International Candidates
Best Medical Colleges in Bangladesh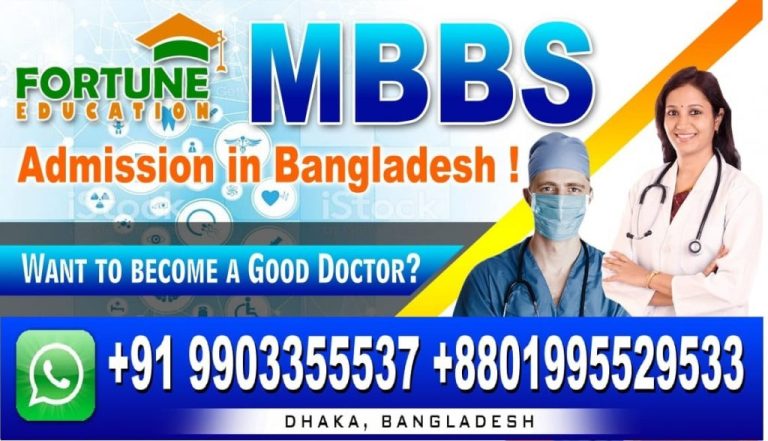 Army Medical College Jeshore
Army Medical College Bogura
Diabetic Association Medical College
Sylhet Women's Medical College
Islami Bank Medical College
International Medical College
IBN SINA Medical College
Fortune Education, Dhaka, Bangladesh is authorized representative of Medical College & Universities and the pioneer leading Education Consultant for medical aspirants & prospective students who interested to study MBBS, BDS, BVSc and considering higher study opportunities in Bangladesh and overseas.
Fortune Education have legal rights to processing admission to Medical, Dental college and universities all over the world. We offer MBBS, BDS & others Admission, Application, Guidance, Documentation, and required services such as to eligible students regarding medical and higher studies…
Fortune Education, located in Dhaka, Bangladesh, is a renowned and recognized medical admission consultant that specializes in facilitating online direct MBBS admissions in reputed medical colleges abroad.
With its expertise and vast network of partner institutions, Fortune Education assists students in pursuing their dream of studying medicine in esteemed universities around the world. Here are some details about Fortune Education and the services they offer:
1. Comprehensive Guidance: Fortune Education provides comprehensive guidance to students seeking admission to medical colleges abroad. They understand the complexities of the admission process and help students navigate through the various requirements and procedures.
From selecting suitable universities to preparing and submitting applications, Fortune Education ensures a smooth and hassle-free admission experience for students.
2. Extensive Network of Partner Institutions: Fortune Education has established strong relationships with reputed medical colleges and universities across several countries. They collaborate with these institutions to offer a wide range of options to students, ensuring that they find the best-fit program and university to match their academic and career aspirations.
3. Direct Admission Process: Fortune Education specializes in facilitating direct admissions for students. Through their online admission services, students can directly apply to their preferred medical colleges without the need for any intermediary agents. This transparent and streamlined process eliminates unnecessary delays and simplifies the application process.
4. Reputed Medical Colleges: Fortune Education collaborates with highly regarded medical colleges and universities abroad. These institutions are recognized by the respective country's medical councils and have a strong reputation for delivering quality medical education. They provide state-of-the-art facilities, experienced faculty, and a conducive learning environment, ensuring that students receive a top-notch education.
5. Online Application Assistance: Fortune Education offers comprehensive support throughout the application process. They assist students in preparing all necessary documents, including academic transcripts, letters of recommendation, personal statements, and other required paperwork.
Their experienced team ensures that applications are complete, accurate, and submitted within the specified deadlines.7. Visa Assistance: Obtaining a student visa is a critical step in studying abroad.
8. Fortune Education provides guidance and assistance in the visa application process. They help students understand the visa requirements, compile the necessary documentation, and prepare for visa interviews. Their expertise and support increase the chances of a successful visa application.
Post-Admission Support: Once students secure admission to their chosen medical colleges, Fortune Education continues to offer support and assistance. They help students with pre-departure preparations, including travel arrangements, accommodation options, and orientation about the destination country.
Their ongoing support ensures a smooth transition for students to their new academic environment.
11. Personalized Counseling: Fortune Education believes in personalized counseling to understand each student's unique requirements and aspirations.
They provide individualized guidance, address students' concerns, and offer tailored solutions to ensure that students make well-informed decisions about their education and future career in medicine.
12. Financial Guidance: Fortune Education understands the financial considerations associated with studying abroad. They provide valuable information about the cost of education, scholarships, and available funding options. They guide students in making informed decisions regarding financing their education and help them explore scholarships and financial aid opportunities.
Fortune

Education
Fortune Education, as a recognized medical admission consultant, offers online direct MBBS admissions in reputed medical colleges abroad. With their expertise, extensive network, and comprehensive support services, they assist students in fulfilling their dreams of studying medicine and embarking on a successful medical career.

Pioneer & Leading Authorized Representative of Medical Colleges in Bangladesh & Abroad
Head Office: 23/C, Zigatola, Dhaka-1209, Bangladesh
Bangladesh: +8801995529533
India: +919903355537
Email: fortunebangladesh@gmail.com
Website: www.fortuneedu.org, www.mbbsbd.com