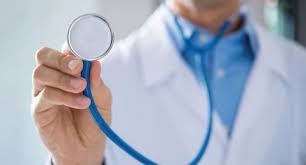 MBBS in Bangladesh Admission Policy Foreign Seats Acceptance rate
Fortune Education, Dhaka, Bangladesh
MBBS in Bangladesh Admission Policy Foreign Seats Acceptance rate
Online Application via www.fortuneedu.org
MBBS in Bangladesh Admission Policy Foreign Seats Acceptance rate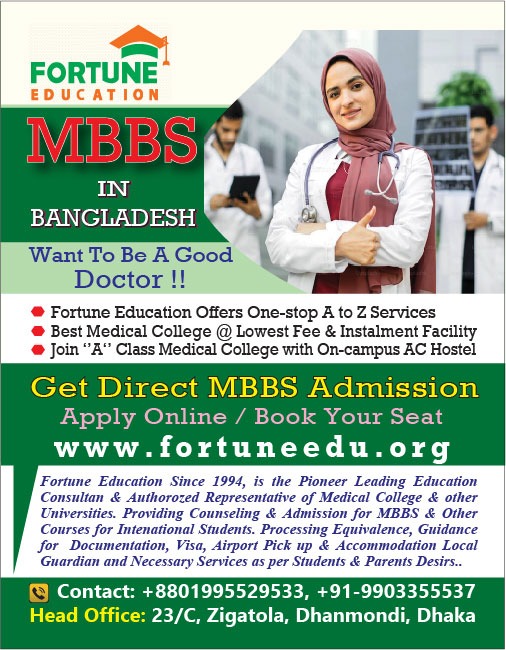 Bangladesh offers a competitive and high-quality medical education at a relatively low cost. Many foreign students, especially from neighboring countries such as India, Nepal, and others, choose to pursue MBBS in Bangladesh. The country has around 100 medical colleges, including both government and private institutions.
Foreign Seats:
Bangladesh reserves a specific number of seats for foreign students in private medical colleges. The reserved foreign seats are usually around 45% of the total intake capacity of a college. However, the number of foreign seats may vary depending on the college and the specific government policies for a given academic year.
Acceptance Rate:
The acceptance rate for MBBS in Bangladesh varies from one college to another. For government medical colleges, the acceptance rate for foreign students may be more competitive due to a limited number of seats and high demand. In private medical colleges, the acceptance rate can be comparatively higher, as they have more seats reserved for foreign students.
Fortune Education, Dhaka, Bangladesh
Fortune Education is a prominent educational consultancy based in Dhaka, Bangladesh, offering assistance to foreign students who wish to pursue MBBS in Bangladesh. They guide students through the entire admission process, from choosing the right medical college to securing a student visa and accommodation.
Online Application through www.fortuneedu.org
Foreign students interested in pursuing MBBS in Bangladesh can apply online through the Fortune Education website (www.fortuneedu.org). The website provides comprehensive information about various medical colleges, eligibility criteria, admission processes, and other essential details. Students can register and submit their applications on the website, which are then evaluated by the Fortune Education team.
Admission Process for Foreign Students:
Check Eligibility: Foreign students must meet the eligibility criteria set by the respective medical colleges and the Bangladesh government. Generally, applicants should have passed their 12th grade with a minimum of 60% marks in Biology, Chemistry, and Physics, and English as a compulsory subject. Age limit and other specific criteria may apply.
Apply through Fortune Education: Register and submit your application on the Fortune Education website. The consultancy will then guide you through the necessary steps, including document verification and submission.
Secure a Student Visa: After receiving the admission offer from a medical college, you will need to apply for a student visa at the Bangladesh embassy or consulate in your country. Fortune Education can also help you with this process.
Arrive in Bangladesh: Once your visa is approved, you can travel to Bangladesh and join your medical college.
Submit Documents to College: Upon arrival, you must submit your original documents, including academic certificates, passport, visa, and other relevant documents, to the college for verification.
Begin Your MBBS Program: After completing the necessary formalities, you can start your MBBS program in Bangladesh.
After starting your MBBS program in Bangladesh, you will undergo a comprehensive medical education spanning over five years. The curriculum is divided into pre-clinical, para-clinical, and clinical phases, as well as a one-year compulsory internship.
Pre-Clinical Phase (1st and 2nd Year):
In the first two years, you will study basic medical subjects such as Anatomy, Physiology, and Biochemistry. You will also gain practical experience through dissection and laboratory work.
Para-Clinical Phase (3rd and 4th Year):
During the para-clinical phase, you will study subjects like Pathology, Microbiology, Pharmacology, and Forensic Medicine. You will also learn about Community Medicine, which focuses on public health and preventive medicine.
Clinical Phase (4th and 5th Year):
In the clinical phase, you will rotate through various clinical departments in affiliated hospitals, gaining hands-on experience in treating patients. You will study subjects such as Medicine, Surgery, Gynecology and Obstetrics, Pediatrics, Ophthalmology, and ENT (Ear, Nose, and Throat).
One-Year Compulsory Internship:
After completing the five-year MBBS course, you will need to undertake a one-year compulsory internship in an affiliated hospital. This internship provides you with hands-on training and exposure to various clinical departments, helping you develop practical skills and competencies required for a successful medical career.
Examinations and Assessments:
Throughout the MBBS program, you will be assessed through periodic examinations, practical tests, and final professional examinations. You must pass these examinations to be eligible for graduation and to obtain the Bachelor of Medicine, Bachelor of Surgery (MBBS) degree.
After completing your MBBS in Bangladesh, you can either pursue further studies or start your medical practice. If you plan to practice medicine in your home country, you may need to clear a licensing examination, as required by the respective medical councils.
Bangladesh offers a high-quality medical education at an affordable cost, making it a popular destination for foreign students. With the support of organizations like Fortune Education, you can navigate the admission process and begin your medical journey in Bangladesh.
I apologize for the incorrect website provided earlier. The correct website for Fortune Education Consultancy is www.fortuneeducationconsultancy.com. The website contains all the necessary information about the services provided by Fortune Education Consultancy, including guidance on pursuing MBBS in Bangladesh. You can find details about the various medical colleges, eligibility criteria, admission process, and other essential information for foreign students.
To begin your MBBS journey in Bangladesh, visit their website and follow the steps mentioned in their admission guide. You can also reach out to their team through the contact information provided on the website for personalized assistance and guidance.
Fortune Education, as a recognized medical admission consultant, offers online direct MBBS admissions in reputed medical colleges abroad. With their expertise, extensive network, and comprehensive support services, they assist students in fulfilling their dreams of studying medicine and embarking on a successful medical career.
Fortune Education, a recognized medical admission consultant, specializes in providing direct MBBS admissions to reputed medical colleges abroad, including Bangladesh. They cater to the needs of aspiring medical students who dream of pursuing a medical career in foreign countries. Fortune Education's primary aim is to make the entire admission process smoother and hassle-free for students.
With their expertise, extensive network, and comprehensive support services, Fortune Education offers the following benefits to students:
Personalized Guidance: Fortune Education understands that every student's needs and preferences are unique. They provide personalized guidance to help students choose the best medical college that aligns with their career goals and financial resources.
Admission Assistance: Fortune Education simplifies the admission process by providing step-by-step guidance, from filling out the application forms to securing admission offers from the chosen medical colleges.
Document Verification and Submission: The consultancy ensures that all necessary documents are verified, compiled, and submitted in the required format, thereby reducing the chances of errors or delays in the admission process.
Visa Assistance: Fortune Education also helps students in obtaining their student visas by guiding them through the application process and ensuring that all required documentation is submitted accurately and on time.
Accommodation and Travel Assistance: Fortune Education assists students in finding safe and affordable accommodation in their chosen country, as well as arranging travel plans and airport pick-ups.
Pre-Departure Orientation: Before leaving for their studies, students receive a pre-departure orientation to help them understand the culture, lifestyle, and academic expectations of the country they will be studying in.
Post-Arrival Support: Fortune Education remains in touch with the students even after their arrival in the host country, providing assistance in adjusting to their new environment and addressing any concerns or issues that may arise during their studies.
By offering these comprehensive services, Fortune Education ensures that students can focus on their academic pursuits and personal growth, while the consultancy takes care of the logistical aspects of studying medicine abroad. Through their support and expertise, Fortune Education has helped numerous students fulfill their dreams of pursuing a successful medical career in foreign countries.
Fortune Education provides guidance and assistance in the visa application process. They help students understand the visa requirements, compile the necessary documentation, and prepare for visa interviews. Their expertise and support increase the chances of a successful visa application.
Post-Admission Support: Once students secure admission to their chosen medical colleges, Fortune Education continues to offer support and assistance. They help students with pre-departure preparations, including travel arrangements, accommodation options, and orientation about the destination country.

Head Office:
23/C, Zigatola, Dhaka, Bangladesh.
Mobile & WhatsApp: +88-01995529533
Offices in India: Delhi, Tamil Nadu, Assam, Jammu & Kashmir
Mobile & WhatsApp: +91-9903355537
www.fortuneedu.org