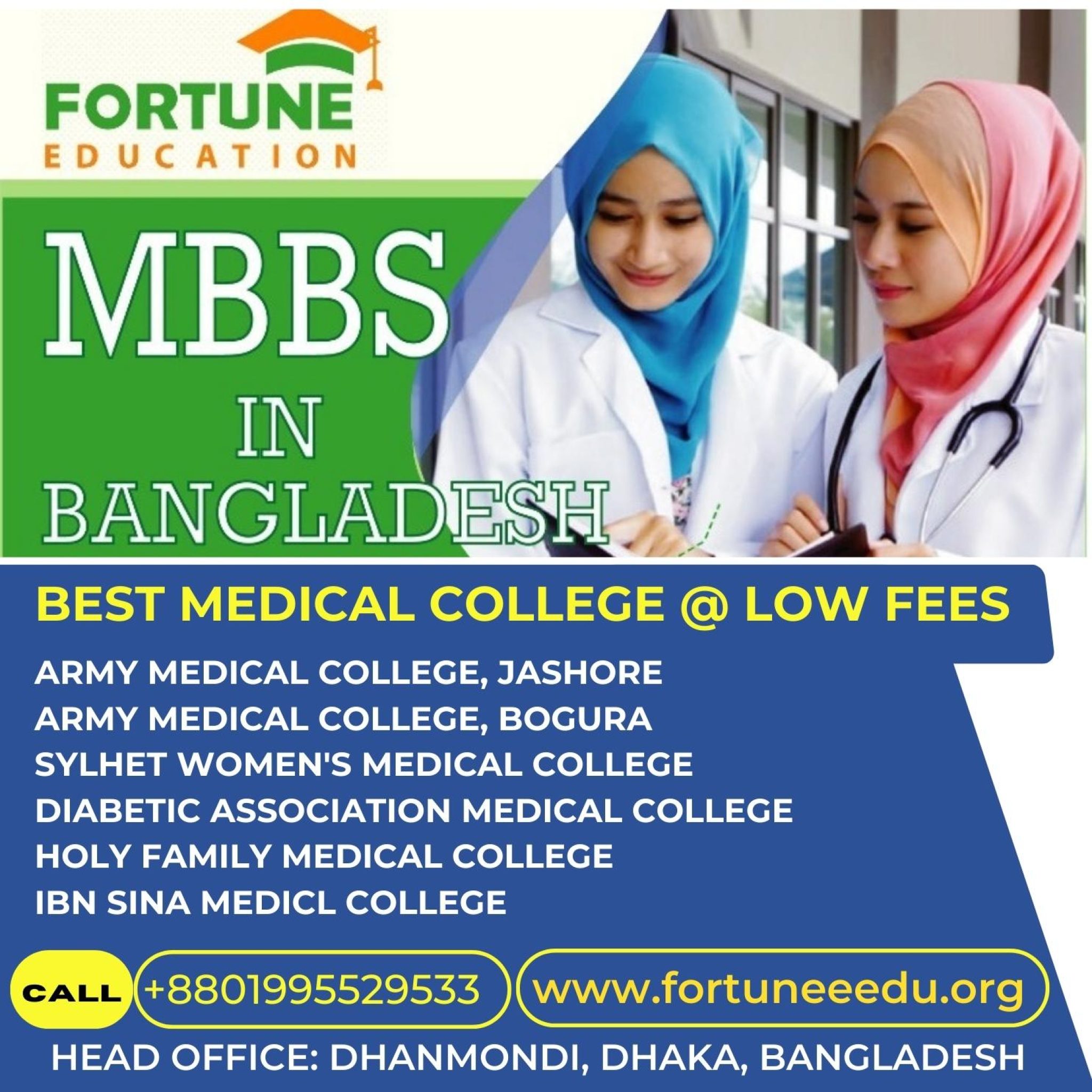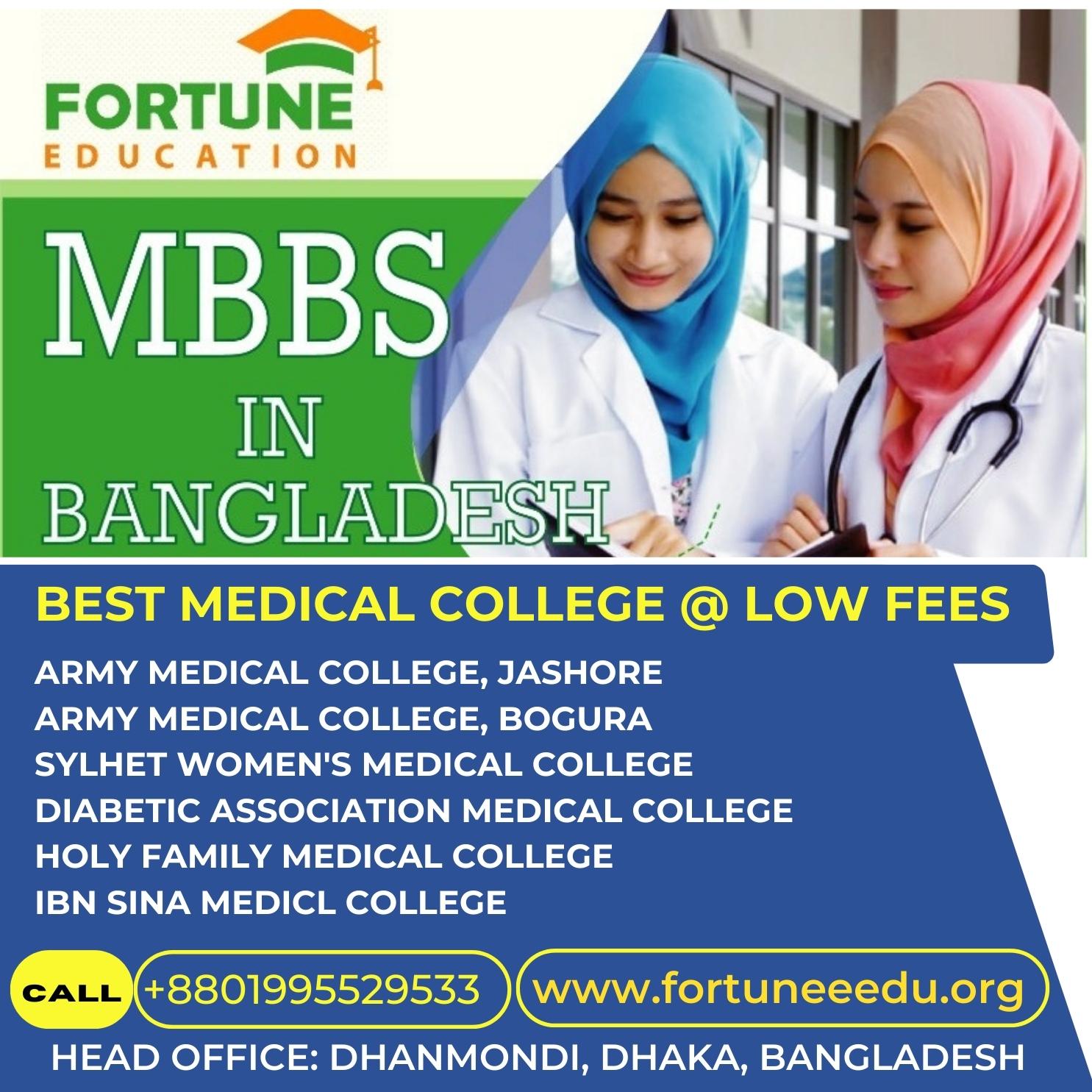 Top MBBS Colleges in Bangladesh 2024
Posted by

Categories

MBBS IN BANGLADESH, MBBS in Bangladesh, Medical Colleges in Bangladesh, Medical Education in Bangladesh, Medical study in Bangladesh, Private Medical colleges, Public Universities, Study in Abroad, Sylhet Women's Medical College | Sylhet Medical University, Uncategorized, Without Neet

Date

May 25, 2023
Fortune Education is proud to be affiliated with the following esteemed medical colleges, reflecting our commitment to excellence and diverse opportunities for our students:
MBBS degree and are interested in studying in Bangladesh, you're in the right place. Bangladesh is home to some top-notch medical institutions offering an MBBS degree. These colleges provide a holistic curriculum and state-of-the-art infrastructure to ensure students get the best medical education.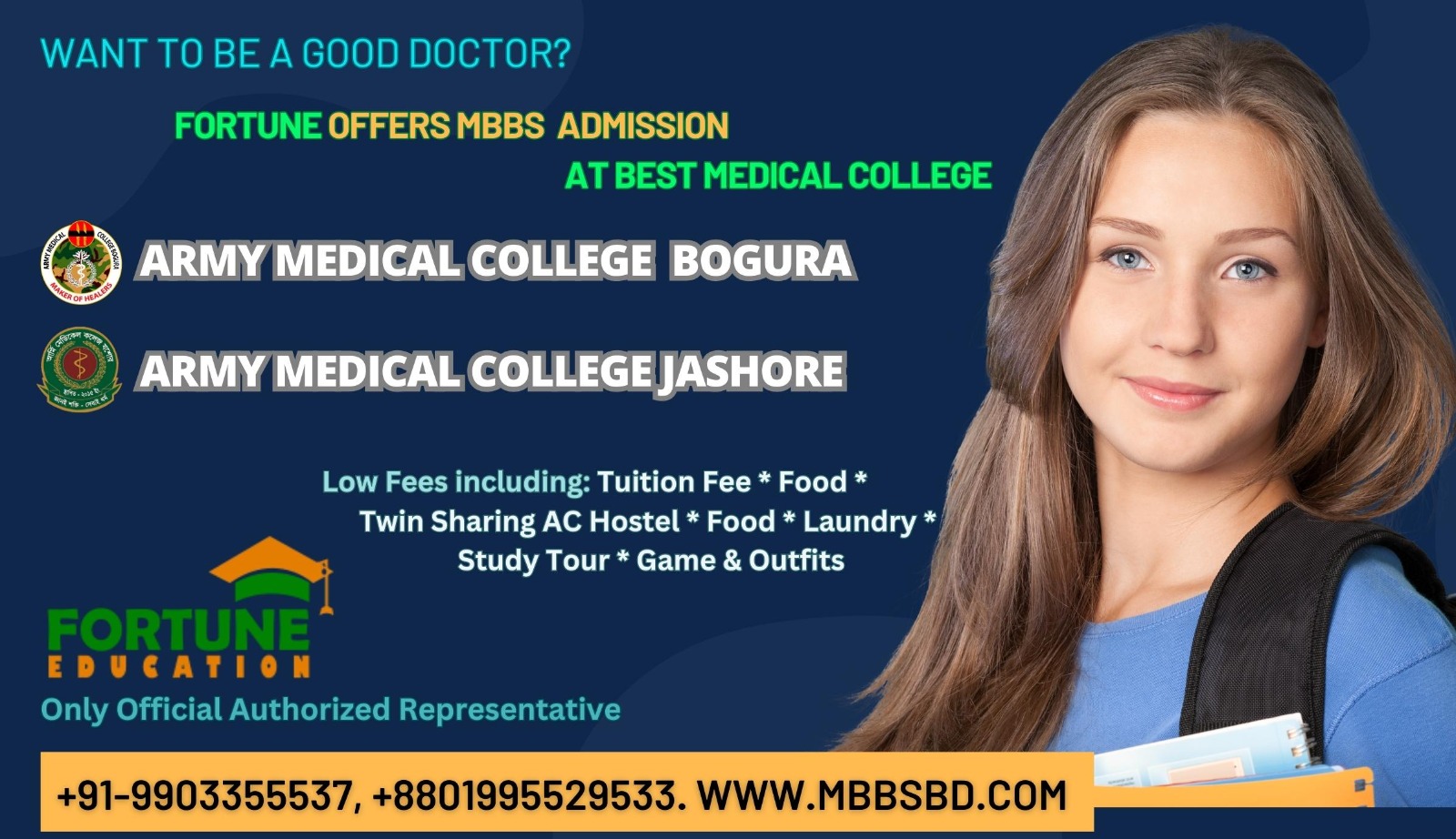 Dhaka Medical College, Dhaka: As the pioneer institution for medical education in Bangladesh, Dhaka Medical College holds a reputation of producing some of the finest doctors in the region. It offers an internationally recognized MBBS program.
Sir Salimullah Medical College, Dhaka: This college, renowned for its MBBS program, provides students with practical, real-world experience that prepares them for a successful medical career.
Bangabandhu Sheikh Mujib Medical University, Dhaka: Known for its world-class medical education, this university is a center of excellence in the field of medical education, research, and services.
Chittagong Medical College, Chittagong: Chittagong Medical College is another top-rated MBBS college in Bangladesh that provides excellent infrastructure and faculty.
Mymensingh Medical College, Mymensingh: With an emphasis on student-centric teaching, this college offers a conducive environment for MBBS studies.
Sher-E-Bangla Medical College, Barisal: A reputable institution for studying MBBS, Sher-E-Bangla Medical College is known for its high academic standards and research opportunities.
Sylhet MAG Osmani Medical College, Sylhet: Offering a top-notch MBBS program, this college nurtures students to become skilled healthcare professionals.
Rajshahi Medical College, Rajshahi: This college provides a robust medical education and ample practical exposure, helping students become proficient doctors.
Each of these institutions has a rigorous and comprehensive MBBS program designed to provide the students with a strong foundation in medical knowledge and clinical skills. They also provide excellent opportunities for research and further studies.
Before applying, do remember to check the eligibility criteria, admission process, and course fees. The duration of the MBBS program in Bangladesh is usually five years, followed by a one-year internship. For international students, it's recommended to check if the MBBS degree from Bangladesh is recognized in your home country.
Fortune Education: Your Bridge to Medical Excellence in Bangladesh
Welcome to Fortune Education, the premier education consultancy in Bangladesh, dedicated to guiding aspiring medical professionals towards their dreams. As an authorized representative of renowned medical colleges across the country, we stand as a beacon of hope and excellence for students pursuing a career in medicine.
Why Choose Fortune Education?
1. Expert Guidance: Our seasoned consultants possess in-depth knowledge of the medical education landscape, providing tailored advice to align with your career aspirations.
2. Extensive Network: Being an authorized representative of top medical colleges in Bangladesh, we connect you with the institutions that best suit your goals and financial capabilities.
3. Comprehensive Support: From admission procedures to visa assistance, our all-encompassing services ensure a seamless transition into your chosen medical institution.
Our Services
– Admission Guidance: Navigate the complex admission process with ease, thanks to our step-by-step assistance.
– Scholarship Assistance: Leverage our connections with medical colleges to explore scholarship opportunities that can lighten the financial load.
– Visa Processing: International students can benefit from our thorough visa processing services, ensuring compliance with all legal requirements.
– Pre-Departure Briefing: We equip you with essential information and tips to begin your medical journey with confidence.
Partner Medical Colleges
Fortune Education is proud to be affiliated with the following esteemed medical colleges:
Top Medical Colleges in Bangladesh
Best Medical Colleges in Bangladesh with Fortune Education
Army Medical College Jashore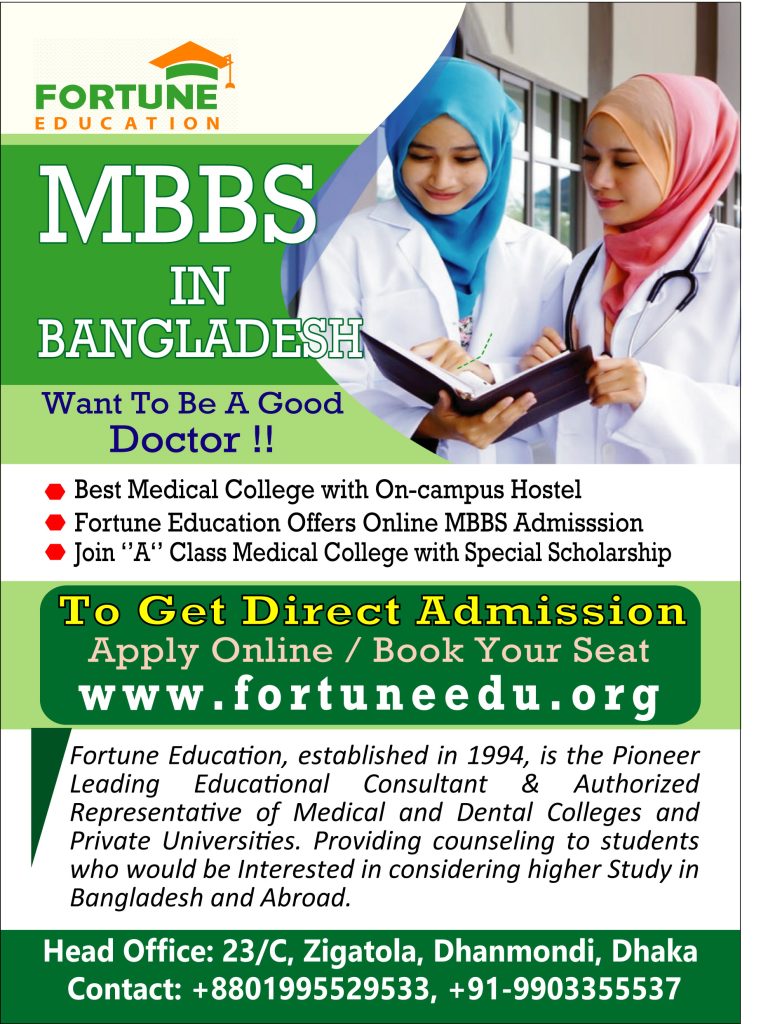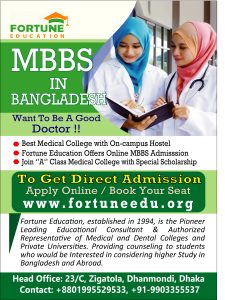 Army Medical College Bogura
Diabetic Association Medical College
Sylhet Women's Medical College
Islami Bank Medical College
International Medical College
Army Medical College Jashore
Embrace Medical Brilliance with Military Precision
In the heart of Jashore lies an institution that blends the stringent discipline of military culture with the vast knowledge world of medical sciences. The Army Medical College Jashore stands tall as a beacon of unwavering commitment to nurturing the next generation of healthcare leaders. Here, students don't merely acquire medical knowledge; they undergo a transformative journey that shapes them into disciplined, focused, and ethical medical professionals.
Our expansive campus, replete with state-of-the-art infrastructure, offers budding medical enthusiasts an environment conducive to immersive learning. Classrooms equipped with the latest in tech, advanced laboratories, and a vast library housing a rich collection of medical journals and books provide our students with all the tools they need to excel. But what truly sets us apart is our faculty, a passionate team of medical stalwarts committed to imparting both theoretical and practical knowledge. Furthermore, our collaboration with military practices ensures that students also gain valuable life skills like time management, teamwork, and leadership.
By choosing Army Medical College Jashore, students opt for a future that promises success, respect, and the unparalleled satisfaction of service to mankind. Join us, and embark on a journey that guarantees a holistic medical education, preparing you to tackle global health challenges with precision and dedication.
Army Medical College Bogura
Tradition and Innovation: The Dual Pillars of Our Medical Odyssey
Army Medical College Bogura isn't just another medical college; it's an institution that carries forward a rich legacy of combining traditional values with innovative medical training methods. Nestled in Bogura, this esteemed college offers an environment that resonates with both academic fervor and the tranquility required for profound learning.
Every brick and mortar of our college tells a tale of dedication and perseverance. Our faculty, handpicked from the country's top medical institutions, brings a wealth of experience and expertise to the table. They engage with students, not just as educators but as mentors, guiding them through the complex labyrinth of medical sciences with ease.
At Army Medical College Bogura, we believe that a doctor's education is incomplete without real-world exposure. Hence, our students frequently participate in community outreach programs, workshops, and internships. This hands-on experience, combined with rigorous academic training, ensures they are ready to face any challenge the medical world throws at them.
Diabetic Association Medical College
Leading the Charge in Diabetes Education and Care
Diabetes, a silent epidemic, is on the rise globally. The Diabetic Association Medical College stands at the forefront of the battle against this ailment, providing specialized education focused on diabetes care and management. Located strategically, our college is a testament to the unwavering commitment towards creating professionals who can lead the charge against diabetes.
Our curriculum is meticulously designed, emphasizing both theoretical knowledge and practical applications. With the backing of the Diabetic Association of Bangladesh, students have access to cutting-edge research, resources, and internships at specialized centers.
Beyond academics, our college prides itself on instilling a deep sense of empathy in students. After all, managing diabetes isn't just about medicine; it's about understanding the emotional and psychological challenges patients face. By the time our students graduate, they emerge not just as doctors but as compassionate caregivers.
Where Women Take the Lead in Shaping the Future of Medicine
In an age where women's roles in STEM fields are increasingly being recognized and celebrated, Sylhet Women's Medical College stands as a pioneering institution dedicated to nurturing female leaders in medicine. Located in the scenic city of Sylhet, our college is more than an educational institution; it's a movement to empower women.
Our comprehensive curriculum is tailored to address the unique challenges and opportunities women face in the medical field. A supportive faculty, a majority of whom are accomplished female medical professionals, serve as role models, inspiring students to reach their fullest potential.
Campus life here is a blend of rigorous academics, empowering workshops, and community engagement, ensuring students are well-prepared for their medical journey. We're not just creating doctors; we're shaping future female leaders who'll spearhead advancements in global healthcare.
Islami Bank Medical College
Infusing Medical Excellence with Ethical Values
Islami Bank Medical College offers a harmonious blend of top-tier medical education rooted in Islamic ethical values. Our mission is clear: produce competent medical professionals who not only excel in their field but also stand out for their morality and integrity.
With modern facilities, experienced faculty, and a community-driven approach, we offer students a holistic education experience. Community health initiatives, regular ethical discussions, and workshops on compassionate patient care are integral parts of our curriculum.
Supported by Islami Bank Bangladesh Ltd, we also provide numerous scholarships, ensuring that deserving candidates have access to quality education regardless of their financial background. Join us, and be a part of a unique medical journey that equips you with both knowledge and values.
International Medical College
A Melting Pot of Cultures and Medical Knowledge
International Medical College isn't just a name; it's a representation of our global outlook towards medical education. Drawing students and faculty from various parts of the world, we offer a diverse and inclusive learning environment that gives you a global perspective on healthcare.
Our state-of-the-art facilities, global collaborations, and diverse student community provide an enriching experience. Students here are exposed to varied healthcare practices, systems, and challenges from across the globe. This broadens their horizons, making them adaptable, open-minded, and prepared for international medical careers.
Dive into an ocean of diverse cultures, innovative medical techniques, and global healthcare perspectives. Choose International Medical College, where the world converges to create medical brilliance.
Each of these promotional segments aims to capture the unique essence and value proposition of the respective medical colleges. Adjustments may be necessary to more accurately reflect the specifics of each institution.