Bangladesh Medical Universities for International Students
Explore Bangladesh Medical Universities with Fortune Education
Bangladesh Medical Universities-Fortune Education: Are you an aspiring medical student looking for opportunities to study abroad? Bangladesh offers a myriad of high-quality and affordable MBBS programs, making it a desirable destination for international students. When it comes to navigating the selection and admission processes of these universities, Fortune Education is your reliable partner.
Why Choose Bangladesh for MBBS?
Bangladesh has rapidly emerged as a hub for medical education. The country's medical universities are recognized by major global entities like the World Health Organization (WHO), the Medical Council of India (MCI), and more. These universities offer a comprehensive curriculum, practical exposure, and a culturally enriching experience. The course instruction is in English, making it easier for international students to adapt.
Here's what makes Bangladesh a sought-after destination for MBBS:
Quality Education: Medical universities in Bangladesh offer a high standard of education, facilitated by experienced faculty and modern infrastructure.
Affordable Fee Structure: Compared to many other countries, Bangladesh offers affordable MBBS programs without compromising the quality of education.
Global Recognition: Degrees awarded by Bangladesh medical universities are globally recognized, opening avenues for further education and employment worldwide.
Cultural Proximity: For South Asian students, Bangladesh provides cultural familiarity, which can make the transition smoother.
Study MBBS in Bangladesh 2023-24: A Pathway to Excellence
Are you considering pursuing a career in medicine and dream of becoming a successful doctor? Look no further than Bangladesh, a country known for its high-quality medical education and affordable tuition fees. Studying MBBS (Bachelor of Medicine, Bachelor of Surgery) in Bangladesh for the academic year 2023-24 can be the stepping stone to a rewarding and fulfilling career in medicine. With its reputable medical universities and comprehensive curriculum, Bangladesh offers international students an exceptional educational experience.
MBBS in Bangladesh
Why Choose Bangladesh for MBBS Studies?
Recognized Medical Universities: Bangladesh is home to several internationally recognized medical universities that are approved by renowned organizations such as the World Health Organization (WHO), the Medical Council of India (MCI), and the Medical Councils of numerous other countries. These universities follow a rigorous curriculum and maintain high academic standards, ensuring that students receive a quality education.
English-Medium Programs: The medium of instruction for MBBS programs in Bangladesh is English, eliminating any language barriers for international students. This facilitates effective communication and comprehension of medical concepts, enabling students to grasp the subject matter more easily.
Qualified and Experienced Faculty: The medical universities in Bangladesh boast a team of highly qualified and experienced faculty members who are dedicated to imparting knowledge and guiding students throughout their academic journey. They provide comprehensive support, ensuring that students receive the necessary guidance and mentoring.
Modern Infrastructure and Facilities: The medical universities in Bangladesh are equipped with state-of-the-art infrastructure and advanced facilities, including well-equipped laboratories, libraries, dissection halls, and modern classrooms. These resources contribute to a conducive learning environment, enabling students to acquire practical skills and theoretical knowledge effectively.
Affordable Tuition Fees and Living Costs: Studying MBBS in Bangladesh is highly cost-effective compared to other countries. The tuition fees and living expenses are considerably lower, making it an ideal choice for students with budgetary constraints. Scholarships and financial assistance are also available for deserving students, further reducing the financial burden.
Clinical Exposure and Internship Opportunities: Bangladesh provides ample opportunities for clinical exposure, ensuring that students gain practical experience and develop their clinical skills. The universities have affiliations with reputed hospitals and healthcare centers, allowing students to participate in clinical rotations and internships under the guidance of experienced physicians.
Global Recognition and Career Opportunities: A degree from a recognized medical university in Bangladesh holds global recognition and opens doors to diverse career opportunities worldwide. Graduates can pursue postgraduate studies or choose to practice medicine in their home countries or other parts of the world, based on their preferences and aspirations.
Embark on Your Journey to Success – Study MBBS in Bangladesh 2023-24
To make your dream of pursuing MBBS in Bangladesh a reality for the academic year 2023-24, take the first step and explore the opportunities available. Connect with www.mbbsbd.online, a trusted platform that provides comprehensive guidance and assistance to international students seeking admission to reputed medical universities in Bangladesh. They offer personalized counseling, admission support, visa assistance, and a range of other services to ensure a smooth and hassle-free application process.
Don't miss the chance to acquire a world-class medical education in Bangladesh. Start your journey towards becoming a skilled medical professional by studying MBBS in Bangladesh for the academic year 2023-24.
How Does Fortune Education Help?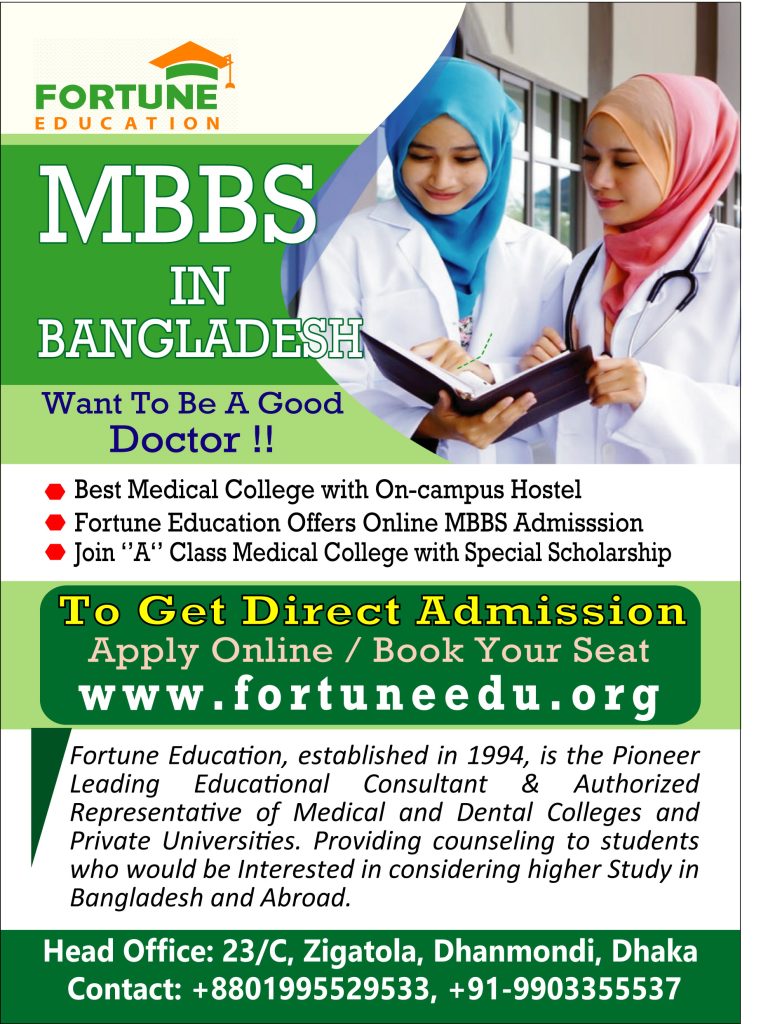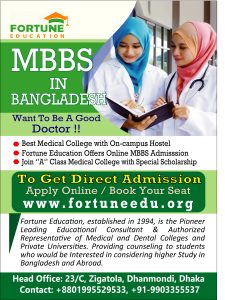 Fortune Education, accessible at www.mbbsbd.com, is a reputable educational consultancy in Bangladesh dedicated to helping international students seeking to study MBBS in the country.
Here's how Fortune Education supports your MBBS journey in Bangladesh:
Personalized Consulting: They offer personalized consulting services, providing you with detailed and relevant information about various universities and the MBBS program in Bangladesh.
Admission Assistance: Fortune Education assists students throughout the admission process, ensuring that every step, from application to enrollment, is handled with expertise.
Visa Support: They provide comprehensive guidance and assistance during the visa application process, making it less daunting for students.
Accommodation Assistance: Fortune Education also helps students find safe and comfortable accommodations in Bangladesh.
Continuous Support: Their support extends beyond admission, as they help students acclimate to their new academic and cultural environment.
Explore your options for MBBS in Bangladesh with Fortune Education, your partner in your journey towards becoming a successful medical professional. Visit Fortune Education to learn more about their services and how they can help you realize your dream of studying medicine.
MBBS Admission in Bangladesh: for International Candidates
Pursuing an MBBS degree in Bangladesh can be a great option for international students, given the high standard of medical education, English medium of instruction, and affordable fees structure. The following provides a general overview of the MBBS admission process for international candidates in Bangladesh, including specific institutions.
MBBS Admission Process for International Candidates:
Eligibility Criteria: The primary eligibility criteria generally include a minimum aggregate of 60% in Physics, Chemistry, and Biology at the higher secondary level (10+2 or equivalent). The candidate should also be a minimum of 17 years old at the time of admission.
Application Process: Applications are typically submitted online through the respective college's official website or via an authorized representative in the applicant's home country. The application form should be filled out accurately, and all necessary documents should be uploaded.
Selection Process: Admission is generally based on academic merit and performance in an entrance exam (where applicable). For some colleges, an interview may also be part of the selection process.
Visa and Travel: Once accepted, students need to apply for a student visa at the Bangladesh embassy or consulate in their home country. Following visa approval, students can make travel arrangements.
Arrival and Registration: Upon arrival in Bangladesh, students need to complete their registration process with the respective college and the Directorate General of Health Services (DGHS) in Bangladesh.
Specific Colleges:
1. Army Medical College Jeshore & Army Medical College Bogura: These institutions, managed by the Bangladesh Army, provide excellent MBBS programs. Admission to these colleges is highly competitive due to their reputation and the high standard of education.
2. Diabetic Association Medical College: This college is unique as it focuses on combating diabetes, one of the most prevalent health issues globally. It provides a comprehensive MBBS program with a special emphasis on diabetology.
3. Sylhet Women's Medical College: This is a leading women's medical college that aims to empower women in the medical field by providing top-notch medical education.
4. Islami Bank Medical College: This college, sponsored by Islami Bank Foundation, is known for its commitment to providing high-quality medical education and creating competent healthcare professionals.
5. International Medical College: As the name suggests, this college welcomes a large number of international students every year. It offers an excellent MBBS program that adheres to international standards.
Hostel Facilities for MBBS Students in Bangladesh
Studying MBBS abroad brings its own set of challenges, and one of the most significant is finding a comfortable and conducive living environment. Fortunately, many medical colleges in Bangladesh offer hostel facilities specifically designed to cater to the needs of their students, including international students.
On-Campus Hostel Facilities
Most of the medical colleges in Bangladesh have on-campus hostel facilities, providing a safe and secure environment for students. Here's what you can generally expect from these facilities:
Separate Accommodation: Hostels often provide separate accommodations for male and female students.
Furnished Rooms: Rooms are typically furnished with beds, study tables, chairs, and sometimes wardrobes. Students usually have the option to choose between single occupancy and shared rooms, depending on availability and personal preference.
Utilities: Basic utilities like electricity, water, and sometimes Wi-Fi are usually included.
Common Facilities: Hostels often have common facilities like kitchens or canteens, laundry facilities, TV rooms, and sometimes recreational facilities.
Safety and Security: Security is a high priority in these hostels, with measures typically including security personnel, CCTV surveillance, and strict visitor rules.
Off-Campus Accommodation
In some cases, if on-campus accommodation is not available or students prefer to live off-campus for other reasons, there are usually a number of housing options nearby. These can range from private hostels to rented apartments. However, students are encouraged to thoroughly research these options, considering factors like distance to college, safety, amenities, and cost.
Before deciding on accommodation, it's advisable to communicate with the respective college's administration office or an education consultancy, like Fortune Education, which can provide detailed information and assist with arrangements.
Study MBBS in Bangladesh
Study Environment in Bangladesh Medical Colleges
Bangladesh has emerged as a popular destination for students seeking to study medicine, thanks to its high-quality education, affordable fee structure, and globally recognized degrees. The study environment in Bangladesh's medical colleges plays a significant role in this popularity. Here's a glimpse of what students can expect:
1. Interactive Learning Environment: Medical colleges in Bangladesh offer an interactive and dynamic learning environment. They incorporate a blend of traditional and modern teaching methods, including lectures, tutorials, practicals, and interactive seminars. This approach ensures students get a comprehensive understanding of medical science.
2. Experienced Faculty: The colleges boast experienced and dedicated faculty members who are experts in their respective fields. Their guidance and mentorship help students excel acadically and professionally.
3. Practical Exposure: Practical exposure is a vital part of medical education. Colleges have well-equipped laboratories, and students get the opportunity to interact with patients and understand clinical practices during their internships in associated hospitals.
4. Research Opportunities: Many colleges in Bangladesh encourage students to engage in research activities. These opportunities help students develop critical thinking and problem-solving skills.
5. Libraries and Study Materials: Colleges have well-stocked libraries with a vast collection of books, journals, and digital resources. This aids in the self-learning process and allows students to explore beyond their regular curriculum.
6. Cultural Diversity: International students will find a diverse cultural environment on campus. This diversity enriches the learning experience, fostering a sense of global citizenship among students.
7. Support Services: To ensure the well-being of students, colleges provide various support services. These can include counseling services, language support for international students, and academic guidance.
8. Campus Life: Apart from academics, colleges also focus on overall personality development. There are opportunities for extracurricular activities, sports, cultural events, and more.
MBBS Fees Structure 2023-24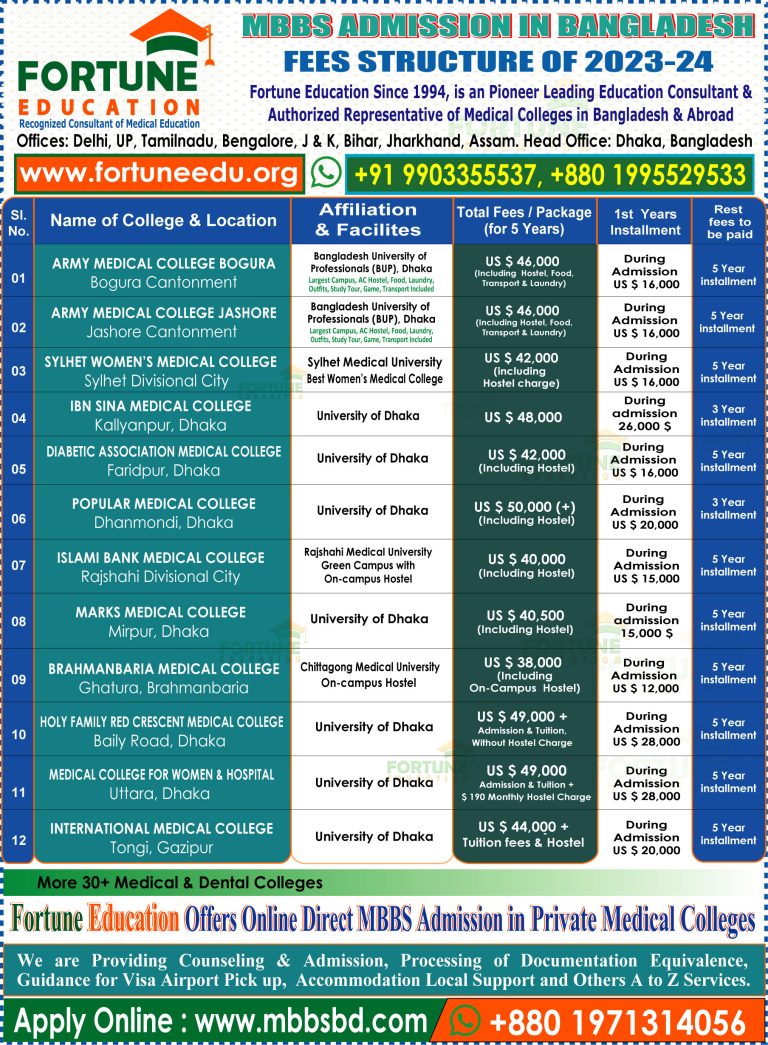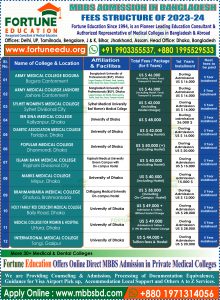 At Fortune Education Dhaka, we are more than just an education consultancy; we are your trusted partners on the journey to becoming a medical professional. Our mission is to empower aspiring doctors with the knowledge, resources, and support necessary to achieve their academic dreams.
Who We Are
Founded on a commitment to excellence, Fortune Education Dhaka has been a pioneering leader in the realm of medical education consultancy in Bangladesh for over a decade. Our team is comprised of experienced education consultants, former medical professionals, and career counselors dedicated to guiding students towards a rewarding career in medicine.
Our Services
We understand that the path to a medical career can be daunting. Hence, we offer personalized services to simplify the process. Our range of services includes:
University Selection: Our extensive network of partner medical institutions spans across China, Russia, Kyrgyzstan, the Philippines, Nepal, and many other countries. We assist in selecting the right university that matches your career aspirations and financial capabilities.
Admission Support: From preparing the necessary paperwork to handling the admission process, we've got you covered.
Visa Assistance: Our team provides expert guidance to ensure a smooth visa application process, allowing you to focus on your upcoming medical journey.
Post-admission Support: Our commitment doesn't end with university admission. We continue to offer support throughout your medical journey, from arrival assistance to accommodation arrangements, and more.
Why Choose Us?
At Fortune Education Dhaka, we are dedicated to your success. Our trusted expertise, extensive network, and personalized services make us the ideal choice for aspiring medical professionals.
Experience a seamless journey to medical excellence with Fortune Education Dhaka. Embark on your medical career today by Contacting Us.
Fortune Education Dhaka: Shaping the future of medical education in Bangladesh.
Fortune Education, Dhaka, Bangladesh is authorized representative of Medical College & Universities and the pioneer leading Education Consultant for medical aspirants & prospective students who interested to study MBBS, BDS, BVSc and considering higher study opportunities in Bangladesh and overseas.
Fortune Education have legal rights to processing admission to Medical, Dental college and universities all over the world. We offer MBBS, BDS & others Admission, Application, Guidance, Documentation, and required services such as to eligible students regarding medical and higher studies…

Head Office:
23/C, Zigatola, Dhaka, Bangladesh.
Mobile & WhatsApp: +88-01995529533
Offices in India: Delhi, Tamil Nadu, Assam, Jammu & Kashmir
Mobile & WhatsApp: +91-9903355537
www.fortuneedu.org