International Medical College I Fortune Education Bangladesh
Introduction
International Medical College was established in 2000 with the aim of providing quality medical education that can produce skilled medical professionals.  International Medical College is affiliated with the University of Dhaka. Since its establishment, it has already grown significantly and achieved widespread recognition for its academic excellence and dedicated services. Students from both home and abroad are studying in this college in a very congenial environment.
International Medical College Hospital
International Medical College Hospital, the teaching hospital of IMC, is a 650 bedded multidisciplinary hospital. Its proximity to the college building facilitates a strong linkage between the college and the hospital that provides students to connote the theoretical knowledge to the practical one. The hospital is well-equipped with modern laboratories, and other facilities such as demonstration rooms providing the best possible bedside learning environment. It has a welcoming reception, automation system, emergency room, wards, cabins, and waiting area that all together provide the best services to the patients.
For direct MBBS online Direct admission, Scholarship, and information, Contact Fortune Education: Call or  Whatsapp +880 1995529533, +91-9903355537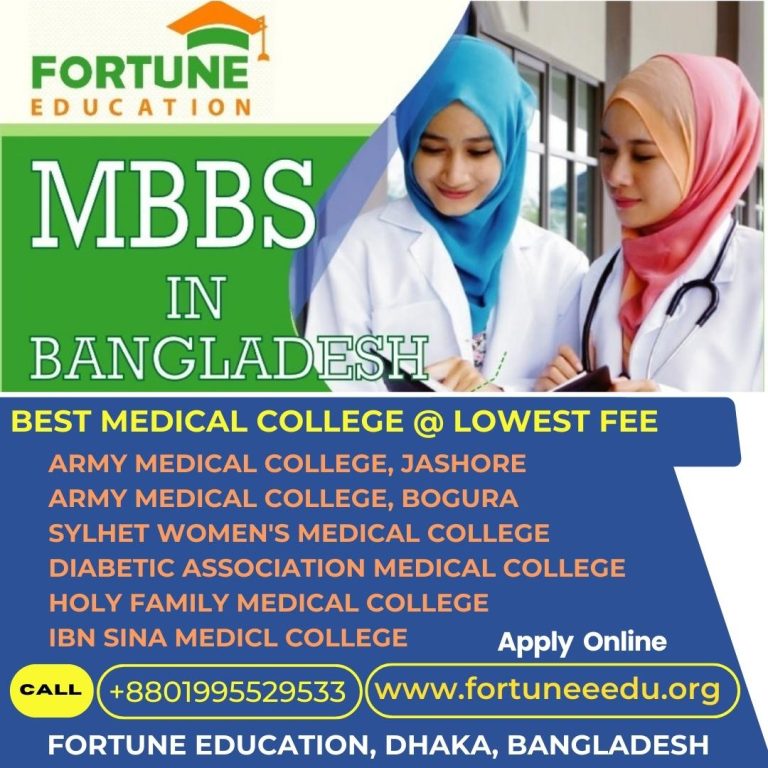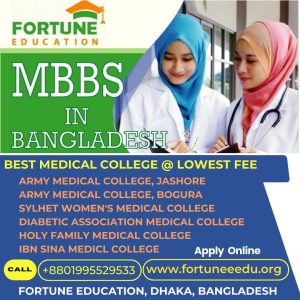 Fees For Foreign Student
For Foreign Students Fees For this College is USD42,000.00
Contact Fortune Education For Fees Details
MBBS Admission Procedure
The application form, prospectus, and other information are available at Fortune Education and the completed application form and relevant documents must be submitted to the office within the announced date and time.
Document to be attached
The students need to apply in the prescribed form which can be collected from the principal's office. The completed form, along with the documents is to be submitted on or before the date as declared in the advertisement.
Attested photocopies of the transcripts of SSC and HSC or equivalent Examinations.

Attested photocopies of the certificate/testimonial of SSC and HSC or equivalent Examination.

Four copies of recent passport size attested photographs.

Nationality certificate from Chairman of the Union Parishad/Ward Commissioner of Metropolitan City of National ID Card.

Money receipt of the purchased admission form.

The admission form must be completed properly.

Admit card from DG Health.

Merit Score and Position of the exam taken by DG Health.
Admission Procedures for Foreign Students
For foreign students, information regarding admission fees, tuition fees, rules & regulations, etc. are available on the college website: www.imchbd.com in detail.  Candidates may obtain information by sending their queries through. Foreign students must apply through Bangladesh Embassy / High Commission to DGHS, Ministry of Health, Govt. of Bangladesh for Equivalence Certificate (EC) in the prescribed form with appropriate fees. Please contact your nearest Bangladesh Embassy for details.
The Admission Committee on the basis of the Central Medical Colleges Admission Test (conducted by the Director-General of Health Services, Government of the Peoples Republic of Bangladesh) results makes selections of the students. The Admission Committee selects students purely on a merit basis as per guidelines given by the office of the Director-General of Health Services. Students should be medically fit. Admission fees and other charges for the students of MBBS course –
Fees details are available at the college office. The tuition fee is payable on a monthly basis within the first week of each month. Failure of payment on the due date will result in a fine of Tk. 10.00 per day.
For a delay of one month in payment, students' names will be struck off from the attendance register.
For failure of payment within two months, admission will be canceled. In that case, readmission will be required on payment of Tk. 25000.00 as a readmission fee.
All rules/regulations will equally apply for both Bangladeshi and foreign students
Course & Curriculum
Course offered (MBBS) is of 5 years duration. The curriculum is approved by the University of Dhaka and BMDC and it is strictly followed in the college.
MBBS Course
Pre-clinical subjects: Anatomy, Physiology, and Biochemistry.
Para-clinical Subjects: Community Medicine, Forensic Medicine, Pharmacology, Pathology & Microbiology.
Clinical Subjects: Obstetrics and Gynaecology, Medicine, Surgery & their allied subjects.
Fortune Education, Dhaka, Bangladesh is World Leading & Pioneer Education Consultant of Medical colleges & universities. Providing MBBS, BDS, BVSc admission for medical aspirants & prospective students who are interested to study MBBS, BDS, BVSc and considering higher study opportunities in Bangladesh and overseas.
Fortune Education has legal rights to process admission to Medical, Dental colleges and universities all over the world. We offer MBBS, BDS & others Admission, Application, Guidance, Documentation, and required services such as to eligible students regarding medical and higher studies…
Fortune Education invites students to register for MBBS & BDS admission with a special Scholarship for the academic year 2023-24. 
Location
International Medical College is located about 22 km away from the city center of Dhaka, more specifically, on the outskirts of Tongi. It is within 30 minutes of distance from Hazrat Shahjalal International Airport, Dhaka, and the main Railway station and Bus terminals of Dhaka City.
The Campus
The campus has wonderful surroundings away from the hassle of hectic city life. It is enriched with the touches of nature – green vegetation, spaced villages, large water bodies, and so on. This natural setting provides a perfect place for learning because everyone has a chance to reflect on the matters that need utmost focus and depth of understanding in solitude. So, it is a great advantage for medical students to delve into the most sophisticated knowledge of the world – the knowledge of the human body.
The college has unique infrastructural facilities with the modern amenities that an educational institution can offer at the international level. The present campus of the college has an area of about 9 acres of land. It is surrounded by a boundary wall so that the highest level of security can be maintained.
The office and all Preclinical and Para clinical departments are located in the academic building. The lecture galleries, classrooms, dissection hall, laboratories, museums, library, and other facilities are appropriately arranged on various floors of the academic building.
Allied Institutes/Units of IML
IML started only with IMC running an MBBS course. But it did not stop there. As time passes by, the growth of IML enhances by opening its newer and newer wings. Presently, IML is operating the following allied institutes or units along with IMC:
i) Nursing Unit:

After starting with the B. Sc Nursing course in 2007, the unit introduced Post Basic B. Sc Nursing in 2014. It has grown as a full-fledged center for quality nursing education and training. Consequently, the government recognized it as 'International Nursing College'. Hopefully, it will also be approved as a college from the University of Dhaka very soon. This unit has recently got approval for three more courses: M. Sc in Nursing, Diploma in Nursing Science, and Diploma in Nursing and Midwifery.
ii) International Health Technology Unit:
This unit started in 2013. It runs a 4 year-long course of B. Sc in Laboratory Technology.
iii) Kryterium Testing Centre (KTC):
This center is a part of Kryterion Testing Network (KTN) – an international assessment body. As a local branch of KTC, it conducts various online examinations for different professionals.
Eligibility Criteria (Foreign Student):
You must have 12 years of schooling, and your grades must have to be matched (Equivalency) with the Bangladeshi counterpart- SSC (Secondary School Certificate) & HSC (Higher Secondary School Certificate).
Your eligibility criteria for admission to the MBBS course:

Must have passed qualifying examinations (HSC/'A' level) or equivalent examination.
SSC/'O' level or equivalent examination passed not before 2018.
O-level (Equivalent to SSC) certificate: Minimum 5 subjects.
HSC/'A' level or equivalent examination passed not before 2020.
A-level (Equivalent to HSC) Certificate: Must have Physics, Chemistry and Biology.
Minimum aggregate GPA in SSC/'O' level or equivalent and HSC/'A' level or equivalent examination: 9.00 (Nine).
Minimum GPA in SSC/'O' level or equivalent and in HSC/'A' level or equivalent examination: 3.5 (three & half).
For calculation of GPA against the marks obtained in SSC/'O' level or equivalent exam, only top 5 subjects are considered for calculation of GPA. Therefore, GPA in 'O' level = (total marks obtained in top five subjects)/5.
For calculation of GPA against the marks obtained in HSC/'A' level or equivalent exam, only 3 subjects (Physics, Chemistry, and Biology) are considered for calculation of GPA. Qualifying Grade in each subject individually is "C'. Therefore, GPA in 'A' level = (total marks obtained in three subjects)/3.
 Minimum GPA in Biology: 3.5 (three & a half).

You have to undertake the following steps if you decide to get admitted into International Medical College.
NEET Certificate (National Eligibility cum Entrance Test) Must be mandatory.
Get the photocopies of the following documents attested from the foreign ministry of your country.
School/College Passed Certificates.
Mark/Grade Sheet.
School Leaving Certificate (Testimonial).
Copy of Passport.
Two Passport Size Photograph of Applicant.
Only applications transmitted through Bangladesh Mission abroad will be accepted.
All certificates must be duly attested by the competent authority, i.e. Education Board, the Foreign Ministry of the respective country, and respective Bangladesh Mission abroad/respective foreign Mission based in Dhaka.
Successful applicants have to produce all academic certificates and mark sheets/transcripts in original at the time of their admission.
Deposit your attested documents, bank receipt, and filled admission form to Fortune Education for processing of Grade Equivalency and permission from the Government of Bangladesh. You can do this job by yourself or by us.
Send copies of your certificates, mark sheets, passport, and a letter of intent to Fortune Education for advance booking of your seat.
Having received the permission letter from the Ministry of Foreign Affairs and grade equivalency of your certificates, the Medical College office would inform you and proceed with your admission.
Affirmation & Recognition
NMC –National Medical Commission of India
ECFMG-Education Council for Foreign Medical Graduates, USA
FAIMER's IMED -Foundation for Advancement of International Medical Education and Research's International Medical Education Directory
ACGME– Accreditation Council for Graduate Medical Education
MCC – Medical Council of Canada
WHO –World Health Organization
BMDC -Bangladesh Medical and Dental Council
Facilities for students
IMC believes college premises need to be well-equipped for a quality campus life which can act as a catalyst for students' academic success. Keeping that in mind, all state-of-the-art facilities are made available in the college for the students.
1. Hostel facilities
Accommodation is the facility that can play a key role in a medical college. This is more appropriate in the case of IMC as it has an influx of students from diverse socio-economic backgrounds and distant places, even from abroad.
International Medical College has separate hostels for Boys and Girls. In both the hostels, there are separate blocks for foreign students. Hostels are multistoried, secured, beautifully designed, and adequately furnished. Well-trained cooks and other staff are available in both the hostels.
2. Library with Internet and Wi-Fi facilities
A well-equipped library is a must for an educational institute. IMC Library, located in the first floor of the college building, is enriched with a wide-ranging collection of Books and Journals. The collection is continuously being updated for keeping students' and teachers' knowledge and skills in line with the most recent improvements in medical science. The reading room of the library can accommodate about 60 students. There is a separate reading room for the teachers within the library. The College archive is also located within the library in a separate corner. Library remains open from 8 am to 9 pm. Students can use internet facilities which are free of cost. Staff members of the library are well-behaved, and they cooperate with the students for ensuring the best service of the library.
3. Laboratories and Museums:
Medical education blends skills and knowledge in a perfect combination that creates synergy for grooming future medical professionals. Keeping that in mind, IMC plans its academic activities accordingly. So it fosters a practice-oriented and demonstration-based teaching and learning environment. In doing so, the college equipped all departments with their individual laboratories and museums.
The laboratories are:
Histology Laboratory

Physiology Laboratory

Biochemistry Laboratory

Pathology Laboratory

Microbiology Laboratory

Pharmacology Laboratory
The Museums are:
Anatomy Museum

Community Medicine Museum

Forensic Medicine Museum

Pathology Museum
4. Online education:
Online education keeps the momentum of our students' endeavor of learning uninterrupted even in the devastating effect of the Corona Pandemic. 'Youtube' – an online teaching and learning platform created by International Medicare Limited (IML), the mother concern of IMC, has played a pivotal role in facilitating education remotely
5. Transport facility
The campus is quite away from the city center. Considering the convenience of students, a transport facility is provided to the students not residing in the hostel. The transport facility is provided in some pick-up and drop-off locations in the city.  Moreover, resident students can get to the facility twice a month for shopping or other necessary activities.
6. Canteen facility
International Medical College has its own canteen within the campus. It provides quality snacks, breakfasts, lunch, and dinner. It remains open from 8 am to 10 pm. It has separate corners for teachers, doctors, students, and guests.
7. Gymnasium facility
To keep the students of IMC physically fit, a gymnasium has been introduced. It is located in the hospital building. Boys, girls, and doctors can use this fitness center according to their allotted time schedule.
 
8. ATM Booth
For the convenience of banking and financial transactions of students and others, an ATM booth is located at the main academic building.
9. Mosque
There is a mosque within the campus. Students can perform salah every day in that mosque.
10. Games and Sports facilities
Apart from academic study and curricular requirements, medical students need to take part in some games and sports activities. It will keep them physically active and will refresh their mind.
Indoor games are arranged at the lobby of the college building like Table Tennis, Carom, and others. Within the campus, there is a spacious playground for outdoor games like basketball, football, cricket, etc. On the college campus, there is a lake where students can enjoy and practice swimming.
11. IMC Archive
The college has an archive that preserves all important documents, photos, videos in soft and hard copies. These are available for any specific purposes.
12. Academic activities of the college Faculties
The main strength of the College is its faculty members. A team of highly experienced and reputed faculty members conducts all the academic activities of the college in an extensive and rigorous manner. The Academic Faculty of the college consists of about 93 members of many distinguished academicians with a proven track record of teaching and research excellence. Each department and discipline is headed by a professor/associate professor who leads his team to conduct the courses and prepare the students to become successful future doctors.
VISION
The vision of the International Medical College is to become a leading healthcare organization and to position itself as a center of excellence in medical education and research. It aims at attracting brilliant students, teachers, and researchers from all over the world.
MISSION
International Medical College, along with its Nursing Unit, is established to produce highly capable doctors, nurses, other paramedics, and technical professionals to provide client-centered services and to conduct useful research. As a service organization, International Medical College endeavors to bring changes in the health sector through quality service and through the promotion of sensible behavior of the health professionals towards the distressed communities. The company is looking for specialization in selected disciplines and it also explores suitable diversification within the scope of the company's Memorandum and Articles of Association.
Library
1. Introduction
International Medical College (IMC) was established in the year 2000 after completing all procedural formalities and after obtaining permission from the Ministry of Health and Family Welfare. The campus stands in a solitary environment amidst green vegetation, spaced villages, and large water bodies. One takes a walk around the campus to take a fresh breath while enjoying the panorama and picturesque that the site offers. Everything combines and converges here to make it a perfect place for learning.
The present campus of the College has an area of about 9 acres of land. The college and all preclinical and para-clinical departments are located in the academic building. The Classrooms, Dissection hall, Laboratories, Museum, Library, and other facilities are well. International Medical College Hospital (IMCH) is the academic hospital of the College. It is a 650 bedded multidisciplinary Hospital Complex that is located in proximity to the College building.
This medical college has a well-equipped modern academic library known as IMC Central Library situated at academic building comprises in 1st floor. The library can accommodate over 60 users at a time in its well-furnished reading area. On average more than 200 doctors/members/teachers/students use this library every day.
 2. Study Area
IMC Library is located on the 1st floor of the academic building having approximately 2000 sq ft floor space. It is a compact library with built-in facilities to provide various services to students, doctors, teachers, and researchers.
3. Library Manpower
At present 01(One) Librarian, and 01 (One) Library Assistant, and 01 (One) Computer Operator Cum Library Assistant working in the library.  
4. Library Hours
IMC Library is open on all working days except during declared public and weekly holidays. Library opening hours for readers are as follows:
Section

Time

Opening Day

Library

8:00 am – 09:00 pm

Saturday-Thursday

Weekly Holiday: Friday
In addition, the Library may be closed at any time with the prior approval of the Higher Authority when appropriate. Closing procedures begin 10 minutes prior to actual closing time and all patrons are requested to exit the library 10 minutes prior to actual closing time.
5. Library Policy
The library invites all members (teachers/students and staff) of International Medical College (IMC) to make use of its facilities and collections. The following Library rules and regulations are instituted to ensure the library is able to provide the best services possible for all users.
Library Rules and Regulations
01. All library materials should be brought (Without reference items) to the Circulation Desk to be checked out.
02. International Medical College (IMC) of all respective teachers, staff, and students must present a valid IMC ID card in order to charge materials.
03. Reference books, Journals, Thesis, Research reports, and magazines are not offered for a loan but can be used for reading in the library after accessioning the register. They have to be returned to the circulation desk.
04. Two books can be borrowed only for One week (teaches & staff) and Two books will be borrowed for One week(students).
05. Patrons are responsible for returning materials on or before the due date. Retention of borrowed materials beyond the date on which library materials are due shall result in a fine.
07. Pay Five (05) Tk. per day as fine if you keep the given book more than the deadline.
08. Pay the original price + 15% service charge if you lost any library materials.
09. A borrower who loses or damages library material shall be required to replace the item. A replacement cost is not acceptable unless the item is not available in the market. 
10. A member must obtain clearance from the library at the time of receiving his / her course completion certificates or at the event of separation from the college and faculty members and officers obtain clearance from the library at the time of departure / leave his or her job, by returning all books and materials issued against him. He/she should also surrender the library card at that time.
11. Computer service has been opened of all library users for academic and research-related work after their entry the accession register, one user will be used for one hour.
12. A reading place may not be reserved during the reader's absence inside the library premises.
13. Personal possessions should not be allowed in the reference, journal, and book stack area.
14. Taking foods and drinks are also not allowed inside the library.
15. Users should avoid resting their feet on tables, chairs, shelves, windows, etc.
16. Smoking in the library premises is strictly prohibited.
17. No broadsheets, handbills, newspapers, advertisements, or other materials (other than approved, official notices of the library) be distributed or displayed within the library.
18. Members should not be allowed to move books, theses, journals, and other materials from their specific area to another area.
19. Members should not replace the documents on shelves; the library staff will do the replacement.
20. For any emergency contact with library staff.
21. Silence is required throughout the library. Readers should not dissociate the concentration of their fellows by discussion or gossiping.
22. Willful misuse of library facilities may result in membership of the library being terminated.
23. Users who disturb the normal library environment and behave in an offensive manner, will be required to modify their behavior or to leave the library.
24. Books and bound volumes should be handled with great care. Avoid keeping the volumes open on the table face down, or inserting notebooks or pencils in between the pages and closing them. Pages must not be folded to serve as bookmarks.
25. Defects found in the books and other materials taken out for use or for borrowing should be brought immediately to the notice of the library staff on duty. Books loaned should be protected from any damage.
26. Marking or disfiguring with ink or pencil on a book, periodical, CDs / DVD, or any other library materials in any way is forbidden. Any sort of mutilation will cause replacement.
27. Books, periodicals, or other reading materials should not be removed from the library premises without being registered at the circulation counter.
28. Without members no one is allowed inside the library but with special permission for research purposes can be allowed to use the library for a limited period only. 
For direct MBBS online Direct admission, Scholarship, and information, Contact Fortune Education: Call or  Whatsapp +880 1995529533, +91-9903355537
Internship Opportunity
The students successfully passing the final MBBS examination will have to undergo one year in rotation log-book-based internship training. Within this 1 year, 11 months and 15 days of training will be at International Medical College Hospital (IMCH) and 15 days at Upazila Health Complex. During internship training subsistence allowances are given to the interns.
[elementor-template id="18612″]
ABOUT FORTUNE EDUCATION, DHAKA, BANGLADESH
Fortune Education, established in 1994, is the World Leading & Pioneer Educational Consultant of Medical Colleges. Providing counseling to prospective students, who would be interested in MBBS in Bangladesh and Abroad. Fortune Education is an authorized representative of Medical, Dental colleges that offer MBBS, BDS & others' admission, application, guidance, documentation with special scholarships to the marital student. Our consultancy is always concerned about women's safety, so we guide women students to the best women's medical colleges for MBBS in Bangladesh. We are at the top of the MBBS Study Program in Bangladesh.
Fortune Education offers an on-campus free AC Hostel with a partial scholarship for MBBS in Bangladesh according to Merit.
For application and scholarship, click this link: Application – Fortune Education
More Best Medical Colleges in Bangladesh to study MBBS
Army Medical College Jashore
Diabetic Association Medical College
Army Medical College Bogura
MBBS in Bangladesh 2024 | MBBS Admission in Bangladesh
Fortune offers hassle-free MBBS admission in Bangladesh
[elementor-template id="18085″]
Easy way to Get Direct MBBS Admission in Bangladesh I Apply Online
Fortune Education is a registered education consultant in Bangladesh and authorized
representative of medical colleges. fortune has legal rights to promote marketing and recruiting foreign students who are interested to study in Bangladesh
Fortune offers MBBS admission on reputed and complete medical colleges where all kinds of facilities are available like own campus, on-campus AC Hostel
Fortune offers hassle-free MBBS admission in Bangladesh
Fortune Education is providing genuine information regarding medical education, guidance & selection of Medical College as per students and parents desires
Fortune offers the best and less budget medical colleges where students can afford with long time installments facilities are available., compare. know more.
Latest curriculum for MBBS in Bangladesh(bm&dc) |
Medical study in Bangladesh
Bangladesh Medical College Admission Information 2022
MBBS Admission in Bangladesh 2022
MBBS Admission in Bangladesh Under SAARC Quota
MBBS Admission in Bangladesh 2022
MBBS Admission in Bangladesh Medical Colleges
MBBS Admission Requirements In Bangladesh
Direct Admission in MBBS in Bangladesh
MBBS Admission Question 2022 in Bangladesh
MBBS Admission in Private Medical College in Bangladesh
Admission Procedure for MBBS in Bangladesh
How to get MBBS Admission in Bangladesh
MBBS Admission in India for Bangladeshi Students