MBBS Admission in Bangladesh Process Study Pattern
MBBS admission Bangladesh 2023, Admission Process, Study pattern, List of Medical Colleges, Fees Structure and Contact with Fortune Education as an authorized Education Consultant of Medical Colleges in Bangladesh & Abroad
MBBS Admission in Bangladesh 2023: Your Gateway to a Successful Medical Career
If you aspire to pursue MBBS in Bangladesh in 2023, it is essential to understand the admission process, study pattern, list of medical colleges, fees structure, and the role of authorized education consultants like Fortune Education. Let's delve into the details:
Admission Process for MBBS in Bangladesh 2023-24
The admission process for MBBS in Bangladesh typically involves the following steps
Eligibility: Ensure that you meet the eligibility criteria, including educational qualifications and qualifying entrance exams (e.g., NEET for Indian students).
Application: Submit the application form, along with the required documents, to the respective medical colleges or through centralized admission processes.
Document Verification: Your academic documents, passport, and other necessary certificates will be verified by the college authorities.
Entrance Examination or Interview: Some medical colleges may conduct entrance examinations or interviews to assess your aptitude and suitability for the MBBS program.
Seat Allotment: Based on your merit and availability of seats, you will be allotted a seat in the desired medical college.
Confirmation of Admission: Once you receive the admission offer, pay the requisite fees to secure your seat.
Study Pattern for MBBS in Bangladesh
The study pattern for MBBS in Bangladesh follows a structured curriculum comprising both theoretical and practical components. The duration of the program is typically five years. The first four years focus on pre-clinical and para-clinical subjects, including anatomy, physiology, biochemistry, pharmacology, pathology, microbiology, and community medicine. The final year involves clinical rotations, allowing students to gain hands-on experience in various departments of affiliated hospitals.
List of Medical Colleges in Bangladesh
Bangladesh boasts several reputable medical colleges that offer MBBS programs. Some prominent medical colleges include:
Best Medical Colleges in Bangladesh
Army Medical College Jashore

Army Medical College Bogura

Diabetic Association Medical College

Sylhet Women's Medical College

Islami Bank Medical College

International Medical College

Shaeed Monsur Ali Medical College

Popular Medical College

Ahsania Mission Medical College

IBN SINA Medical College
The fees structure for MBBS in Bangladesh varies across colleges. Generally, the fees are affordable compared to other countries. Additionally, living expenses in Bangladesh are relatively low. It is advisable to contact authorized education consultants like Fortune Education or directly reach out to the medical colleges for the most accurate and updated information on fees structure.
Fortune Education is an authorized education consultant for medical colleges in Bangladesh and abroad. With their expertise and personalized services, Fortune Education assists students in pursuing MBBS in Bangladesh. They provide guidance on the admission process, help with documentation, offer visa support, and ensure a smooth transition for students. Contact Fortune Education for accurate and up-to-date information, and personalized assistance throughout your MBBS admission journey.
In conclusion, MBBS admission in Bangladesh in 2023 presents a promising opportunity for aspiring medical students. By understanding the admission process, study pattern, list of medical colleges, fees structure, and seeking guidance from authorized education consultants like Fortune Education, you can embark on a successful and fulfilling medical career.
MBBS Admission in Bangladesh for International Candidates
Direct MBBS Admission Open on Best Medical Colleges in Bangladesh
FORTUNE EDUCATION OFFERS ON SPOT DIRECT MBBS ADMISSION
Fortune Education since 1994, Dhaka, Bangladesh is a sister concern of Fortune Healthcare Ltd. & registered education consultant of Medical College & Universities for medical aspirants & prospective students who are interested to study MBBS, BDS, BVSc and considering higher study opportunities in Bangladesh and overseas.
Fortune Education have legal rights to higher study & processing admission to Medical, Dental college, and universities all over the world. Offer MBBS, BDS & others Admission, Application, Guidance, Documentation, and required services such as to eligible students regarding medical and higher studies…
Some of the top medical colleges in Bangladesh are:
Army Medical College Bogura
Army Medical College, Bogura (AMCB) has started its journey on 28 Sep, 2014 after getting necessary approval from Government. The inauguration ceremony was held on 10 Jan 2015 along with four other Army Medical Colleges and begun its academic year 2014-2015 with the active inspiration of Honorable Prime Minister Sheikh Hasina, the then Chief of Staff Bangladesh Army Gen IqbalKarimBhuiyan, Maj Gen AKM AbdullahilBaquee, ndu, psc, Area Commander Bogura Area, Chairman, Governing Body of Army Medical College Bogura and all the Doctors and Staffs working in Army Medical College Bogura. On 11 Jan 2015 the college started conducting the class of 2014-2015 sessions with 50 students.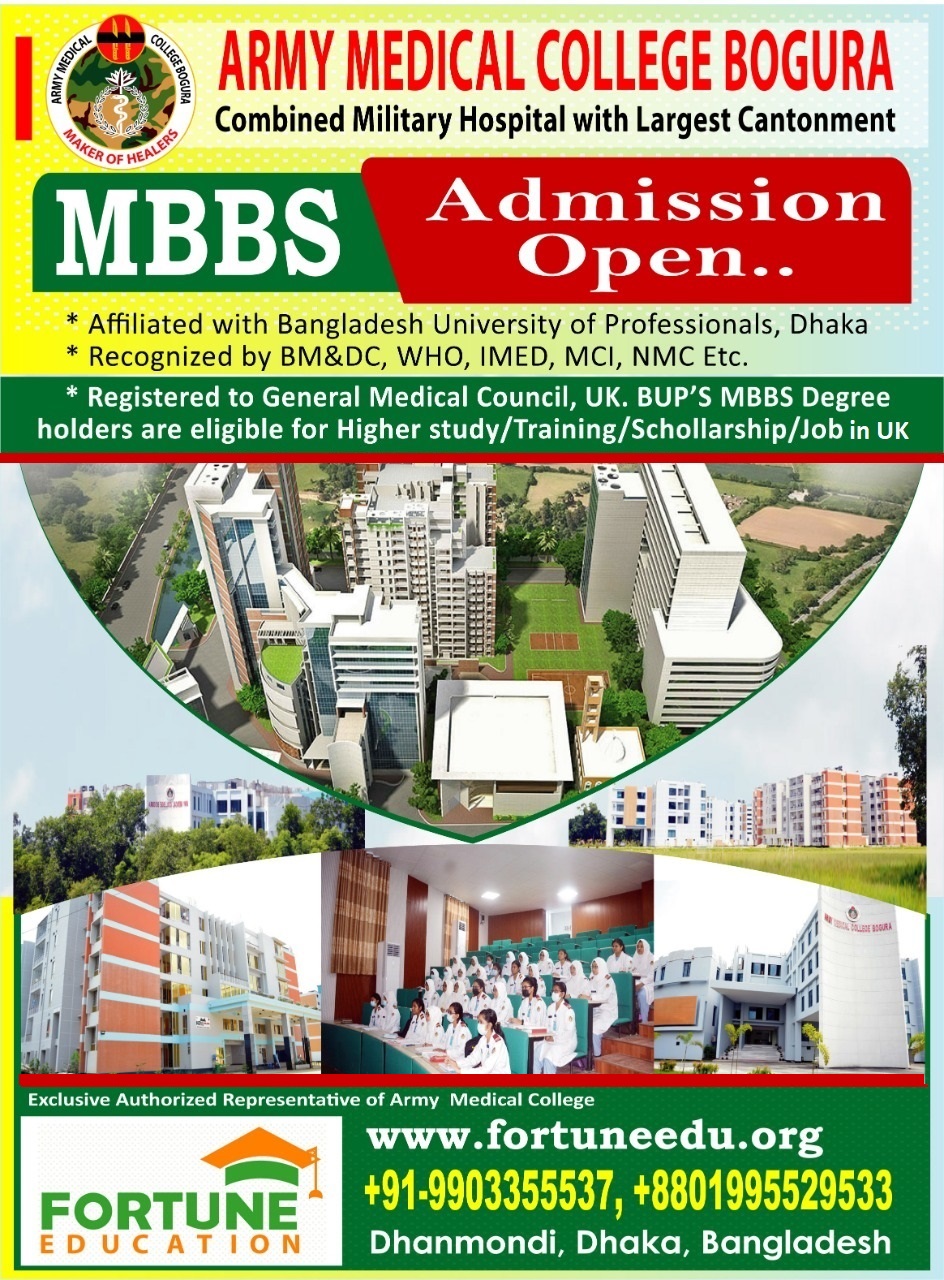 Army Medical College Bogura is a private Medical College under the control of Bangladesh Army and is run by a Governing Body, duly formed by the representative of Bangladesh Army, representative from Ministry of Health and Family affairs, representative from Bangladesh University of Professionals (BUP) and local members in health sector of Bangladesh government.
At present 60 students are being inducted each year in this medical college. AMC Bogura got the approval of. In future, the colleges will have the capacity to accommodate 150 students each year.
Foreign Students Admission at AMCB
It' a great pleasure to inform that foreign citizens who meet the criteria under the guidelines of the Government of Bangladesh can get admission at Army Medical College Bogura (AMCB) from the academic year 2022-2023.
Army Medical College Jashore
Army Medical College Jashore is a private medical college acknowledged by Army Welfare Trust (AWT) of Bangladesh Army. AMCJ was established On 10th Jan 2015 with the acceptance of Ministry of Health & Family Affairs and is functioning directly under the supervision of Army Welfare Trust (AWT of Bangladesh Army & Area HQ, Jashore. This college is affiliated with BUP and BMDC. BMDC curriculum is followed and examination is executed as per the policies and procedure of BUP.
Desirous students may contact the following authorized only representative of Army Medical College Bogura to complete admission process getting attestation of concern departments, processing of eligibility certificates, visa guidance, documentation, airport pickup-college dropping etc service
Dhaka Medical College
Sir Salimullah Medical College
Shaheed Suhrawardy Medical College
Chittagong Medical College
Mymensingh Medical College
Rajshahi Medical College
Rangpur Medical College
Sylhet MAG Osmani Medical College
Khulna Medical College
Barind Medical College
Fortune Education
Head Office: 23/C, Zigatola, Dhaka-1209, Bangladesh
Bangladesh: +8801995529533
India: +919903355537
Email: fortunebangladesh@gmail.com
Website: www.fortuneedu.org