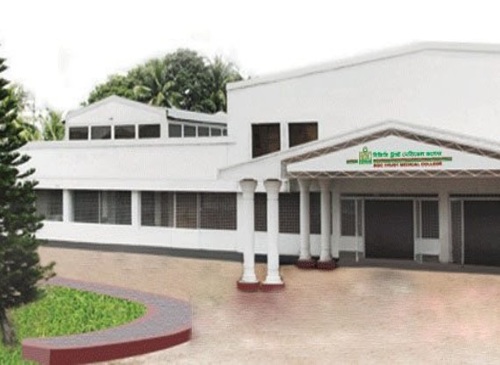 MBBS in BGC Trust Medical College
BGC Trust Medical College is situated in Chattogram, Bangladesh. In 2002 this college was established.
Since then this medical college has been developing in every domain.
One theThis Medical College is affiliated with Chattagram Medical University and Chattagram University. Its educational activities are recognized by the Ministry of Health & Family Welfare.
The College is also approved by the Bangladesh Medical & Dental Council (BM&DC)
MBBS in BGC Trust  Medical College is presently acknowledged as a center of perfection in teaching and patient care at the national and international levels.
Each year 100 undergraduate students join this institute to get their MBBS degree.
The College has a team of extremely motivated, qualified, and experienced Faculty members, who are dedicated and completely engaged in producing compassionate doctors,  who can fulfill the dreams and aspirations of humanity.
Countless students of this college are now well-known physicians at home and overseas.
Our alumni are our real ambassadors. Their success stories inspire us to aim for greater lengths.
This College further allows postgraduate training in most of the broad specialties.
FOREIGN STUDENT
Foreign students, prepared to get admitted to BGCTMC, are hereby required to get their result sheets of 12-year education( O & A level or equivalent) paired(Equivalence) with that of Bangladeshi counterpart. Director General Health Services (DGHS) office at Mohakhali, Dhaka would assign an "Equivalence Certificate" for the students. Foreign students have to pay 2000taka bank draft in favor of DGHS. Also, original certificates and result sheets to the DGHS office in order to receive it. Along with the Equivalence Certificate, they would additionally get an ID number, which would be needed for online application for admission in medical colleges of Bangladesh. Every admission procedure must start from the respectively Bangladesh foreign mission office & afterward has to go through the ministry of foreign office government of Bangladesh and finally through Director General Health Services.
(Online /Direct Admission & Seat Confirmation)
FOR ADMISSION AND OTHER QUARRIES, CONTACT:
Authorized Representative
HEAD OFFICE :
DHAKA, BANGLADESH.
MOBILE & WHATSAPP: +88-01995529533
---
OFFICES IN INDIA:
MOBILE & WHATSAPP: +91-9903355537
WEST BENGAL, MODON MOHON STREET, KOLKATA,
PATNA, BIHAR, DELHI, JAMMU & KASMIR,
HYDERABAD, LUCKNOW, CHENNAI, AND GUWAHATI
[elementor-template id="18085″]