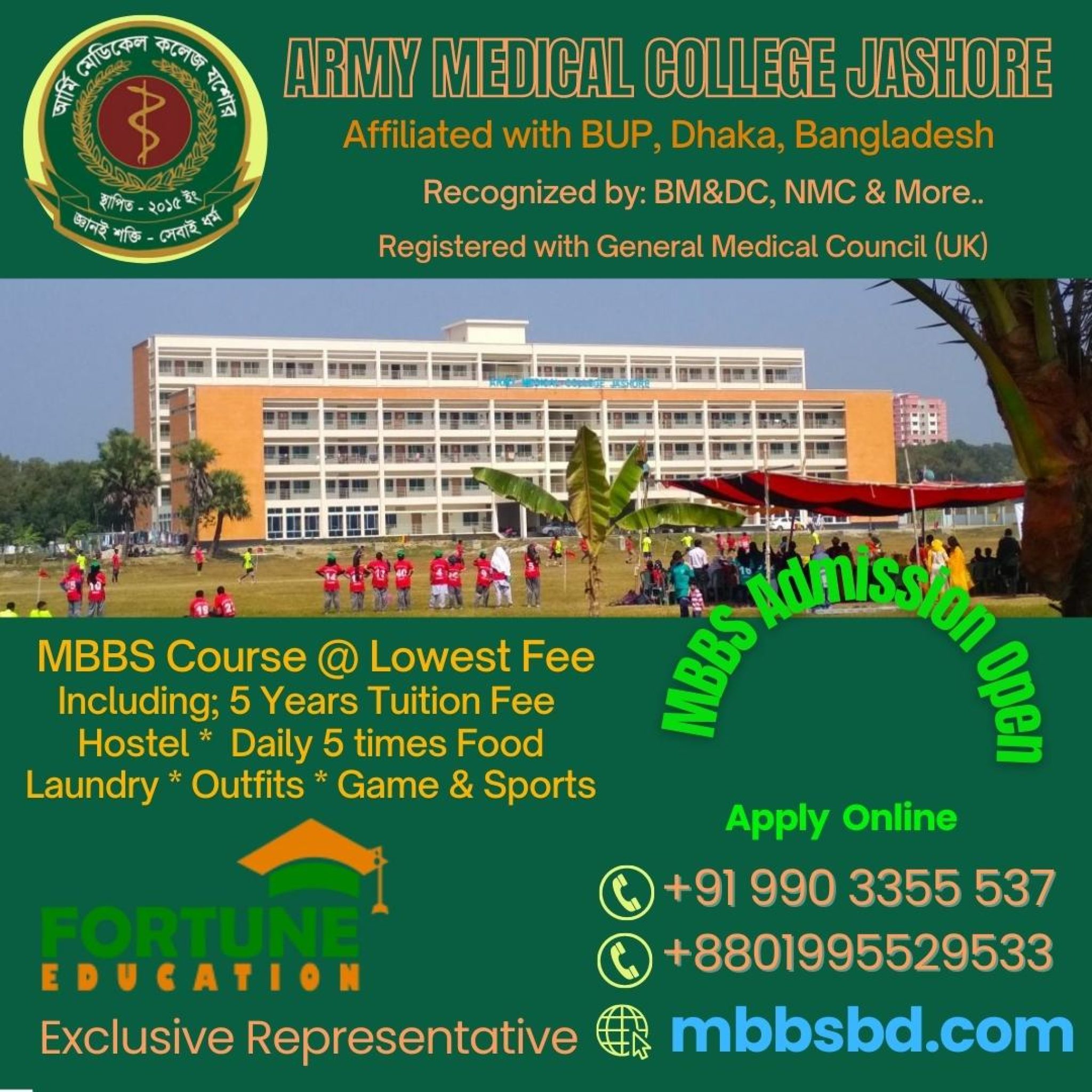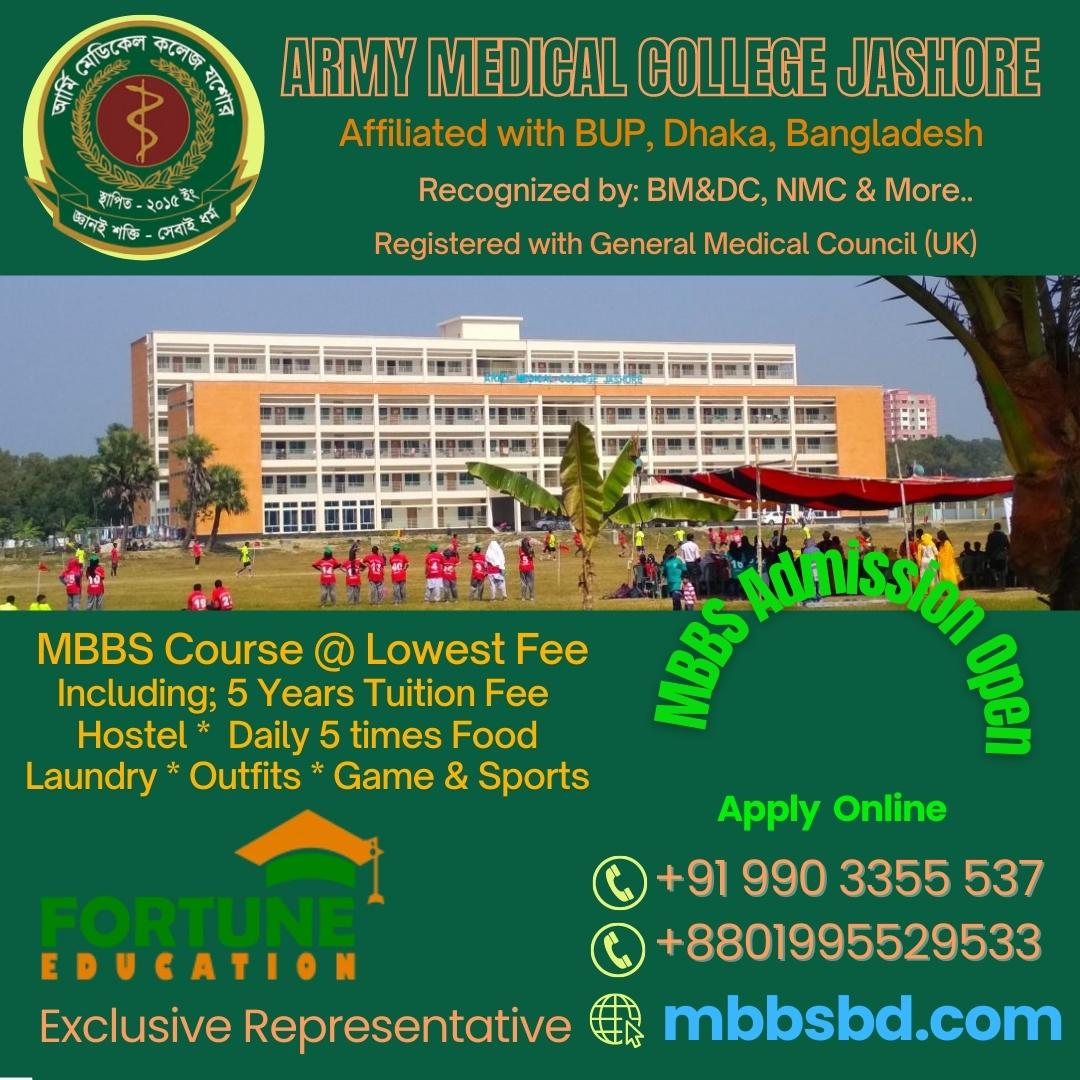 Army Medical College Jashore | Official Representative
Army Medical College Jashore-Official Representative
Discover an Unparalleled Medical Education at Army Medical College, Jashore: Your Path to a Rewarding Medical Career Awaits
Transform your medical aspirations into reality with Army Medical College, Jashore, a top-notch medical institution affiliated with the prestigious Bangladesh University of Professionals (BUP). Offering an exceptional educational experience, we are committed to nurturing the next generation of medical professionals.
As the official representative, Fortune Education is here to facilitate your journey towards a successful medical career, attracting students from India and around the world with our outstanding programs, resources, and support services.
Top-Ranking Medical College in Bangladesh: Embark on a world-class medical education with our state-of-the-art facilities, comprehensive curriculum, and exceptional faculty, ensuring you gain the practical experience and knowledge necessary to excel in the medical field.
Internationally Recognized MBBS Program: Our 5-year MBBS program, approved by the Bangladesh Medical and Dental Council (BMDC) and the Medical Council of India (MCI), is your gateway to a globally recognized medical degree. Complete your education with a one-year mandatory internship, gaining invaluable hands-on experience in the field.
Affordable and High-Quality Education: At Army Medical College, Jashore, we provide top-tier medical education at an affordable cost, making it an ideal choice for Indian students seeking an excellent academic experience without compromising on quality.
Fortune Education: Your Trusted Partner in Success: With over two decades of experience in educational consultancy, Fortune Education has a proven track record of guiding students to achieve their medical dreams. From career counseling to application assistance, visa processing, and post-admission support, our dedicated team ensures a seamless transition into your medical education journey.
Why Choose Army Medical College, Jashore:
Excellent Student-Teacher Ratio: Benefit from individualized attention and tailored support with our optimal student-teacher ratio.
Practical Experience: Gain hands-on training and clinical rotations at our affiliated hospitals, including the Combined Military Hospital (CMH) and Jashore General Hospital.
Safe and Comfortable Accommodation: Our separate hostels for male and female students provide a secure and welcoming living environment.
Cultural Exchange: Immerse yourself in a diverse campus community and embrace cross-cultural experiences with fellow students from India and around the globe.
Begin your journey towards a rewarding medical career at Army Medical College, Jashore, and let Fortune Education be your trusted guide. Apply now to secure your spot in our esteemed MBBS program and set the foundation for your successful future as a medical professional.
Enroll today and experience an unmatched medical education that prepares you for success in the ever-evolving healthcare landscape. Visit our website or contact Fortune Education for more information and guidance on the application process. Make the smart choice and join the ranks of our esteemed medical graduates, transforming lives and communities around the world.
Fees Structure of Army Medical College Jashore
Army Medical College Jashore for the most accurate and up-to-date fee structure.
Generally, fees for medical colleges can be categorized into several components, including:
Admission Fee: A one-time fee that is charged at the beginning of the academic program.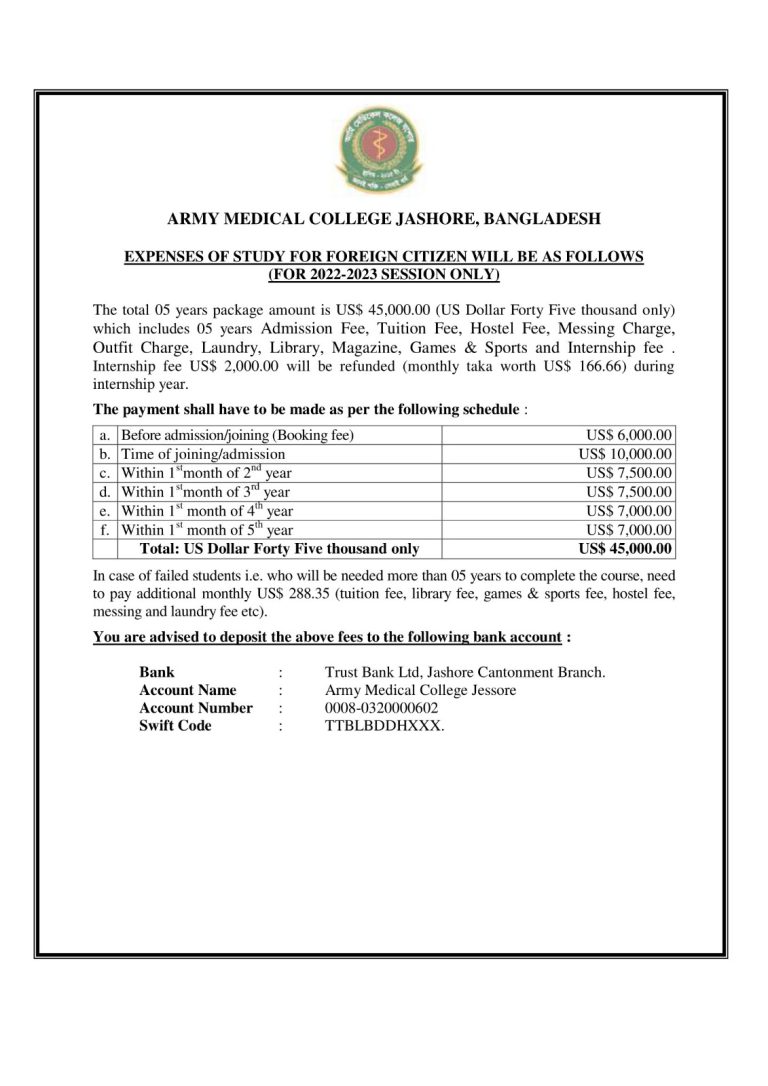 Tuition Fee: The fee paid every semester or year for the academic instruction and training.
Lab/Practical Fee: Additional fees for the use of laboratories and practical sessions, if applicable.
Examination Fee: Charged per semester or per year to cover the costs of examinations.
Hostel Fee: If the college provides accommodation, there might be a separate fee for lodging and boarding facilities.
Miscellaneous Fees: Other fees that cover expenses such as library fees, sports facilities, student welfare services, and insurance.
To obtain the exact fee structure for Army Medical College Jashore, we recommend visiting their official website or reaching out to their admissions office. This will ensure you receive accurate and current information on fees and any available financial aid opportunities.
Fortune Education Pioneer & Leading Authorized Representative of Medical Colleges in Bangladesh & Abroad offers online direct MBBS and other courses admission with required consultancy services of higher study.
Fortune Education Pioneer: Empowering Medical Aspirants Worldwide
Fortune Education Pioneer, a renowned name in the field of medical education, is a leading authorized representative of top medical colleges in Bangladesh and abroad. As a global frontrunner, we take immense pride in offering comprehensive consultancy services and enabling seamless admission processes for aspirants seeking MBBS and other medical courses at the world's most prestigious institutions.
Our mission is to empower students by providing unparalleled support and guidance throughout their educational journey, from application to graduation. We understand that pursuing a medical degree is a monumental decision, and our experienced team of professional consultants is dedicated to making it a reality.
At Fortune Education Pioneer, we cater to students' unique needs and aspirations with tailored services, including:
Expert Consultancy: Our team of seasoned consultants offers personalized guidance to help students make informed choices regarding their higher education, ensuring they select the best institution that aligns with their career goals.
Comprehensive Admission Support: We assist students with end-to-end admission processes, including application submission, document verification, and interview preparation. Our attention to detail ensures a smooth and hassle-free experience.
Scholarship Assistance: To make quality education accessible to deserving candidates, we work relentlessly to identify scholarship opportunities and provide support in securing financial aid.
Pre-departure and Post-arrival Assistance: We extend our support beyond the admission process, assisting students with travel arrangements, accommodation, and helping them acclimate to their new surroundings, ensuring a seamless transition into their new academic life.
Continuous Support: We maintain a strong relationship with our students throughout their academic journey, providing guidance, mentorship, and support to ensure their success.
Study Abroad Opportunities
In addition to facilitating admissions in Bangladesh, Fortune Education also assists students in exploring study abroad opportunities. They provide guidance on admission procedures, college selection, visa support, and other essential services for pursuing higher education in renowned institutions overseas.
Fortune Education takes pride in its expertise, professionalism, and commitment to ensuring a seamless and transparent process for students aspiring to pursue a medical career or other courses. They strive to provide comprehensive support and guidance to students throughout their educational journey, enabling them to achieve their academic aspirations.
Fortune Education facilitates the online admission process for aspiring students who wish to pursue MBBS (Bachelor of Medicine and Bachelor of Surgery) in renowned medical colleges. Through their platform, students can conveniently apply and secure admission without the need for physical presence.
Pioneer & Leading Authorized Representative of Medical Colleges in Bangladesh & Abroad
Head Office: 23/C, Zigatola, Dhaka-1209, Bangladesh

Bangladesh: +8801995529533
India: +919903355537
Email: fortunebangladesh@gmail.com
Website: www.fortuneedu.org , www.mbbsbd.com