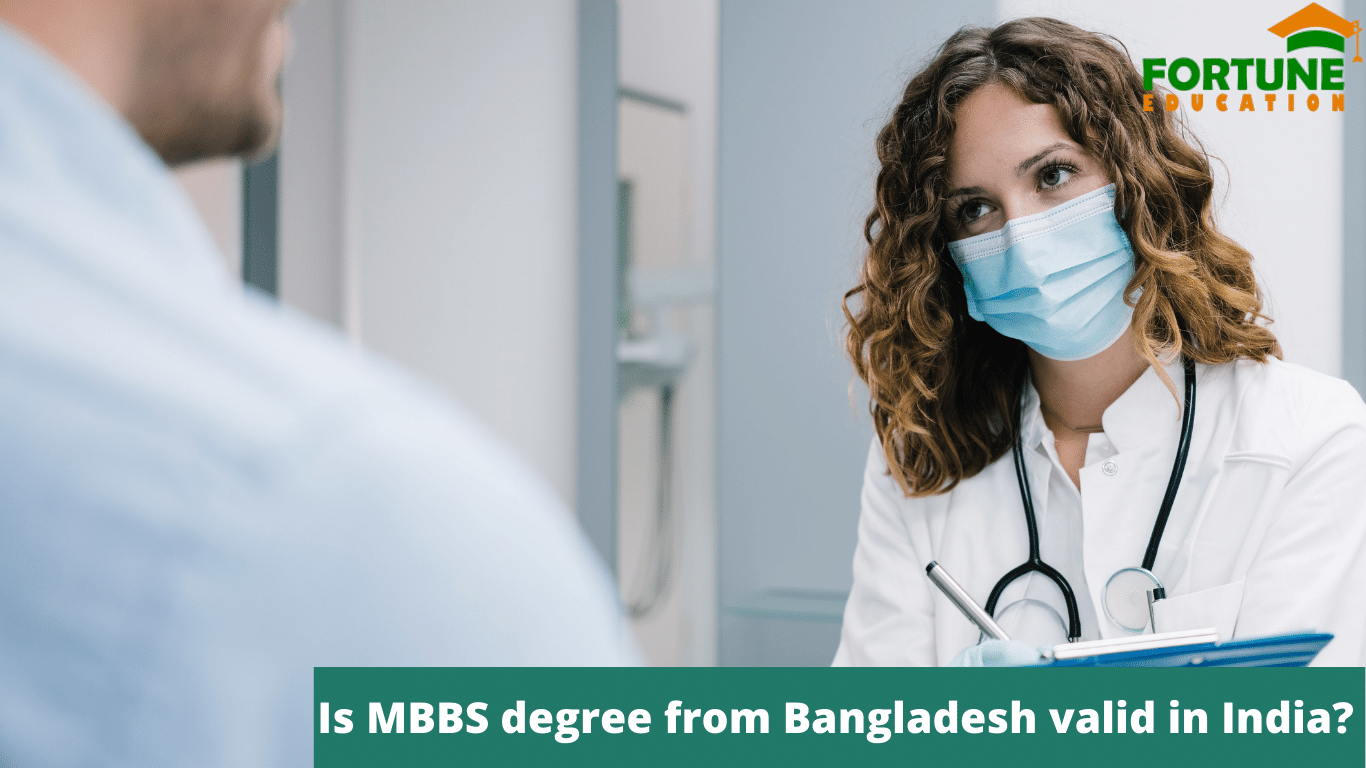 Is an MBBS degree from Bangladesh valid in India
If you are a student who wants to medical study abroad from India, Nepal, or in this subcontinent you have a question in your mind. That, Is an MBBS degree from Bangladesh valid in India?
Many of the students wanted to get MBBS admission in Bangladesh, but they are facing some difficulties. In the end, they may not get MBBS admission in their preferable college. Don't worry about MBBS admission just contact Fortune Education, we assist you to get MBBS admission in Bangladesh. Bangladesh is famous among Indian students majorly because of the quality of education, competitive fee structure, and less documentation. Among the fewer reasons why Indian students selecting this country for higher education. Contradictory to other countries, you do not require any visa to study in Bangladesh. Furthermore, the culture, food habits, and lifestyle are matched to a great deal with that of India.
Bangladesh is becoming a hot destination for students from countries like India, Nepal, etc for getting their MBBS degrees. Every year, a large number of international students apply to top medical universities in Bangladesh. The cost of living and education here is quite affordable as compared to other medical colleges around the world. The average cost of the MBBS degree in Bangladesh varies from 24 Lakh INR to 30 Lakh INR.
The medical universities in Bangladesh are recognized and approved by the:
Firstly, MCI – Medical Council of India; ECFMG – Education Council for Foreign Medical Graduates, USA.
Secondly, FAIMER's IMED – Foundation for Advancement of International Medical Education and Research's International Medical Education Directory.
Moreover, ACGME – Accreditation Council for Graduate Medical Education.
In addition, MCC – Medical Council of Canada and WHO – World Health Organization. This helps the students who graduate from medical universities in Bangladesh to be eligible to appear for major tests like the USMLE, PLAB. Most importantly also the screening examination was conducted by the National Board of Examinations, India. To clarify, it was under the observation of the Medical Council Of India (MCI) and practice in all countries across the globe. The infrastructure and quality of education are very good. Students are provided with high-quality accommodation at much cheaper rates.
Direct MBBS Admission in Bangladesh
MBBS in Bangladesh is comparatively cheaper than that in India. One can get admission easily there. However, the main difficulty arises once when you complete the course and look forward to practice in India. Medicos from the U.S.A., England, Australia, Canada, Germany, and New Zealand don't face any trouble and practice here willingly. On the other hand same from Bangladesh, Nepal, China, Russia, Myanmar, etc. have to undergo as well as clear the exit exams. This is a very tough exam with the passing percentage of candidates being merely 30%. So, whosoever wants to study M.B.B.S. in Bangladesh must take a calculated decision if he/she desires to practice as a medico in India.
Many Indian students prefer to study MBBS abroad for many reasons, Bangladesh is one of the choices. Bangladesh's degrees are internationally recognized and come with a great reputation across the globe. MBBS in Bangladesh for Indian students is the perfect choice because of the best education, cheapest mbbs, low cost, wonderful nature.
Study MBBS in Bangladesh For Indian Students
Quality of medical education in Bangladesh same as in India. Same MBBS program in English followed in Bangladesh. Same Indian author Medical books studied in Bangladesh. FMGE Passing rate highest for MBBS from Bangladesh. Affordable Medical Study at Low Package for Indian best option for MBBS Study Abroad. Most visited admission website for Indian Students.
It is compulsory to qualify NEET to study MBBS abroad for Indian students. MCI will only issue an equivalency certificate to Study MBBS Abroad. Pursue MBBS in Bangladesh aspirant must have NEET-UG 2019 qualifying score. Medical Council of India mandatory to get MCI Equivalency within five years medical study duration. Eligibility Requirement for taking admission in an Undergraduate (UG) Medical Degree in a Bangladesh Medical Institution which is under Government Universities.
Is an MBBS degree from Bangladesh valid in India?
The answer is Yes.
And the Eligibility Criteria for MBBS in Bangladesh
You can get admission in an MBBS course in Bangladesh, if:
Firstly, you have completed your 10+2 with Science

Secondly, you have Physics, Chemistry, Biology, and English as Subjects in 10+2

Thirdly, you have secured 60% in 10+2

In addition, you have to qualified NEET exam

[elementor-template id="18612″]