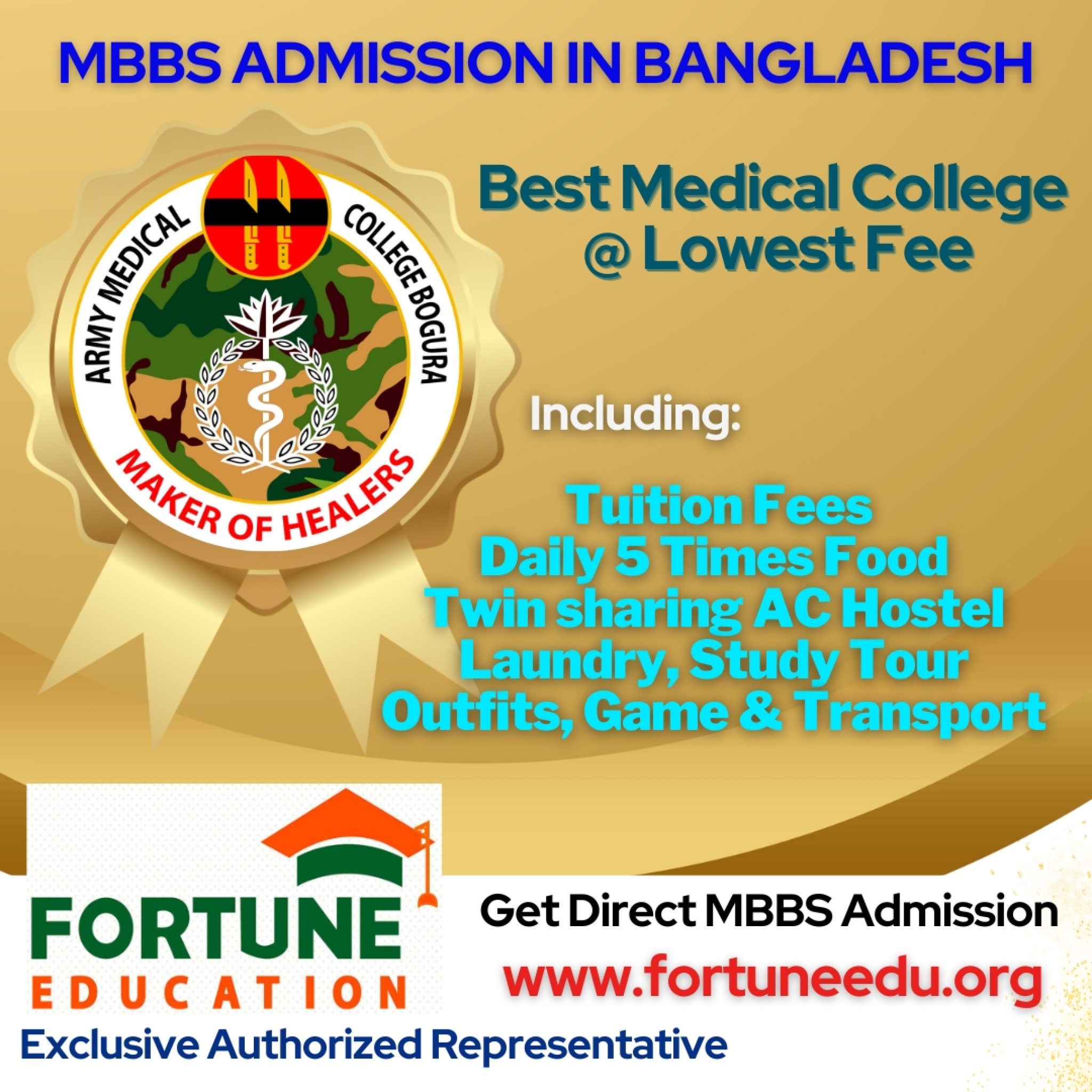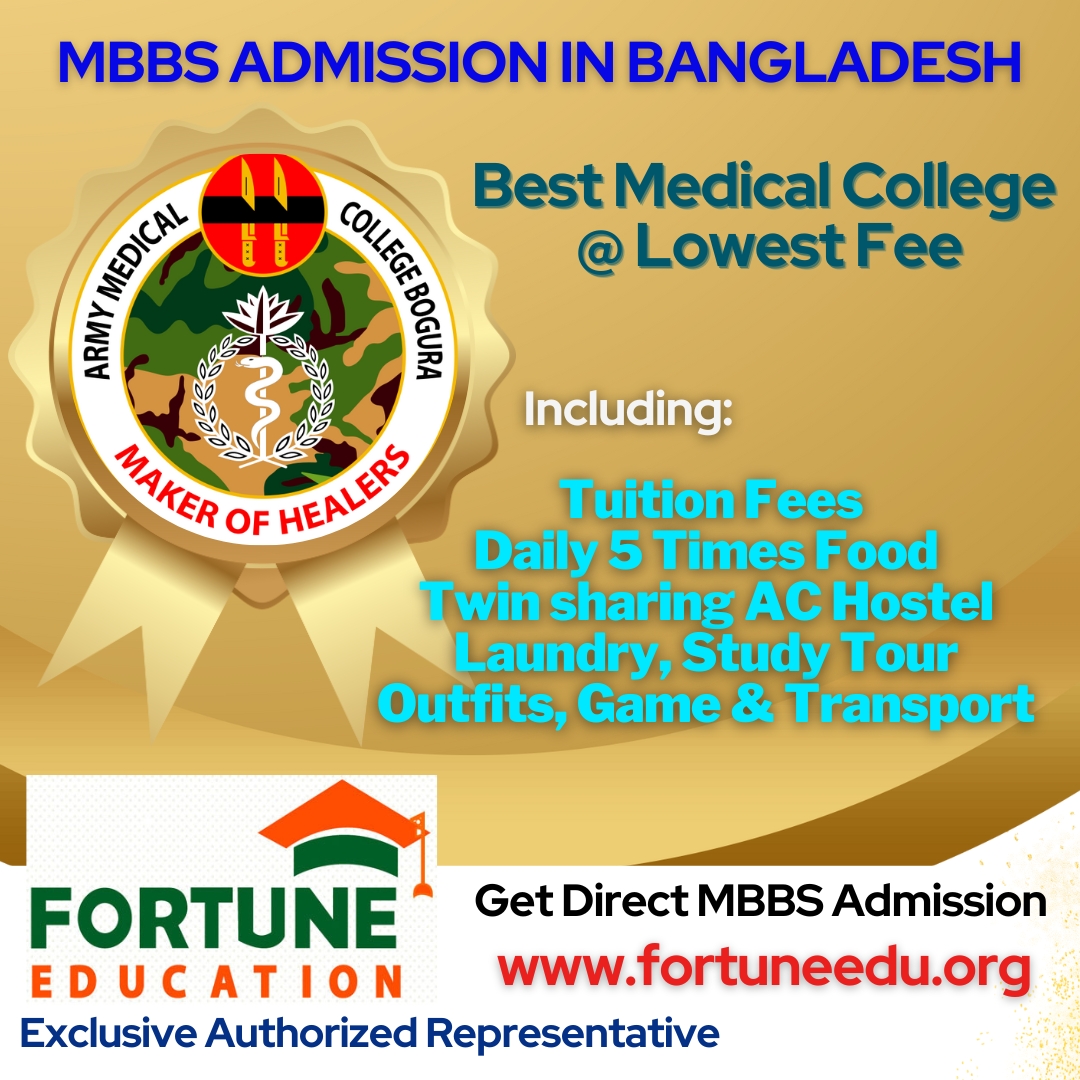 Still Chance to get MBBS Admission in Bangladesh 2022-23
Posted by

Categories

MBBS IN BANGLADESH, MBBS in Bangladesh, Medical Colleges in Bangladesh, Medical Education in Bangladesh, Medical study in Bangladesh, Private Medical colleges, Public Universities, Study in Abroad, Sylhet Women's Medical College | Sylhet Medical University, Uncategorized, Without Neet

Date

May 17, 2023
Still Chance to get MBBS Admission in Bangladesh 2022-23
Few Seats are Left Save Money & Year, make your career without making study GAP!
Secure Your Future with an MBBS in Bangladesh: Last Chance to Apply for,,
MBBS in Bangladesh
Today we bring you exciting news: the online application portal is now open for the last chance to secure your MBBS admission in Bangladesh for the 2022-23 session. Whether you're a local student or an international scholar, this opportunity opens the door to a thriving career in medicine, a chance to learn from some of the best minds in the field, and immerse yourself in a culturally rich, diverse, and supportive learning environment.
Still Chance to get MBBS Admission in Bangladesh 2023-24
Why MBBS in Bangladesh?
Bangladesh has been a beacon for medical education for decades. Known for its high-quality education, world-class faculty, state-of-the-art infrastructure, and affordable fees, Bangladesh offers a path to MBBS that is both challenging and rewarding. MBBS in Bangladesh is recognised by WHO and MCI, meaning your degree will be respected globally.
Beyond the academic opportunities, studying in Bangladesh offers an experience rich in cultural diversity and a society that warmly welcomes international students. English is the medium of instruction, making it easy for international students to assimilate.
Direct MBBS Admission with Seat Confirmation
One of the unique benefits of choosing to study MBBS in Bangladesh is the opportunity for direct admission with seat confirmation. There's no need to go through the stressful and uncertain route of waiting lists. At Fortune Education, we understand that certainty is key in decision-making for students and parents. Therefore, we aim to provide a seamless, stress-free admission process that guarantees you a seat once your application is accepted.
MBBS Fees Structure
Studying MBBS abroad can often be an expensive endeavour, but not in Bangladesh. The MBBS fees structure for the 2022-23 session is designed with affordability in mind, without compromising on the quality of education. The fee structure is transparent, with no hidden charges.
To further ease the burden, there are various scholarship opportunities and easy payment options available for eligible students. These initiatives help ensure that every deserving student has the chance to study MBBS in Bangladesh.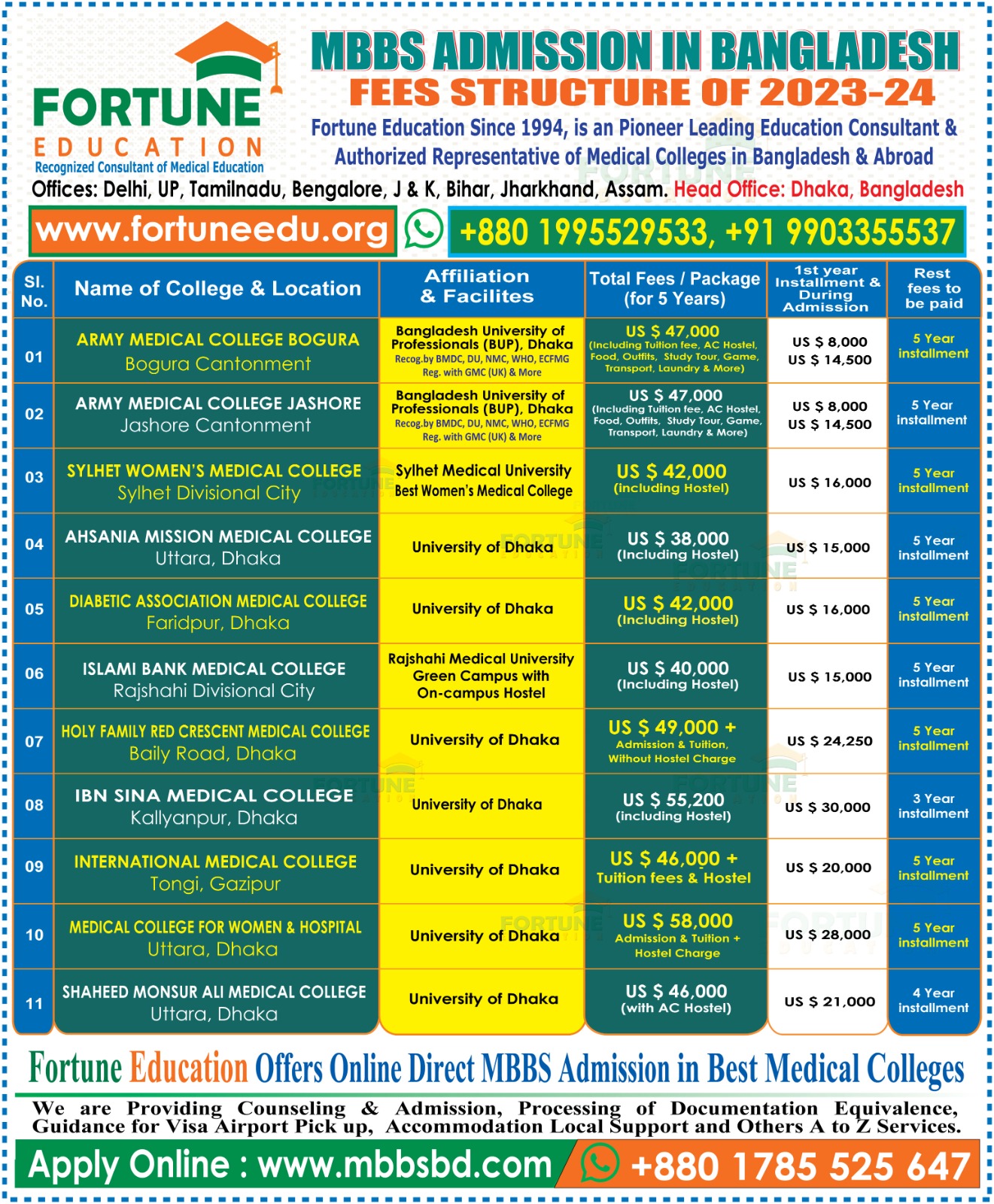 MBBS Admission Process and Online Application with Fortune Education
We at Fortune Education, an authorised representative of medical colleges in Bangladesh, strive to make your MBBS admission process as smooth as possible. Here is a simple step-by-step guide:
Visit our website and find the 'Online Application' tab.
Fill out the application form with the necessary details.
Attach the required documents – this usually includes academic transcripts, proof of identity, and a passport-sized photo.
Submit your application.
If successful, you will receive a provisional admission letter.
After receiving the provisional admission letter, complete the payment process to confirm your seat.
Please remember that this is the last call for MBBS admission in Bangladesh for the 2022-23 session, so don't miss out on this golden opportunity.
Embrace the Opportunity
Embarking on your journey to obtain an MBBS in Bangladesh could be the pivotal moment in your career. The country offers an unparalleled blend of high-quality education, practical experience, and cultural exposure.
Through Fortune Education, we make the application and admission process smooth, ensuring you can focus on your studies and the life-changing experience of studying abroad. Remember, the last chance for securing your MBBS admission in Bangladesh for the 2022-23 session is right at your fingertips.
Looking to pursue an MBBS degree in Bangladesh? There's still a chance to secure a seat for the 2022-23 session!
Act now and take advantage of the few remaining seats available. Save both money and time by avoiding study gaps and kickstart your medical career without any delays.
Bangladesh offers excellent educational opportunities, with renowned universities and a strong medical infrastructure. Make your dreams a reality by joining a prestigious MBBS program in Bangladesh.
But hurry, these seats won't last long! Contact +91-9903355537 today to inquire about admission availability, requirements, and deadlines. Seize this opportunity and embark on a fulfilling journey towards becoming a Doctor.

Fortune Education Medical Education Consultancy | Healthcare Professional | Medical Studies in Bangladesh | Medical Education Support
Fortune Education: Nurturing Future Healthcare Professionals in Bangladesh
Fortune Education: Shaping Healthcare Professionals Through Expert Consultancy
Fortune Education is a leading medical education consultancy in Bangladesh, dedicated to guiding aspiring healthcare professionals on their path to success. Our holistic approach encompasses personalized guidance, seamless admission processes, and continuous support throughout your journey in the field of medicine. Contact; www.fortuneedu.org 01995-529533
Fortune Education facilitates the online admission process for aspiring students who wish to pursue MBBS in Bangladesh
Pioneer & Leading Authorized Representative of Medical Colleges in Bangladesh & Abroad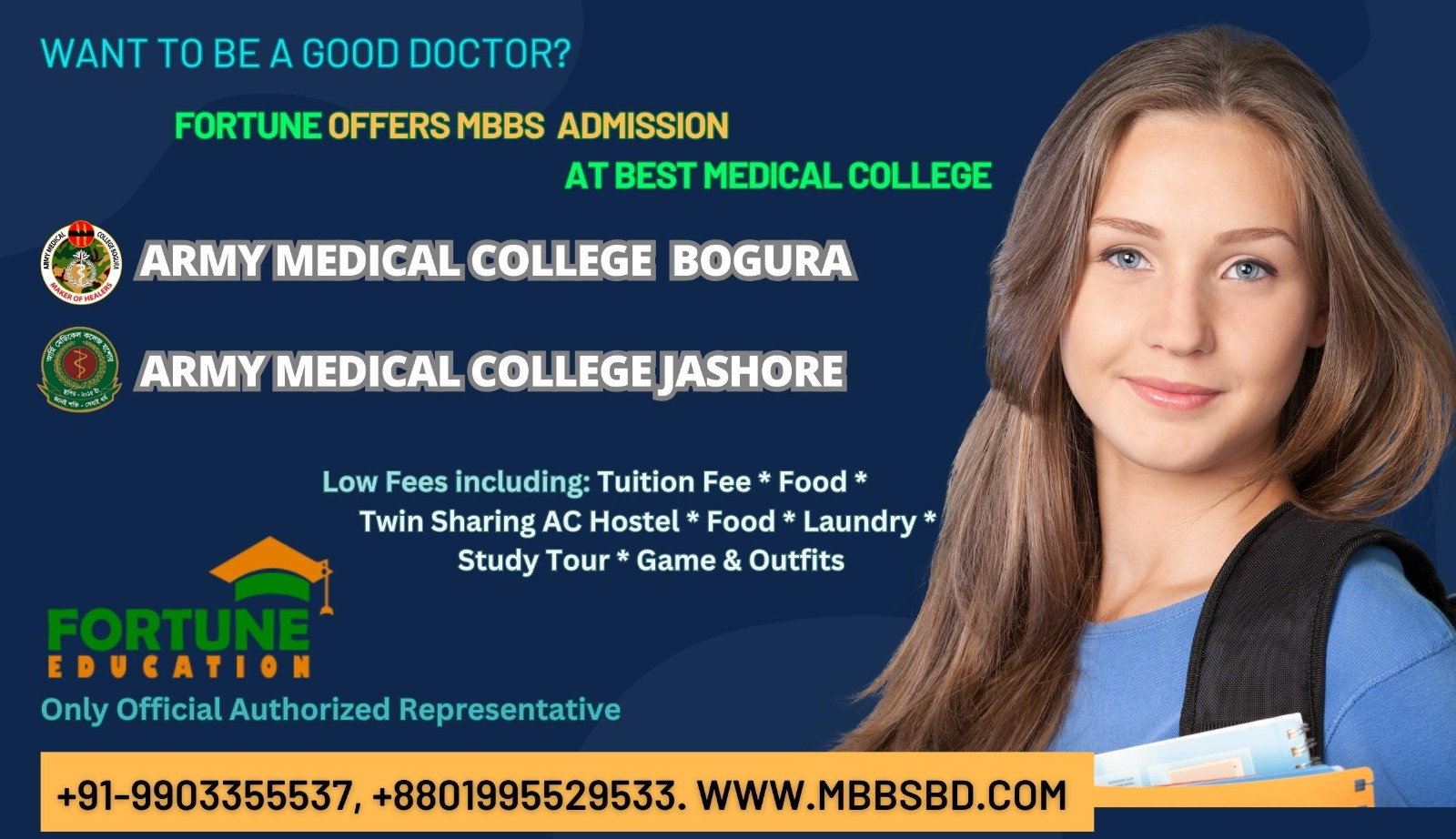 Fortune Education Authorized Official Consultant in Bangladesh
Fortune Education is a prominent educational consultancy in Bangladesh, specializing in guiding prospective students interested in medical studies:
Establishment and Services: Founded in either 1994 or 2004 (the sources provide different establishment years), Fortune Education has established itself as a pioneer and leading educational consultant. They provide counseling to students who are interested in pursuing higher education opportunities, especially in medical fields like MBBS, both in Bangladesh and abroad​​​​.
Authorized Representation: The organization is an authorized representative of various medical and dental colleges, as well as private universities. This authorization enables them to offer comprehensive guidance and support to students aiming to enroll in these institutions​​​​.
Role in MBBS Admissions: Specifically for MBBS admissions in Bangladesh, Fortune Education is recognized as the only authorized official consultant. They are known for offering a seamless and transparent admission process, assisting students through every step of their journey towards becoming medical professionals​​.
Association with Fortune Healthcare Ltd.: Fortune Education is a sister concern of Fortune Healthcare Ltd. This relationship indicates their broader involvement in the healthcare sector, further emphasizing their expertise in guiding students in medical education​