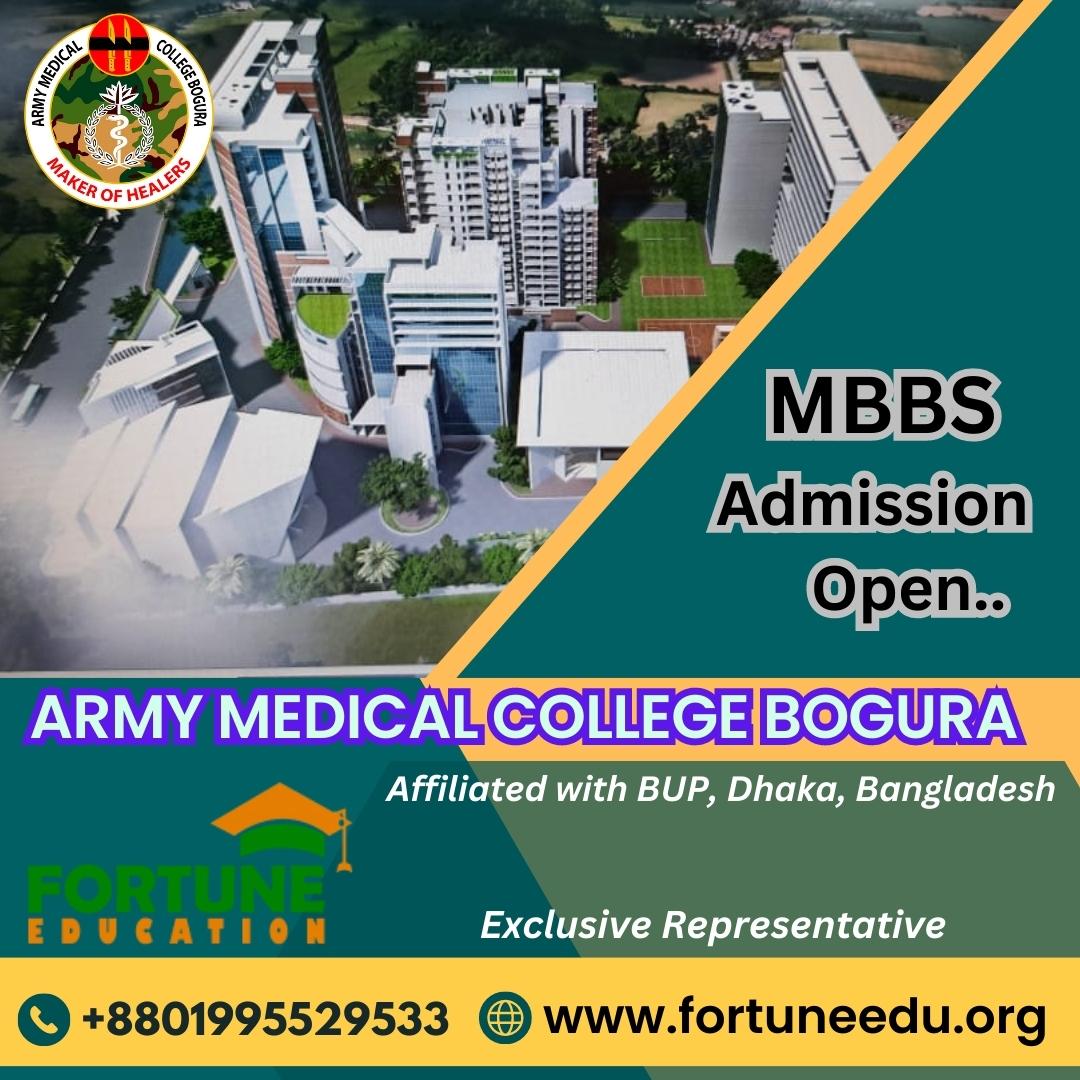 Bangladesh Medical Admission Eligibility 2023
Posted by

Categories

MBBS in Bangladesh, MBBS IN BANGLADESH, Medical Colleges in Bangladesh, Medical Education in Bangladesh, Medical study in Bangladesh, Private Medical colleges, Public Universities, Scholarship, Study in Abroad, Sylhet Women's Medical College | Sylhet Medical University, Uncategorized, Without Neet

Date

May 18, 2023
Bangladesh Medical Admission Eligibility 2023
For admission into the MBBS program in Bangladesh in 2023, students must meet specific eligibility criteria. These requirements are set to ensure that students possess the necessary academic background and qualifications to pursue this rigorous course. Please note that these criteria may vary slightly between universities and it is always best to check with the specific institution or a reliable consultancy like Fortune Education Consultancy. As of the current understanding, the eligibility criteria are as follows:
Academic Qualifications: Students should have completed their 10+2 or equivalent with Physics, Chemistry, and Biology. Some universities require a minimum aggregate of 70% in these subjects, and a minimum of 70% individually in Biology.
NEET Qualification: Indian students must qualify for the National Eligibility cum Entrance Test (NEET) as per the Medical Council of India's regulations. This is a mandatory requirement for Indian students who wish to study MBBS abroad.
Age Limit: The student must be at least 17 years old on December 31st of the year of admission.
Medical Fitness: Students are required to submit a medical fitness certificate indicating they are physically and mentally fit to pursue the medical course.
Always check with the specific university or consult with a reliable educational consultancy like Fortune Education Consultancy to understand the precise eligibility criteria and admission requirements.
MBBS Bangladesh Application Process 2024
The application process for MBBS admission in Bangladesh for the academic year 2024 involves several steps. It's crucial to note that specific requirements and procedures might vary slightly among universities, and staying updated through the universities' official websites or through a reputable educational consultancy such as Fortune Education Consultancy is recommended.
Here's a general step-by-step guide to help you understand the application process:
1. Check Eligibility Criteria: Ensure that you meet all the eligibility criteria for MBBS admission in Bangladesh. This typically includes academic qualifications, age requirements, NEET qualification for Indian students, and medical fitness.
2. Choose the University: Research the universities offering MBBS in Bangladesh and choose the one that suits your preferences and career goals. Consider factors like curriculum, faculty, infrastructure, fee structure, and international recognition.
3. Prepare the Documents: Gather all necessary documents. This often includes academic transcripts, a valid passport, birth certificate, medical fitness certificate, passport-sized photographs, proof of financial support, and NEET scorecard for Indian students.
4. Application Submission: Apply to the chosen university through their online application portal or through the educational consultancy. Fill in the required details, upload the necessary documents, and submit the application.
5. Admission Letter: If your application is accepted, the university will issue an admission letter. This letter is crucial for the next steps, including visa application.
6. Apply for Student Visa: Apply for a student visa at the nearest Bangladesh Embassy or Consulate in your home country. You'll typically need the admission letter, passport, photographs, and proof of financial support for this process.
7. Arrive in Bangladesh: After receiving the visa, you can travel to Bangladesh and report to your university. It's advisable to reach out to your university's international student office for assistance with accommodation and other logistical matters.
8. Course Registration: Once in Bangladesh, register for your course at the university and begin your MBBS journey.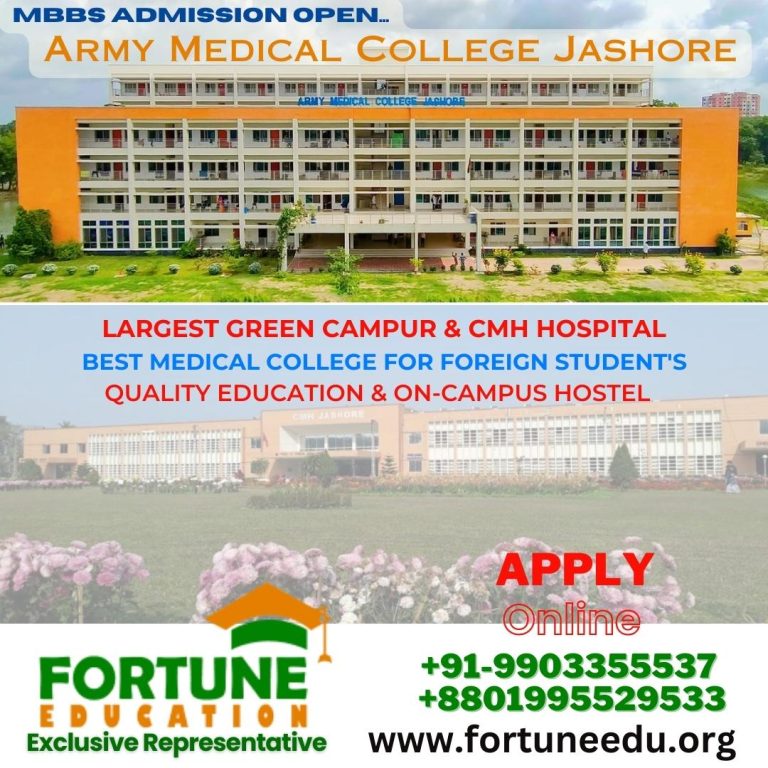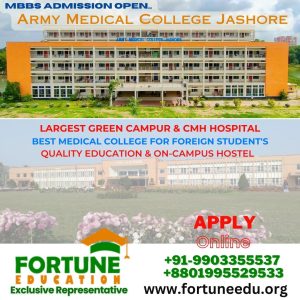 Throughout the process, having professional guidance can be incredibly beneficial. Fortune Education Consultancy, for instance, offers end-to-end assistance, from choosing the right university to handling the visa application process, ensuring a smooth journey for aspiring medical students.
Fortune Education, as a recognized medical admission consultant, offers online direct MBBS admissions in reputed medical colleges abroad. With their expertise, extensive network, and comprehensive support services, they assist students in fulfilling their dreams of studying medicine and embarking on a successful medical career.
Army Medical College Jashore
Army Medical College Jashore is a shining beacon of excellence in medical education and military discipline. Founded with a vision to produce world-class medical professionals, the college provides an education imbued with a unique blend of academic rigor, military values, and community service.
Our campus, spread across lush green landscapes, houses state-of-the-art classrooms, laboratories, and research centers, offering students hands-on experience with the latest medical technologies. The curriculum is thoughtfully designed to cover a wide spectrum of medical subjects, focusing on both theoretical knowledge and practical skills.
The faculty at Army Medical College Jashore is a team of highly qualified and dedicated professionals committed to nurturing future healthcare leaders. The strong military ethos encourages students to cultivate discipline, integrity, leadership, and teamwork.
Collaboration with renowned hospitals ensures that students receive comprehensive clinical training, while regular community outreach programs enable them to practice compassionate care. Our alumni network is filled with individuals who have become eminent healthcare providers, researchers, and educators.
Join us at Army Medical College Jashore, and be part of a legacy that values excellence, discipline, and service to humanity.
Army Medical College Bogura
Situated in the heart of Bogura, Army Medical College Bogura represents a fusion of tradition and innovation in medical education. Since its inception, the college has been synonymous with academic excellence, offering students an environment where they can thrive both personally and professionally.
At Army Medical College Bogura, we pride ourselves on a curriculum that balances the rich medical heritage with the demands of contemporary healthcare. Our facilities, equipped with cutting-edge technology, provide a stimulating environment for learning, research, and innovation.
Our faculty, a blend of experienced educators and dynamic young professionals, are dedicated to providing mentorship that nurtures curious, ethical, and competent medical practitioners. Collaboration with military and civilian hospitals provides students with invaluable real-world exposure to diverse medical challenges.
We also place great emphasis on research, encouraging students to engage in projects that can make a tangible difference in healthcare. From community health to medical technology, our research initiatives are at the forefront of medical innovation.
Apply now to be part of Army Medical College Bogura, where tradition and innovation come together to shape the future of medicine.
Diabetic Association Medical College
Diabetic Association Medical College is a pioneering institution specializing in diabetes care, research, and education. Affiliated with the Diabetic Association of Bangladesh, our college represents a concerted effort to address one of the most pressing health challenges of our time.
Our curriculum is meticulously crafted to provide specialized training in diabetes management, integrating theory, practice, research, and community engagement. The state-of-the-art facilities, including specialized laboratories and research centers, enable students to immerse themselves in hands-on learning experiences.
Our faculty consists of renowned experts in the field of diabetes, committed to nurturing students who are not just skilled medical practitioners but also empathetic caregivers. Collaboration with diabetic hospitals and clinics provides students with a robust clinical experience, allowing them to observe and participate in comprehensive diabetic care.
At Diabetic Association Medical College, research is not just an academic exercise but a mission to improve lives. Our students and faculty actively engage in cutting-edge research that contributes to the prevention, management, and potential cure of diabetes.
Join us in this specialized and noble pursuit, and become part of a medical movement that aims to create a healthier tomorrow.
Sylhet Women's Medical College
Empowering women in the field of medicine is at the core of Sylhet Women's Medical College. Established with a vision to create an inclusive and nurturing environment, our college is dedicated to fostering female leadership in healthcare.
Our campus, located in the scenic city of Sylhet, is a haven of learning and growth. The state-of-the-art facilities, including well-equipped laboratories, libraries, and digital classrooms, ensure that students have access to the best resources.
The curriculum at Sylhet Women's Medical College is designed with a women-centric approach, emphasizing areas that directly impact women's health. Our faculty, a blend of experienced professionals and dynamic educators, is committed to providing personalized mentorship and support.
Our affiliations with renowned hospitals and women's healthcare centers offer students extensive clinical exposure, allowing them to practice medicine with a gender-sensitive approach. Regular workshops, seminars, and conferences provide platforms for students to connect with leading female medical professionals worldwide.
Join us at Sylhet Women's Medical College, and embark on a journey that not only shapes your medical career but also contributes to a more equitable and compassionate healthcare landscape.
Islami Bank Medical College
Islami Bank Medical College stands as a unique institution that combines quality medical education with Islamic ethical values. Our mission is to produce healthcare professionals who are not only competent in their field but also imbued with moral principles and community consciousness.
Our campus, strategically located and equipped with modern facilities, provides a conducive learning environment. The curriculum is comprehensive, integrating core medical subjects with courses that emphasize ethics, community health, and patient-centered care.
The faculty at Islami Bank Medical College is a team of skilled professionals who are passionate about nurturing students who excel in both medical expertise and human compassion. The close collaboration with Islami Bank Bangladesh Ltd ensures a seamless blend of professional education and ethical conduct.
Our affiliations with community health centers and hospitals provide students with practical exposure, enabling them to understand and address real-world healthcare challenges. Scholarships and financial aid opportunities ensure that deserving students can pursue their medical dreams without financial constraints.
Join us at Islami Bank Medical College, where quality education meets ethical values, creating a new generation of compassionate healthcare providers.
International Medical College
Embracing diversity and offering a global perspective on medical education, International Medical College is a hub for aspiring medical professionals from different cultures and backgrounds. We believe in a holistic approach to medical education, fostering a culture of inclusivity, innovation, and international collaboration.
Our sprawling campus is home to world-class facilities, including cutting-edge laboratories, research centers, libraries, and simulation rooms, providing students with a stimulating environment for learning and growth.
Our curriculum is designed to provide a comprehensive medical education while encouraging a global approach to healthcare. Faculty members from around the world bring diverse expertise and perspectives, enhancing the learning experience.
Collaborations with international hospitals and healthcare organizations offer students unique opportunities for internships, research, and cultural exchange. Our active participation in global healthcare initiatives ensures that students are exposed to contemporary medical challenges and solutions.
International Medical College is not just a place to learn; it is a community that nurtures global citizenship, cultural sensitivity, and professional excellence. Join us in this international journey and become a medical professional who makes a global impact.

Head Office:
23/C, Zigatola, Dhaka, Bangladesh.
Mobile & WhatsApp: +88-01995529533
Offices in India: Delhi, Tamil Nadu, Assam, Jammu & Kashmir


Mobile & WhatsApp: +91-9903355537


www.fortuneedu.org