MBBS Admission in Bangladesh Leading Medical Colleges
Posted by

Categories

MBBS IN BANGLADESH, MBBS in Bangladesh, Medical Colleges in Bangladesh, Medical Education in Bangladesh, Medical study in Bangladesh, Private Medical colleges, Public Universities, Study in Abroad, Sylhet Women's Medical College | Sylhet Medical University, Uncategorized, Without Neet

Date

June 30, 2023
MBBS Admission in Bangladesh: A Comprehensive Guide to the Leading Medical Colleges
MBBS Admission in Bangladesh Leading Medical Colleges
Are you an aspiring medical student seeking MBBS admission in Bangladesh? You have arrived at the right place. This detailed guide will provide you with all the necessary information about the leading medical colleges in Bangladesh and the admission process. Let's embark on this journey towards your dream medical career.
MBBS in Bangladesh 2023-24
Best Choice for MBBS in Bangladesh
Bangladesh is emerging as a preferred destination for international students aspiring for an MBBS degree. The high standards of education, affordable tuition, world-class infrastructure, and globally recognized medical degree contribute to its popularity.
Medical colleges in Bangladesh offer a curriculum that aligns with global standards and focuses on holistic learning. These institutions maintain an excellent faculty-student ratio ensuring personalized attention. The medium of instruction is English, which breaks the language barrier for international students.
Leading medical colleges in Bangladesh are recognized by prominent global organizations such as the World Health Organization (WHO), the Bangladesh Medical and Dental Council (BMDC), and the Medical Council of India (MCI), among others.
Leading Medical Colleges in Bangladesh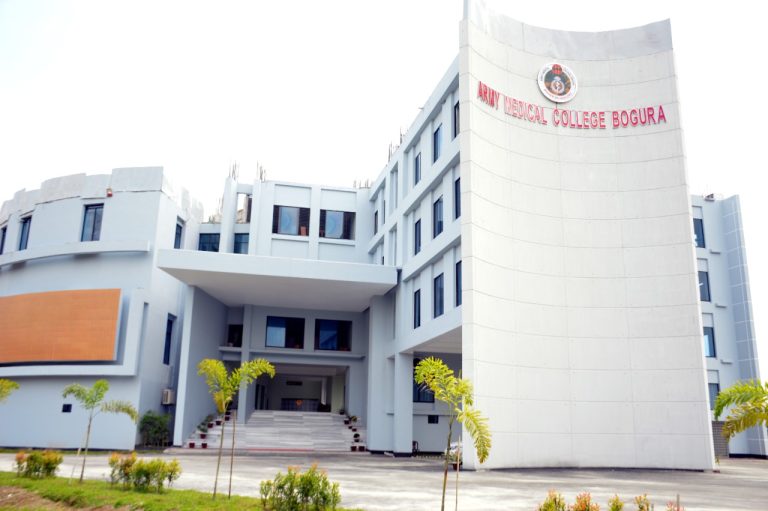 Army Medical College Bogura, is a renowned institution for medical education in Bangladesh. Affiliated with the Bangladesh University of Professionals (BUP), the college has been delivering top-tier education to students from across the globe, aspiring to make a mark in the medical field.
State-of-the-Art Infrastructure
The college is acclaimed for its modern infrastructure, which significantly enhances the overall learning experience. Its sprawling campus houses lecture halls equipped with advanced audio-visual facilities, well-stocked libraries, cutting-edge laboratories, and high-tech research facilities.
The institution also provides on-campus accommodation, recreational facilities, and a mess, ensuring a holistic living and learning environment for students.
Skilled Faculty
At Army Medical College Bogura, students have the privilege to learn from some of the most experienced and knowledgeable faculty in the medical field. These professionals, with their extensive experience and dedication, bring a wealth of knowledge and real-world insights to the classrooms. Their mentorship not only enhances the students' understanding of medical science but also prepares them for the rigors of the medical profession.
Comprehensive MBBS Program
The college offers a comprehensive MBBS program, which seamlessly blends theoretical knowledge with practical exposure. The five-year course, followed by a mandatory one-year internship, equips students with the necessary skills and knowledge to practice medicine effectively.
The curriculum includes in-depth study in subjects such as Anatomy, Physiology, Biochemistry, Pathology, Pharmacology, Microbiology, Forensic Medicine, Community Medicine, and various medical and surgical disciplines.
The practical component of the curriculum is facilitated through the Combined Military Hospital (CMH) Bogura. At CMH, students receive hands-on training under the supervision of experienced doctors, which enables them to apply their theoretical knowledge to real-life clinical situations.
Army Medical College Bogura, with its robust infrastructure, proficient faculty, and a well-rounded MBBS program, provides an optimal environment for medical education. The institution's commitment to fostering knowledgeable, skilled, and compassionate doctors ensures that its graduates are well-prepared to make significant contributions to the global healthcare sector.
Army Medical College Jashore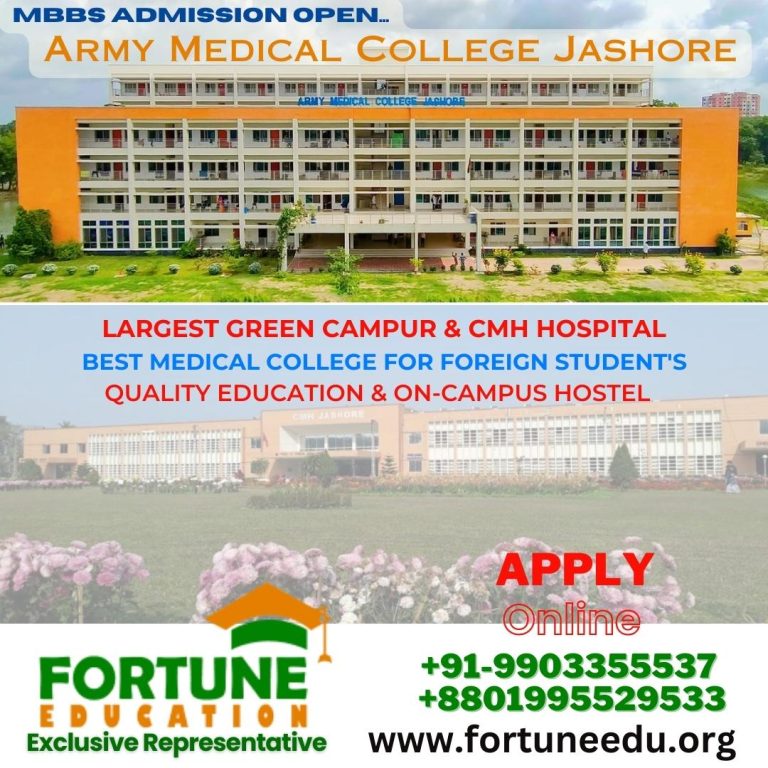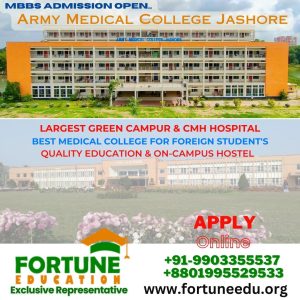 Affiliated with the Bangladesh University of Professionals (BUP), Army Medical College Jashore holds a prestigious place in the landscape of medical education in Bangladesh. The college is steadfastly committed to shaping future leaders in the field of medicine who are not only knowledgeable and proficient but also carry a strong sense of ethics and compassion.
Holistic Medical Education
The college offers an intensive 5-year MBBS program followed by a mandatory 1-year internship. The curriculum is meticulously designed to provide a comprehensive understanding of the human body, its functioning, and various medical conditions. It strikes a perfect balance between theoretical learning and practical training, which is fundamental to medical education.
Students at Army Medical College Jashore gain extensive theoretical knowledge in subjects like Anatomy, Biochemistry, Physiology, Pathology, Pharmacology, Microbiology, Forensic Medicine, Community Medicine, Medicine, Surgery, Obstetrics & Gynaecology, Pediatrics, and more.
In addition to classroom learning, students also participate in practical labs, workshops, and seminars. This helps them gain a hands-on understanding of different medical procedures and equipment.
Practical Training at CMH Jashore
One of the unique features of Army Medical College Jashore is its affiliation with the Combined Military Hospital (CMH) Jashore. The hospital serves as the primary training site for students, providing them with real-world exposure to various medical conditions and procedures.
Under the guidance and supervision of experienced healthcare professionals, students learn to apply their classroom knowledge to actual patient cases. This extensive practical training enables students to develop essential clinical skills and fosters a deep understanding of patient care.
Producing Competent, Ethical, and Compassionate Doctors
Army Medical College Jashore strongly emphasizes the development of a strong moral code and professional ethics in its students. The goal is to produce doctors who are not just skilled and knowledgeable but also compassionate and empathetic.
The faculty at Army Medical College Jashore are experienced professionals dedicated to cultivating these qualities in their students. They strive to mentor students not just academically, but also in terms of their professional conduct and interpersonal skills.
In conclusion, Army Medical College Jashore is a prime destination for students aiming for an exceptional and well-rounded medical education. The institution's commitment to academic excellence, practical training, and ethical medical practices paves the way for a prosperous career in medicine for its graduates.
Sylhet Women's Medical College Affiliated with Sylhet Medical University and Fortune Education Authorized Consultant
Sylhet Women's Medical College (SWMC) is one of the esteemed private medical colleges specializing in medical and health sciences education in Bangladesh. Affiliated with Sylhet Medical University, the college is dedicated to fostering a learning environment that supports the growth of women in the medical field.
The college offers a comprehensive 5-year MBBS program, followed by a mandatory 1-year internship. The curriculum is designed to provide an optimal blend of theoretical knowledge and practical skills. The faculty at SWMC comprises experienced professionals who are committed to nurturing the medical professionals of tomorrow.
SWMC has a robust infrastructure, including well-equipped classrooms, state-of-the-art laboratories, and a vast library with a rich collection of medical books and journals. The college also provides hostel facilities for students coming from different parts of the country and the world.
Clinical Training at Affiliated Hospitals
Practical training forms a significant part of the medical education at SWMC. The college is affiliated with several hospitals where students get hands-on experience treating patients under the supervision of experienced physicians. This practical exposure enhances their clinical skills and prepares them for the professional world.
Fortune Education – An Authorized Consultant
Fortune Education is an authorized consultant for Sylhet Women's Medical College. As a leading educational consultant in Bangladesh, Fortune Education provides end-to-end support to students who aspire to study at SWMC.
The services offered by Fortune Education include comprehensive counseling, admission assistance, visa processing, and accommodation assistance. Their team of experienced counselors provides personalized guidance to each student, helping them navigate the admission process smoothly.
Being an authorized consultant for SWMC, Fortune Education can provide accurate and up-to-date information about the college's admission process, fee structure, curriculum, and other details. Their strong collaboration with the college ensures a smooth and hassle-free admission process for aspiring students.
Sylhet Women's Medical College, with its commitment to providing quality medical education, is indeed an excellent choice for aspiring women medical professionals. And with Fortune Education as your trusted guide, you can navigate your path to SWMC with confidence and ease.
The admission process for an MBBS program in Bangladesh is transparent and systematic. It involves several stages:
Eligibility Criteria: Prospective students must have completed their Higher Secondary Certificate (HSC) or equivalent, majoring in science with Biology, Chemistry, and Physics. The student should also meet the age criteria set by the respective college.
Application: Application forms can be obtained from the respective college's website. Fill in the form accurately and submit it before the deadline.
Entrance Exam: Some colleges require students to sit for an entrance examination. This test usually assesses the candidate's knowledge in Biology, Chemistry, and Physics.
Interview: Successful candidates may be called for an interview. This is the final stage before admission confirmation.
Confirmation and Enrollment: Upon successful completion of all stages, students will receive an admission offer. The last step is to confirm your enrollment, pay the tuition fee, and start your medical journey!
Leading Educational Consultant of Medical Education and Services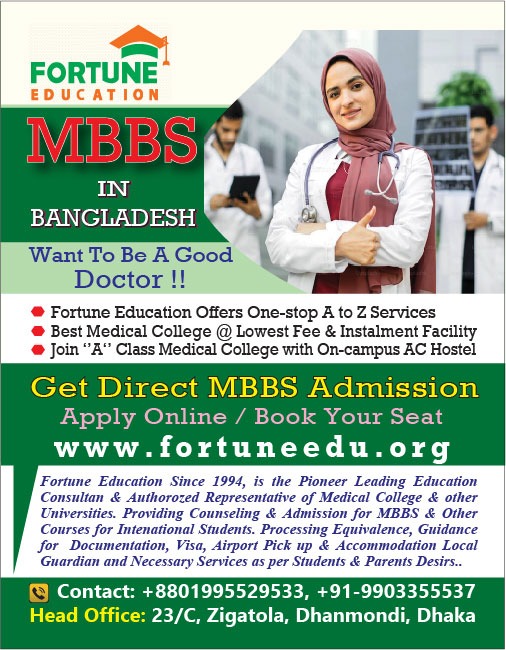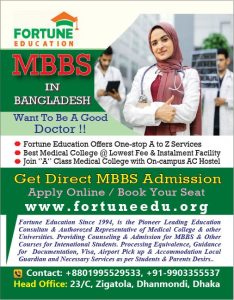 Fortune Education, a leading educational consultancy based in Bangladesh, is an eminent service provider in the domain of medical education. Their primary focus is to provide comprehensive counseling and assistance to students who aspire to study MBBS in Bangladesh.
Overview
With an in-depth understanding of the medical education landscape and a robust network with premier medical colleges across Bangladesh, Fortune Education offers prospective students a valuable path to achieving their medical career goals. Their objective is to guide students in their pursuit of a medical education, streamlining the process and ensuring students make informed decisions about their future.
Services
Fortune Education offers an array of services tailored to assist students at every step of their medical education journey:
Counseling: The expert counselors at Fortune Education guide students and their parents through the process of selecting the right college that matches the student's academic profile, interests, and career aspirations.
Admission Assistance: The consultants at Fortune Education provide end-to-end support in the admission process – right from application form fill-up, documentation, to the final admission process.
Visa Assistance: Fortune Education offers guidance and support in obtaining student visas, ensuring a smooth transition for students to their study destination.
Accommodation Assistance: Understanding the concerns of students moving to a new city or country for studies, Fortune Education assists in finding suitable accommodation that is secure and convenient.
Unique Selling Proposition
What sets Fortune Education apart is its collaborative approach. They not only assist students in securing admission to medical colleges but also provide continuous support throughout their educational journey. Fortune Education takes pride in its ethical practices, transparency, and dedicated support towards students' education aspirations.
Accreditations and Affiliations
Fortune Education is recognized as an official representative of several prestigious medical colleges in Bangladesh, including Army Medical College Bogura and Army Medical College Jashore. This facilitates a direct and trustworthy link between the students and these esteemed institutions.
Fortune Education is committed to shaping the medical careers of students through its comprehensive and dedicated services. The organization stands as a beacon of trust, guidance, and reliability, playing a crucial role in making students' medical education dreams come true. For more information, visit their official website or reach out to their experienced counselors.
Fortune Education facilitates the online admission process for aspiring students who wish to pursue MBBS in Bangladesh
Pioneer & Leading Authorized Representative of Medical Colleges in Bangladesh & Abroad
Head Office: 23/C, Zigatola, Dhaka-1209, Bangladesh
Bangladesh: +8801995529533
India: +919903355537
Email: fortunebangladesh@gmail.com
Website: https://fortuneeducationconsultancy.com/