Admission to MBBS (Bachelor of Medicine, Bachelor of Surgery) programs in Bangladesh is competitive and follows a specific process. Here are the details regarding MBBS admission, eligibility criteria, and fees in Bangladesh:
Admission Process:
Entrance Examination: Most medical colleges in Bangladesh conduct a rigorous entrance examination as part of the admission process. The admission test evaluates the candidates' knowledge in subjects like Biology, Chemistry, and Physics.
Admission Application: After the entrance examination, eligible candidates must submit their applications directly to the respective medical colleges. The application forms can usually be obtained from the college's official website or admission office.
Eligibility Assessment: The submitted applications are assessed by the admission committees of the medical colleges. The committees evaluate the academic records, entrance examination scores, and other criteria to determine the eligibility of the candidates.
Merit List and Counseling: Based on the assessment, medical colleges publish merit lists that rank candidates according to their scores. Candidates who qualify will then participate in a counseling session where they can choose their preferred medical college based on their rank and availability of seats.
Eligibility Criteria:
Academic Qualifications: Candidates must have completed their higher secondary education (or equivalent) with a science background, including Physics, Chemistry, and Biology. The minimum required grades vary among medical colleges.
Entrance Examination: Candidates must pass the entrance examination conducted by the respective medical college or the central admission authority, such as the Directorate General of Health Services (DGHS) in Bangladesh.
Citizenship and Age: Generally, only Bangladeshi citizens or foreign nationals of Bangladeshi origin are eligible to apply. The minimum age requirement is usually 17 years, but it may vary among medical colleges.
Additional Requirements: Some medical colleges may have additional requirements, such as a specific minimum GPA in the science subjects as part of the admission process.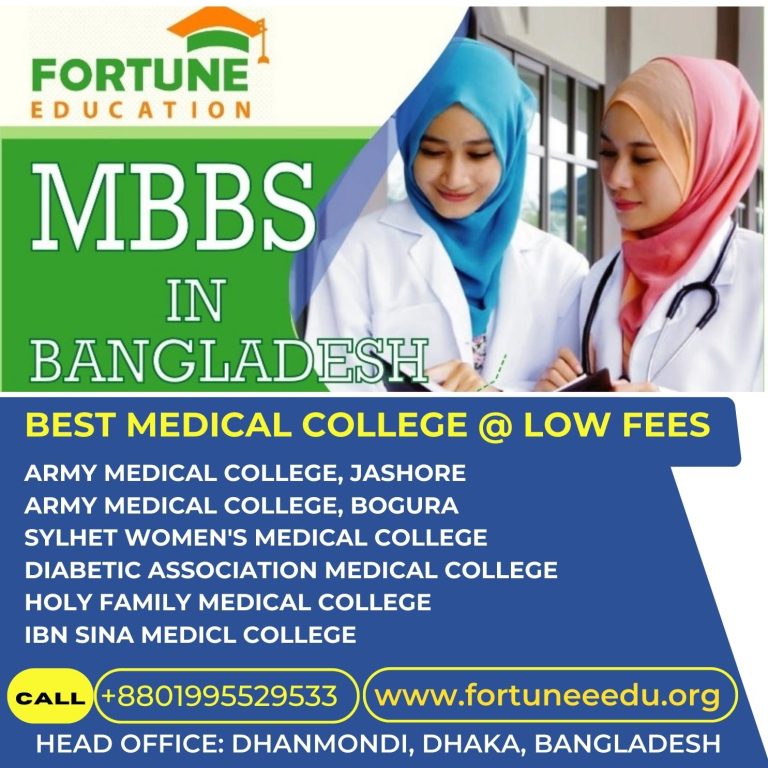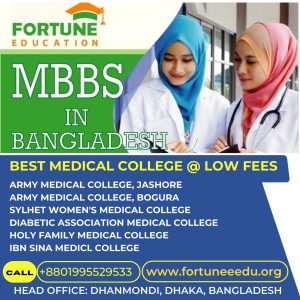 Fees Structure:
The fee structure for MBBS programs in Bangladesh varies among different medical colleges. Generally, the fees are divided into several components, including admission fees, tuition fees, laboratory fees, library fees, examination fees, and other miscellaneous charges. The total fees for the entire MBBS program can range from approximately 30 lakh BDT to 70 lakh BDT, depending on the college and its facilities.
It is important for prospective students to research and verify the specific admission requirements, eligibility criteria, and fees of the medical colleges they are interested in. Consulting with educational consultants or directly contacting the admission offices of the colleges can provide accurate and up-to-date information regarding MBBS admission in Bangladesh.
Fortune Education believes in personalized counseling to understand each student's unique requirements and aspirations. They provide individualized guidance, address students' concerns, and offer tailored solutions to ensure that students make well-informed decisions about their education and future career in medicine.
Fortune Education, as a recognized medical admission consultant, offers online direct MBBS admissions in reputed medical colleges abroad. With their expertise, extensive network, and comprehensive support services, they assist students in fulfilling their dreams of studying medicine and embarking on a successful medical career.
Studying MBBS (Bachelor of Medicine, Bachelor of Surgery) in Bangladesh has gained popularity among international students in recent years. Bangladesh offers affordable fees, high-quality education, and a favorable environment for pursuing a medical degree. Here is an in-depth look at studying MBBS in Bangladesh:
Affordable Tuition Fees: Bangladesh is known for its affordable tuition fees compared to many other countries. The cost of studying MBBS in Bangladesh is significantly lower compared to universities in countries like the United States, the United Kingdom, and Australia. This makes it an attractive option for students seeking quality education at a reasonable cost.
High-Quality Education: Medical colleges in Bangladesh maintain high academic standards and provide quality education. The medical curriculum in Bangladesh follows international standards and covers all essential aspects of medical science, clinical training, and practical exposure. The colleges have well-equipped laboratories, libraries, and modern facilities to facilitate effective learning.
Recognized Degrees: MBBS degrees from Bangladeshi medical colleges are recognized by the Medical Council of India (MCI), World Health Organization (WHO), and other international medical bodies. This recognition allows graduates to pursue further studies or practice medicine in different countries after fulfilling the respective licensing requirements.
English-Medium Instruction: The medium of instruction for MBBS programs in Bangladesh is English. This is advantageous for international students as it eliminates the need to learn a new language and allows them to focus on their studies without language barriers.
Qualified Faculty: The medical colleges in Bangladesh have highly qualified faculty members, including experienced doctors and professors. They provide quality education, mentorship, and guidance to students throughout their academic journey.
Clinical Training and Practical Exposure: Bangladesh offers ample opportunities for clinical training and practical exposure. Medical colleges have collaborations with well-equipped hospitals and healthcare centers where students gain hands-on experience under the supervision of experienced doctors. This practical exposure helps students develop their clinical skills and prepares them for real-world medical practice.
Cultural Diversity and Safe Environment: Bangladesh is a culturally diverse country with a warm and welcoming environment. International students studying MBBS in Bangladesh get the chance to interact with students from various backgrounds, fostering a multicultural learning environment. The country ensures the safety and security of international students, providing a conducive atmosphere for studying and personal growth.
Internship Opportunities: After completing the MBBS program, students are required to undergo a one-year internship in affiliated hospitals or medical institutions. This internship provides valuable practical experience and further enhances students' clinical skills and knowledge.
MBBS Admission in Bangladesh for International Candidates
Best Medical Colleges in Bangladesh
Army Medical College Jashore

Army Medical College Bogura

Diabetic Association Medical College

Sylhet Women's Medical College

Islami Bank Medical College

International Medical College

Marks Medical College

Popular Medical College

Ahsania Mission Medical College

Brahmanbaria Medical College

IBN SINA Medical College
Fortune Education, Dhaka, Bangladesh is authorized representative of Medical College & Universities and the pioneer leading Education Consultant for medical aspirants & prospective students who interested to study MBBS, BDS, BVSc and considering higher study opportunities in Bangladesh and overseas.
Fortune Education have legal rights to processing admission to Medical, Dental college and universities all over the world. We offer MBBS, BDS & others Admission, Application, Guidance, Documentation, and required services such as to eligible students regarding medical and higher studies…
Fortune Education, located in Dhaka, Bangladesh, is a renowned and recognized medical admission consultant that specializes in facilitating online direct MBBS admissions in reputed medical colleges abroad. With its expertise and vast network of partner institutions, Fortune Education assists students in pursuing their dream of studying medicine in esteemed universities around the world. Here are some details about Fortune Education and the services they offer:
Comprehensive Guidance: Fortune Education provides comprehensive guidance to students seeking admission to medical colleges abroad. They understand the complexities of the admission process and help students navigate through the various requirements and procedures. From selecting suitable universities to preparing and submitting applications, Fortune Education ensures a smooth and hassle-free admission experience for students.
Online /Direct Admission & Seat Confirmation
Head Office:
23/C, Zigatola, Dhaka, Bangladesh
Mobile & WhatsApp: +88-01995529533
Offices in India:
Mobile & WhatsApp: +91-9903355537