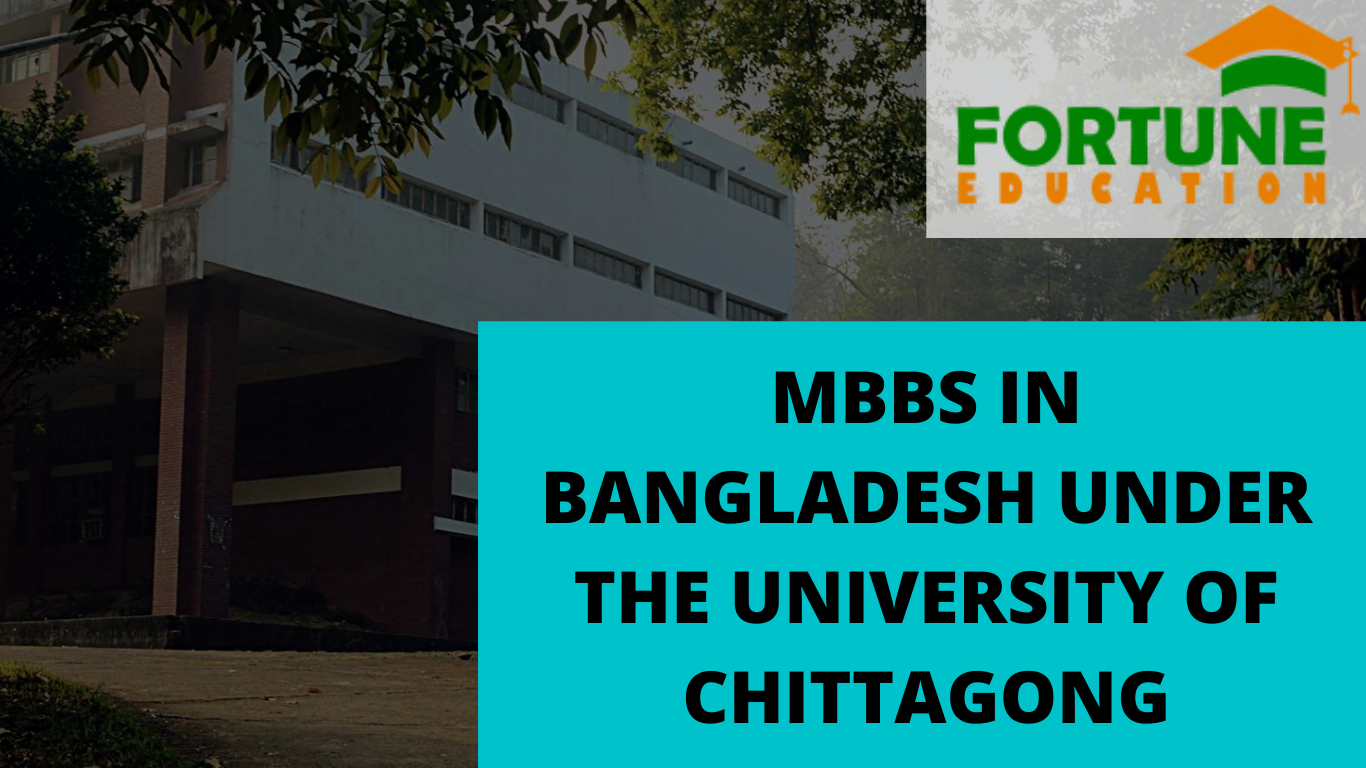 MBBS in Bangladesh under the University of Chittagong
University of Chinttagong
The public university in Chittagong
The University of Chittagong was established in 1966, it is the third-largest public university in Bangladesh.
Description
The University of Chittagong is a public university located in Chittagong, Bangladesh. It is the 3rd oldest university in Bangladesh. On 18 November 1921, the university opened its doors to students. Today, it is the third-largest public university in Bangladesh, with a student body of 24,283 (Male 15,598, Female 9,179) and 311 (Male 277, Female 34) of  Administrative staff
There have huge Colleges, institutes, and Medical Colleges affiliated with the University of Dhaka. Few best Medical Colleges are mentioned below;
Chittagong Medical College
Brahmanbaria Medical College Hospital
Marine City Medical College
Comilla Medical College
Cox's Bazar Medical College
Nowakhali Medical College
Rangamati Medical College
BGC Trust Medical College & Hospital
Central Medical College & Hospital
Eastern Medical College & Hospital
Moynamoti Medical College & Hospital
Southern Medical College and Hospital
Chattagram Maa-O-Shishu Medical College
Chittagong International Medical College & Hospital
Chittagong Medical College
It was established in 1957 by acquiring 79 acres of land at K. B. Fazlul Quader Road, Chittagong. Affiliated with the University of Chittagong; it is a public institute under the Ministry of Health and Family Welfare, Government of the Peoples' Republic of Bangladesh. The college is approved by the Bangladesh Medical and Dental Council and General Medical Council of the United Kingdom. About 173 and 53 students can be admitted to MBBS and BDS courses respectively in this college every year. In addition, the college enrolls about 130 students in its various post-graduate courses.
To fulfill the need for clinical education and practical training of the students, Chittagong Medical College Hospital with a facility of keeping 1030 in-patients exists nearby. The official designations of the head of the college and the hospital are the Principal and the Director respectively and these two sister concerns run their affairs in co-operation with each other. The post-graduate courses include Diploma, MS, MD, etc. in various subjects. After graduation, to achieve the right of providing medical care and treatment advice to the patients and public in general, it is mandatory for every doctor to get a Registration Certificate from the Bangladesh Medical and Dental Council (BMDC) for which at least one year of practical training in various departments of an approved hospital is a requirement
Brahmanbaria Medical College Hospital
Brahmanbaria Medical College was established in 2010 and its first class of students matriculated in the 2013–14 academic year when the school was granted affiliation with the University of Chittagong. 50 Students get a chance to enroll in this medical college every year.
The college is located in Ghatura, Brahmanbaria, 4 km away from town. There is a strict no-smoking policy on college property. The hospital is equipped with an ambulance service and a hemodialysis unit which operates at all hours of the day. It has been affiliated with a 400 bedded modern hospital known as Brahmanbaria Medical College Hospital. Brahmanbaria United Nursing College & United Care Institute of Medical Technology are also owned by the same owner.
The college is affiliated with Chittagong University. The chairman of the college is Dr. Md. Abu Sayed. The principal is Prof. Brig. Gen. (retired) Dr. Md. Shafiqul Islam.
Admission for Bangladeshis to the MBBS program at all medical colleges in Bangladesh (government and private) is conducted centrally by the Directorate General of Health Services. It administers a written multiple-choice question exam simultaneously throughout the country. Candidates are admitted based primarily on their score on this test, although grades at Secondary School Certificate and Higher Secondary School Certificate level also play a part. Seats are reserved, according to quotas set by the directorate, for children of freedom fighters and for students from underprivileged backgrounds. Foreign students also get a chance to obtain an MBBS degree in this medical college. This medical college is renowned for having good results regularly and having expert teachers.
Marine City Medical College
Marine City Medical College is a non-government Medical College situated in Chattogram, Bangladesh. It was established in 2013 by a group of dedicated people who were involved with ideals at providing quality Medical Education, research, and services to people of this country at a reasonable cost. It is situated at 1101/2127, Chandra Nagar, East Nasirabad, Bayazid Bostami in Chattogram. Government alone cannot provide a higher health care facility with a Medical College in this Country. So the private sectors should come forward to collaborate with Government and proceed to increase the number and quality of health service facilities and health manpower as a joint venture. Our endeavor is to reach to attain the level of health care close to the regional and international standards. We strongly believe that within a short time Marine City Medical College Hospital will become an attractive study point in Medical Profession not only for natives but also for foreign students.
Marine City Medical College is affiliated with Chittagong Medical University & Chittagong University. This Medical College is recognized by the Ministry of Health and Family Welfare & Bangladesh Medical & Dental Council (BM&DC).   Marine City has its own academic infrastructure that is utilized for the teaching-learning activities of Medical students as well as providing curative, preventive, primitive, and rehabilitative health care services to the people. The standard of the MBBS program and quality of health care is ensured by research studies and evaluation.
Fortune Education, established in 2004, is the World Leading, Pioneer & Leading Education consultant, providing counseling to prospective students who would be interested in considering higher education opportunities in Bangladesh and abroad. Fortune Education is an authorized representative of medical and dental colleges and private universities all over the world.
Fortune Education provides counseling & guidance to prospective students who are interested in medical education such as MBBS, BDS, BVSc, MDS, MD, MS, M.Phil & Higher education opportunities in Bangladesh, especially providing direct admission guidance MBBS for college/university, selection to a wide variety of undergraduate & graduate programs.
More information and admission contact:
FORTUNE EDUCATION
HEAD OFFICE:
House # 23/C, Zigatola, Dhanmondi, Dhaka-1209, Bangladesh.
Mobile & WhatsApp: +880-1995529533
Contact in India: +91-9903355537
Email: alamfgn@hotmail.com, fortunebangladesh@gmail.com
BRANCH OFFICES IN INDIA:
Jammu & Kashmir Office:
Srinagar, Anantnag, Baramulla & Jammu :
Delhi: New Delhi
Uttar Pradesh: Lucknow
West Bengal: Kolkata: Madan Mohan Street: +91-9903355537
Bihar:Patna, Muzaffarpur, Madubani
Tamil Nadu: Krishnagiri & Chennai:
Assam:Guwahati:
Mumbai & Pune :
Nepal: Kathmandu :
Hyderabad:\
[elementor-template id="18612″]