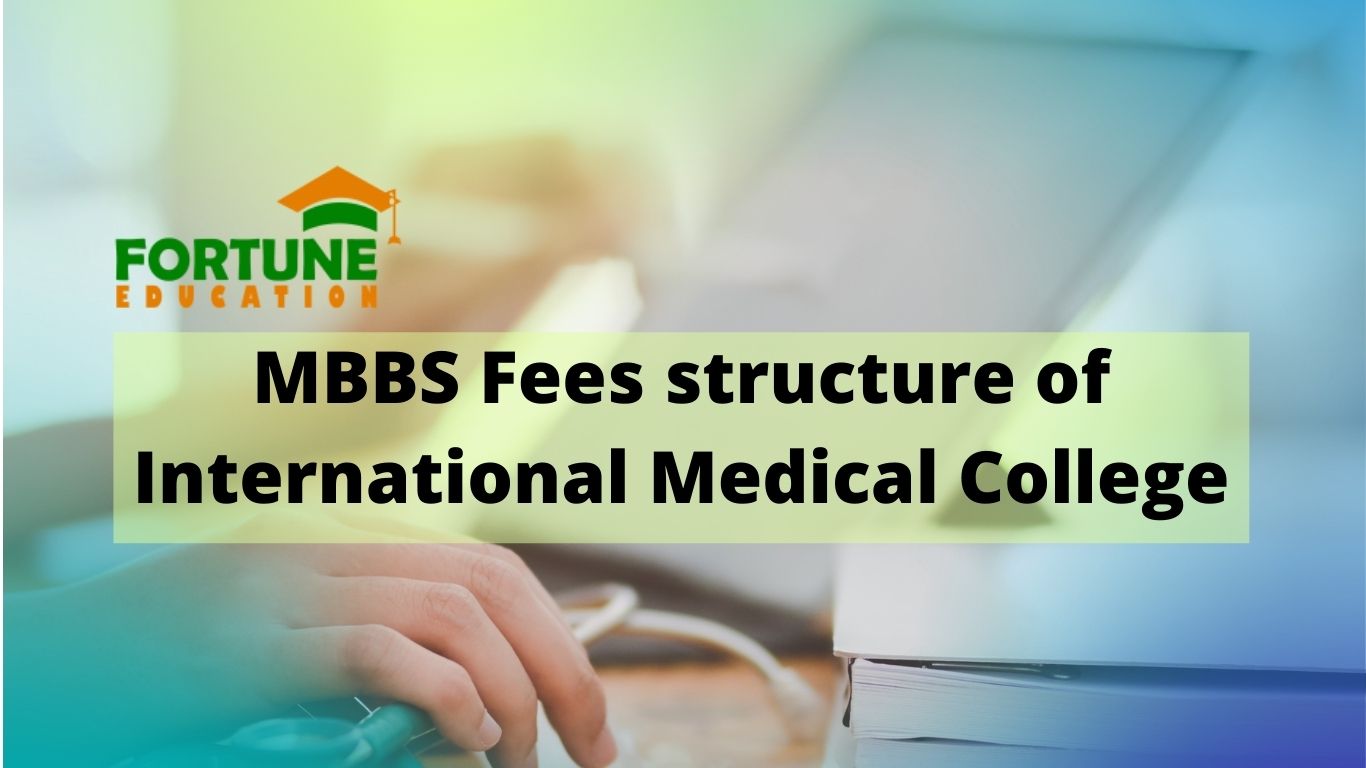 Fees structure of International Medical College
Fees Structure of International Medical College
MBBS Fees Structure of International Medical College | MBBS in Bangladesh | MBBS Course | MBBS Degree | Medical Education In Bangladesh | Campus of International Medical College.
International Medical College (IMCH)was established in 2000 with the intention of giving quality medical education that can produce skilled medical professionals. It is one of the famous private medical colleges in Bangladesh. IMCH gives great opportunities to Local & Foreign students for MBBS in Bangladesh. International Medical college Affiliated with the University of Dhaka. It has an On-Campus AC hostel to give quality education to their student. Every year many foreign students get admission to this medical College due to their well-known education quality. Fortune Education is an authorized consultant Of the International Medical College. 
Location
International Medical College is placed about 22 km apart from the city center of Dhaka. It is within 30 minutes of range from Hazrat Shahjalal International Airport, Dhaka, and the main Railway station and Bus terminals of Dhaka City.
Courses In International Medical college
International Medical College (IMC) offers its students various courses. Such as:
1. MBBS
2. B. Sc. in Nursing
3. Post Basic B. Sc. in Nursing
4. B. Sc. in Health Technology (Laboratory)
5. ESL
Admission Criteria For MBBS In International Medical College, Bangladesh
The following criteria must be filled to get admission in MBBS in Bangladesh course at International Medical College:
01. The Candidates chosen by the Directorate General of Health Services, through a competitive examination, will be eligible for admission in IMC.
02. The student must be 17 years or above on 31st December of the year of admittance. A valid certificate needs to give for the same.
03. There should be no academic gap, students who have a 2-year academic gap are not acceptable.
04. The applicant needs to have Physics, Chemistry, and Biology as the main subjects.
05. Admission will be conducted on the basis of first-come, first admission; while chronology of merit will strictly be followed.
06. Candidates will have to undergo a medical test to prove their physical competency. 
07. The minimum GPA in HSC/SSC or equivalent needs to be 8.0.
08. The candidate also needs to have a GPA of 3.5 in Biology.
09. Students who have passed the HSC or equivalent examination two years before commencing the session are not eligible to apply. Students with A Level & GCE O   or 12th grade should hold an equivalent certificate from the Directorate General of Health Services, Mohakhali, Dhaka. 
10. Foreign Candidates may obtain information by sending their queries through e-mail at: fortuneedu5@gmail.com. or by calling the College information directly/WhatsApp at +91-9903355537.
11. Foreign students can also connect through Bangladesh Embassy / High Commission to DGHS for Equivalence Certificate (EC) in the prescribed form with appropriate fees. You can contact the nearest Bangladesh Embassy for details or Fortune Education is always on your hotline.
Documents needed for admission
A scanned copy of the passport

Ten copies of Passport sized photographs

Scanned copies of the mark sheet of class 10

Scanned copies of the mark sheet of class 12

Passing certificate that is being provided by the college or the university.

By an authorized body the entire document needs to be attested and notarized. Before the admission process is going on all the documents should be verified.
Course & Curriculum
Course offered (MBBS) is of 5 years duration. The curriculum is approved by the University of Dhaka and BMDC and it is strictly followed in the college.
MBBS Course
Pre-clinical subjects: Anatomy, Physiology, and Biochemistry.
Para-clinical Subjects: Community Medicine, Forensic Medicine, Pharmacology, Pathology & Microbiology.
Clinical Subjects: Obstetrics and Gynaecology, Medicine, Surgery & their allied subjects.
International Medical College Bangladesh Fees Structure
(ALL FEES ARE NON-REFUNDABLE)
| | | | | | | | |
| --- | --- | --- | --- | --- | --- | --- | --- |
|   | INSTALLMENT |   | LAST DAY OF PAYMENT |   | AMOUNT (IN US DOLLAR) |   |   |
|   | 1st Installment |   | 30 November 2021 |   | US$ 18,000 |   |   |
|   | 2nd Installment |   | 30 December 2022 |   | US$ 8,000 |   |   |
|   | 3rd Installment |   | 30 December 2023 |   | US$ 8,000 |   |   |
|   | 4th Installment |   | 30 December 2024 |   | US$ 8,000 |   |   |
|   |   |   |   | Total: | US$ 42,000 |   |   |
ParticularsFees In US DollarsFees In Rupees (INR) Approx
Tuition fees 5 Year 42000 USD 29,40,000Rupees
Hostel / Year 800 USD 56,000 Rupees/year
Facilities for students
The international medical college believes that college premises need to be well-equipped for a quality campus life. Keeping that in mind, all state-of-the-art facilities are available in the college for the students.
1. Hostel facilities
International Medical College has separate hostels for Boys and Girls. In both the hostels, there are separate blocks for foreign students. Hostels are multistoried, secured, beautifully designed, and adequately furnished. Well-trained cooks and other staff are available in both the hostels.
2. Library with Internet and Wi-Fi facilities
A well-equipped library is a must for an educational institute. IMC Library, located on the first floor of the college building, is much enriched with a wide-ranging collection of Books and Journals. T Library remains open from 8 am to 9 pm. Students can use an internet facility which is free of cost.
3. Laboratories and Museums:
Medical education blends skills and knowledge in a perfect combination that creates synergy for grooming future medical professionals. Keeping that in mind, IMC plans its academic activities accordingly.
The laboratories are:
Histology Laboratory

Physiology Laboratory

Biochemistry Laboratory

Pathology Laboratory

Microbiology Laboratory

Pharmacology Laboratory
The Museums are:
Anatomy Museum

Community Medicine Museum

Forensic Medicine Museum

Pathology Museum
4. Online education:
Online education keeps the momentum of our students' endeavor of learning uninterrupted even in the devastating effect of the Corona Pandemic. 'Edutube' – an online teaching and learning platform created by International Medicare Limited (IML). The mother concern of IMC has played a pivotal role in facilitating education remotely
5. Transport facility
The campus is quite away from the city center. Considering the convenience of students, a transport facility is provided to the students not residing in the hostel. The transport facility is provided in some pick-up and drop-off locations in the city. Moreover, resident students can get to the facility twice a month for shopping or other necessary activities.
6. Canteen facility
International Medical College has its own canteen within the campus. It provides quality snacks, breakfasts, lunch, and dinner. It has separate corners for teachers, doctors, students, and guests.
7. Gymnasium facility
For keeping the students of IMC physically fit, a gymnasium has been introduced. It is located in the hospital building. Boys, girls, doctors can use this fitness center according to their allotted time schedule. 
8. ATM Booth
For the convenience of banking and financial transactions of students and others, an ATM booth is located at the main academic building.
9. Mosque
There is a mosque within the campus. Students can perform salah every day in that mosque.
10. Games and Sports facilities
Apart from academic study and curricular requirements, medical students need to take part in some games and sports activities. It will keep them physically active and will refresh their mind. Indoor games are arranged at the lobby of the college building like Table Tennis, Carom, and others.
11. IMC Archive
The college has an archive that preserves all important documents, photos, videos in soft and hard copies. These are available for all on any specific purposes.
Admission fees related any query for Bangladeshi and Foreign Students please feel free to CONTACT:
Authorized Representative
HEAD OFFICE :
DHAKA, BANGLADESH.
MOBILE & WHATSAPP: +88-01995529533
OFFICES IN INDIA:
MOBILE & WHATSAPP: +91-9903355537
WEST BENGAL, MODON MOHON STREET, KOLKATA,
PATNA, BIHAR, DELHI, JAMMU & KASMIR,
HYDERABAD, LUCKNOW, CHENNAI, AND GUWAHATI.